YSRCP and TDP exchange words over Krishna water to Kuppam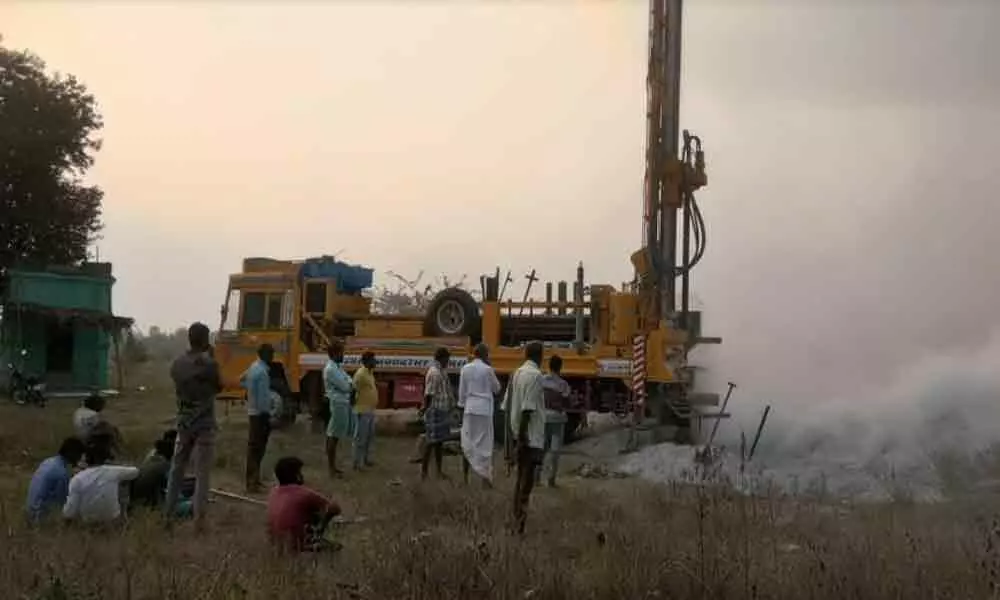 Highlights
Handri Neeva Suajala Sravanthi branch canal works did not go ahead at least one step
Farmers spent around Rs 10 crores to dig bore wells for irrigation in only Shantipuram Mandal
All the four mandals witnessed number of bores failures and farmers drowned in severe debts
Both opposition TDP and ruling YSRC are charging allegations on each other over Handri Neeva canal works pending
Tirupati: Once again Kuppam constituency irrigation water issue generated political heat among the ruling YSRCP as well as opposition Telugu Desam Party (TDP). It may be noted that opposition leader Nara Chandrababu Naidu is representing from Kuppam constituency for the 6 th time. As on date, there was no permanent irrigation water source to Kuppam constituency and hundreds of farmers have been depending on rain or bore well sources for farming.
In fact, Kuppam is a remote constituency in the state and geographically high altitude place. Here always lack of irrigation water problem is going on. In the backdrop Chandra Babu Naidu seriously charged against the YSRCP government that water resource department has stopped funds allocation to HNSS Kuppam branch canal work. He criticised that the government did not allocate Rs 50 crores for completion of this canal work.
Similarly as counter move of TDP chief statement, YSRCP Kuppam incharge Bharath criticised that the than TDP government had totally failed in carrying out the HNSS canal works within time limit . And he recently submitted a representation to Government for completing HNSS canal works as speed as.
Whereas irrigation water crisis has been chasing the Kuppam farmers for many years. In the backdrop as a permanent solution, the then TDP government had handed over the HNNS Kuppam branch canal digging works to a leading politician company in 2018. That company abandoned canal digging work as incomplete middle of the progress. Actually this contract was confirmed at cost of Rs 423 crores at time of tender allocation, later it was enhanced Rs 525 crores . Now as per the water resource department assessment at least Rs 85 crores are needed for completion of this canal digging.
On another side farmers in four Mandals like Kuppam, RamaKuppam, Shanthipuram and Gudipalli of the constituency invested more than 50 crore rupees during these two years to dig the bore wells for irrigation purpose. According to locals information only in Shanthipuram Mandal farmers spent Rs 10 crores to dig number of bores.
Most of the bore wells were failed and there was no single drop of water in those bores. Many farmers have drowned in debts. As far as irrigation water concerned in Kuppam constituency alarming situation was taken place. Even though farmers dug the borewells up to 1800 feet depth water was not available. Only lakhs of rupees debts remain to farmers.
We are much waiting with lot of hope for Krishan water to cultivate our fields and continue traditional lively hood. We know only practice of farming otherwise we don't know skill to changeover the occupation. Already we had lost lakhs of rupees as investment on failure bore wells for irrigation water, it was left only debts to us , said a farmer R Sivappa of Shanthipurma village, Kuppam constituency.