Love stories of a legend: Sahir Ludhianavi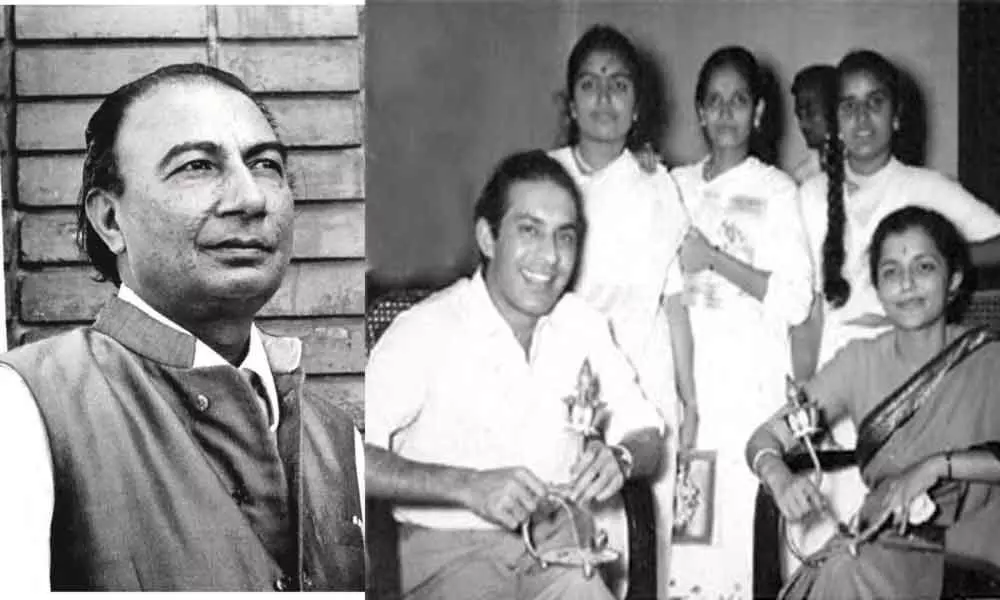 Highlights
The iconic song writer, and poet Sahir Ludhianavi's life filled with love and heart break is legendary. And it is believed that the great lyricist of...
The iconic song writer, and poet Sahir Ludhianavi's life filled with love and heartbreak is legendary. And it is believed that the great lyricist of many classic Hindi film songs gained his inspiration from his unrequited love…
What can be a bigger irony than the fact that the college which had once expelled Sahir Ludhianavi is the same college that has its widespread reputation today due to its very same expelled alumnus. Sahir is a great name in the realm of poetry, which came to him as leaves come to a tree, quite naturally. But like most of the poets, be it John Keats or Shiv Kumar Bitalvi Sahir did not have a good love life. Love remained with him but never became of him. And, most of us remember him for his platonic love with Amrita Pritam. Such was the intensity of their attachment that Amita would never let go the chance to smoke the left-over cigarette butts of Sahir. It was not her addiction to the habit of smoking but her intense passion that made her adopt this weird practice. Though Sahir is chiefly associated with Amrita (who too defying all the societal norms got herself immersed in his love), he had loved other women too. The ostensible reason of Sahir's exclusion from the Government College Ludhiana was a secret meeting with his beloved Isher Kaur in the corridors of the college during one summer vacation.
The college authorities said they wanted to rusticate Sahir as he had developed close connection with the communists and the thinkers of the progressive writers' movement. He also began to openly unleash his pent-up anger against the tyrannical British rule through his deeply provocative poems. With his sublime style and profound poetic sensibilities, Sahir had become the heartthrob of the millions and his popularity graph was soaring high day by day. But society has always been at loggerheads with lovers and the inter-caste relationship with Isher kaur failed to fructify in a nuptial bond. In the memory of his parting beloved Isher Kaur, Sahir created a long poem "Kisi Ko Udas Dekh Ker" This poem finds a special place in his immortal anthology "Talkhiyan". The poignant opening lines of this verse well up every eye with tears "Tume Udaas sa pata hun main kaei din de, Na jane kaun se sadme utha rehiho tum, Woh shokhian wo tabsam woh kehke na rahe, Harek chiz ko hasrat se dekhti ho tum...." He was also annoyed with his beloved Ishar kaur for not revolting against the diktat of his family and wrote "Jab tumhe mujh se Ziada hai zamane ka khayal, Phir meri yaad mai ashak bahati kyun ho?"
Amrita came into his life quite later. Before her it was Sudha Malthotra, a play back singer, who met him in the Bollywood. She was also drawn to this swashbuckling man with equally intense pull. Together they gave best of the songs in the films like 'Dhool', 'Didi', 'Barsat ki Raat' and 'Babar'. It was Sudha, who first made expressed her feelings to the love starved Sahir, who instantly reciprocated. When the movie 'Didi' was in its making, their love too was blossoming to the fullest. Laying bare his soul to Sudha, Sahir composed one of the most heart touching songs of Hindi cinema, "Tum mujhe bhul bhi jao to ye haq hai tumko, meri bat aur hai maine to muhabbat ki hai". But Sahir seemed to be jinxed in love. This time again the caste caused the catastrophe and their love was smothered to death. Thereon, Sahir-Amrita's heart-rending love tale begins, which too leads to a dead alley. Leaving behind a treasure of many tender memories this restless soul mingled breathed his last on 25 October, 1980.
Subscribed Failed...
Subscribed Successfully...