Staying healthy on the go!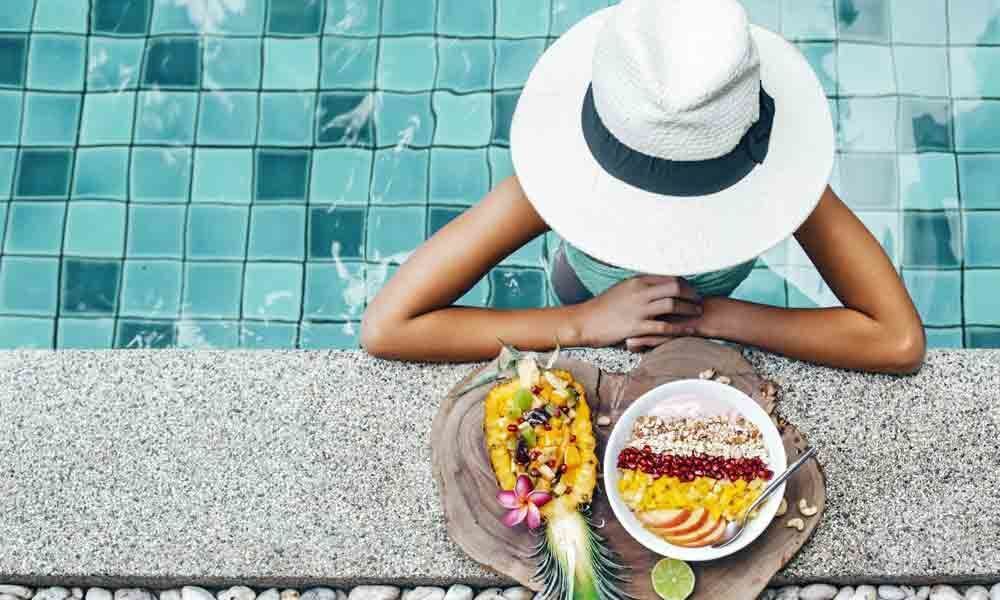 Highlights
It's summer vacation and I see people packing off and going on holidays.
It's summer vacation and I see people packing off and going on holidays. I love food, I dream of food, I think of food and I love trying different cuisines. So, when I travel, I always try to find foods that rejuvenate me. It is great to know that you get local seasonal foods around the world.
As my passion is how food affects you, these breaks give me an insight into how different cuisines influence your energy chakras, which I am going to share with you.
I just can't seem to understand why people come back tired and have piled up the pounds after a break. I always come back feeling fresh, well-toned with a few pounds less.
Whatever meal you eat through the day, the most important tip I will share with you is to begin the day with water; do not step out without water. It is your go-to drink. It will prevent dehydration and exhaustion, automatically stopping you from reaching out for food as it is often thirst and not hunger.
Begin the day with breakfast. I always ask people to choose fruits, vegetables, nuts and seeds while accompanying it with a wholegrain whether it is bread, roti, idli or dosa and combining it with either egg, yoghurt, sambhar or a slice of cheese. Tomatoes are always present on breakfast tables which could be an addition. See that you take all the vegetables that go in the sambhar.
If you are going to have a late lunch then snack on some fruit, nuts or mixed seeds in between. Make one of your meals a light meal where you could just pick on a soup and a sandwich or a salad and a sandwich if it is too hot.
Check out the offerings, read the menu well or walk through the buffet at meal times. Fill in your plate with lightly sautéed vegetables. If you opt for a salad, see that the dressing is vinaigrette with no added sugar. Opt out of the creamy, calorie dense sauces. Indian, Chinese, Japanese, Burmese, Thai, Korean, Mexican, Greek, Italian, American, European, you will definitely find all these cuisines. Complement it with wholegrain local bread, roti, sushi, dumpling, pita, quinoa, cous cous, potato, sweet potato, yam, unpolished rice - preferable basmati or jasmine, and combine this with either hummus, kidney beans, lentils, yoghurt, cheese, tofu, fish or prawns. You could do one-pot meals like khao suey, Thai curry with steamed rice, burrito bowls, paella with vegetables and fish. These combinations will take you forward for a longer time.
Please cut your portion sizes, eat slower, relish the food, and avoid the heavy creamy gravies. With globalisation, there is no want of foods from around the world that can't be met easily. So, there is no need for you to gobble up everything in sight.
It is so easy to reach out and have the entire chocolate or dessert by yourself. I am not asking you to deprive yourself. Just take a few bites and share it with other people. Often a small piece will satiate you.
Sparkling water, club sodas, herbal infusions, buttermilk, coconut water, salted or plain fresh lime water and plain kefir are better options compared to alcoholic or sugary beverages.
On route as a back-up carry fruits, nuts, and seeds and don't forget the most important beverage, water, to sip on throughout the day.
When you eat regional, seasonal, local and fresh whole grains, fruits, vegetables, pulses and nuts, good quality fat obviously your chakras will be pulsating with good health and positive energy.
Subscribed Failed...
Subscribed Successfully...