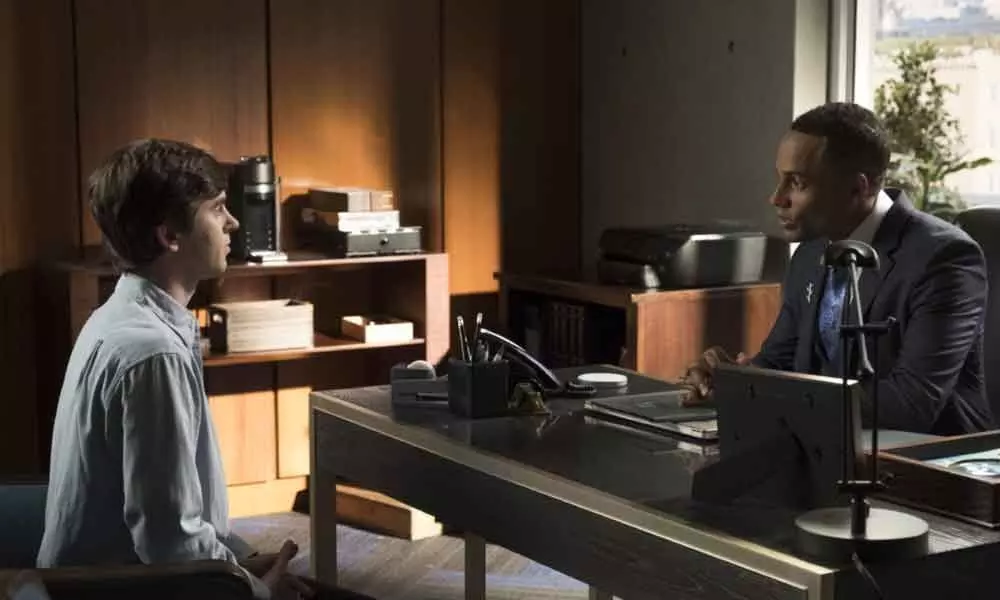 Highlights
"I am so happy to see the evolution and transformation of my character," says Hill Harper, who plays the role of Dr Marcus Andrews in 'The Good Doctor'
One of the top shows running currently 'The Good Doctor' is back with Season 3 on Sony Liv. The medical drama may not be the first of its kind, but, has surely garnered for itself loyal audience with its different story line, and the writers managing to keep the viewers hooked on to the show episode after episode. The lead character Shaun Murphy played by Freddie Highmore is autistic, and the story is about how he learns to cope and overcome his limitations and hone his skills as a surgeon with a genius. And then there are the other important characters, that have been well-etched adding to the drama unfolding in one of the most prominent hospitals in San Jose, making the show win awards and become internationally popular.

Hill Harper plays the role of Dr Marcus Andrews, Chief of Surgeon in 'The Good Doctor'. Armed with three Ivy League degrees and a bunch of honorary doctorates from prestigious universities, Harper chose to pursue acting and was seen on screen in Spike Lee drama, 'Get on the Bus' in 1996. A few independent films and a couple of good roles in other drama series like the 'City of Angels' and awards like e NAACP Image Award later, he began his stint with ABC's medical series.
The last two seasons of 'The Good Doctor' saw him transform from being an antagonist, who completely disapproves hiring Shaun as a resident, to warming up to the idea and beginning to respect and empathise with him. Competitive and a strategist he goes on to become the President of the hospital, a tenure which ends towards the end of second Season. The new episodes will see him re-hired as a surgeon. As the equation changes with him working under the people, who used to work for him, the role of Dr Andrews will surely be an interesting one to watch out for. "I am so happy to see the evolution of my character. It started off as complete antagonist, who then develops respect for Shaun and takes on the role of a mentor his mentor. In the new Season you will see him more relaxed. He is no longer in the leadership role and so will realise why he became a surgeon in the first place – to help people. His essential nature does not change. He will just be more humble," Harper reveals.
"In most shows, once a character is established, they keep it that way. Here, the writers allow it grow and evolve, which is one of the things I like about 'The Good Doctor'," he adds.
He also thinks that one of the other reasons for the show's popularity is its diversity. "It's about celebrating differences. Shaun Murphy doesn't say the right things at the right time, doesn't do right things, but bring in his genius. Many people around the world can relate to it. It is also an inspiration for people dealing with autism."
While preparing for his role he spoke to groups dealing with autism and even while working through the show, he says, he has learnt a lot about autism. "It has been an eyeopener for me."
He further goes on to say, "Diversity is real. If you go and see any hospital in the US, it will be as diverse as possible. People when they watch the show will see reality, unlike shows like 'Friends', which is purely fictional. You would never see a coffee shop that is so non-diverse in New York. Our show is depicting the melting pot that United States is. This talk of race and non-diversity that you see around you is just politics. Our show is about positive impact."
Harper is all praise for Freddie Highmore. "He has put in so much into it. He deserves all the awards and the Golden Globes."
Hill Harper works for one of the leading law firms, is an entrepreneur and an author of motivational books, and is all set to release his next book in 2020, besides being the wonderful Dr Marcus Andrews on 'The Good Doctor.' A man of many talents indeed.
The Good Doctor – Season 3 premiered on October 8, airing every Tuesday at 11pm, on Colors Infinity
Subscribed Failed...
Subscribed Successfully...