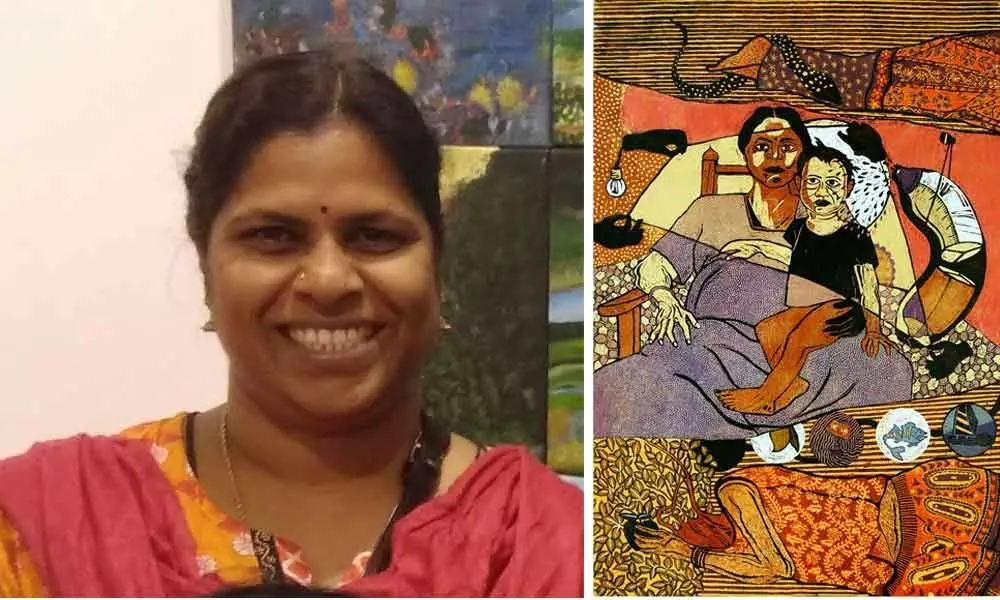 Highlights
Karuna Sukka, popular printmaker from Hyderabad, says she gets her artistic instinct from her family, and inspiration from nature
Karuna Sukka is an artist based in Hyderabad. She works with largescale woodcuts to make prints, which make her one of the very few women artists working in the medium.
A popular printmaker and artist from the state of Telangana, and daughter of legendary painter, sculptor and artist Srihari Bholekar, shares, "In my childhood only I used to see and absorb how he would approach his work. I later did BFA in painting, MFA in printmaking and MA in Museology."
Pouring her beleaguered thoughts and profound emotions into her works, she employs robust and flaw- less printmaking technique to recreate the magnificence of unseen nature as her visual poetry.
It seems the.
Karuna's beautiful drawings, etchings and woodcuts are autobiographical anecdotes, which conglomerate sharing and bearing the space within the considerably tight compositions.
"I worked on vast figurative portions, and as an artist I depicted the emotional attachments to materialistic world and contradictions with social realities.
At times, the figures are conceived as metaphors for nature, culture or life oscillating within the peripheries of real and fantastic realms. I also work on women and their existence in present society," Karuna explains.
What makes her so special is the interplay of visual narrative and the skilful renderings that are adroitly transposed on printable surfaces.
The burly lines and the flamboyant hues surge onto the print area and the inadvertent textures produce energies reflecting tremendous qualities of the artistic temperament.
While it was easy to dwell in art when at home, even after marriage Karuna says it was easy to continue because, "I am married to a Hyderabad-based artist Sukka Sunder, who understands this world."
She practises art for 4 hours a day, she says, "I start may day with painting, early morning 2 hours and later in night 2 hours. But when it comes to printmaking I crave for the whole week and Saturday and Sunday I print the same work."
About her work she says, "I work on woodcuts and the theme is 'Visual Diaries'. I am trying to show what I see daily, to whom I meet every day, you can say I put my daily life in my work.
And at present I am working on a tittle 'Tied Women' where I am trying to explain how a woman is balancing her personal life and professional life, she is multitalented."