In close proximity with nature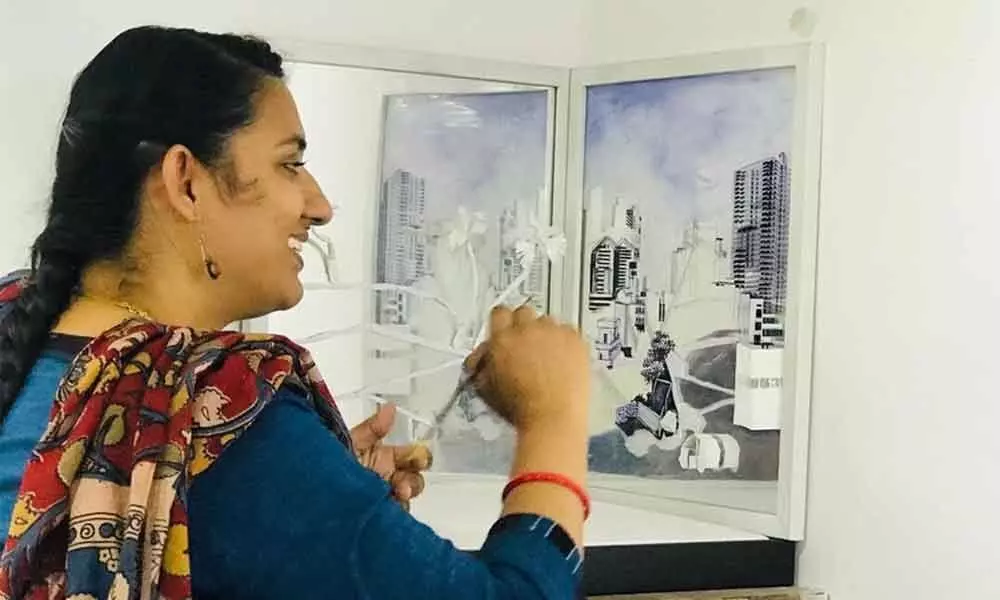 Highlights
In artist Sweta Chandra's work, it is the nature in its supreme form and her life experiences that manifest on her canvas
Hyderabad-based artist Sweta Chandra brings to life objects that help the viewer connect and open her memory library going back in time. Birds, animals and trees are the crux of her work.
The artist honed her artistic skills from Santiniketan. She says, "I have been passionate about art since childhood. My first venture in the art field started when I was six years old.
My maternal aunt used to take me to watch theatre at Nandan and Academy of Fine Arts, Kolkata. Soon my cousin's art teacher recognised my inclination and suggested that I take up Fine Arts at Shantiniketan."
Her parents brought her up very close to nature with lot of gardening thrown in and birds around; this must have been the core trigger towards art, she says.
"My father has been the backbone for me to walk into art field as he fought with the social pressure of making me an engineer or doctor. God has blessed me furthermore with a supportive husband, Pavan Kumar who is also an artist."
About her favourite artists, she shares, "Vangogh has been my all-time favourite because of his use of vibrant colours and strokes despite his ill health.
And of course, Rene Magritte from the surrealism - I love the way he recreates the human and the surreal nature around."
She likes to play with textures, she says, "To me, textures have always been inspiring and the triggering factors to initiate the work.
The process of painting involves constant play with textures and the subject matter emerges and diverges giving rise to illusion in space. The background is what interests me to put forward my idea."
With her art, Sweta Chandra has tried to achieve an illusionary space through the shadows of few self-designed chairs. These chairs also found their way into her paintings.
It is recreating a scene, reliving a moment that has meant much to her until she shifted to nature. "During my MFA I used to work on white on white where we still were trying to figure out our place in the society symbolically, represented by chairs in the work.
I also used a lot of illusions of space on a new medium veneer wooden board. These illusions were experiences of my mother suffering from hallucinations.
After returning to Hyderabad seeing the transformation of the city into a concert jungle, I started working on a new series titled "Celebrating Co-existence" to open up windows and bring people back to nature," she explains.
She gets into her artist space from 9.30 am to 3.30 pm every day when her daughter is off to school. She is a freelancer and teaches part-time at NIFT, Hitech City.
She has also been bestowed many scholarships as a student and many awards by the state. Sweta's teaching extends beyond the classroom. She conducts workshops and camps for those wanting to learn art.
"This year I've been awarded the junior fellowship 2018 -2019 from the HRD, Govt of India. I am working on the proposed project," she relates.
Subscribed Failed...
Subscribed Successfully...