Of being comfy, elegant yet trendy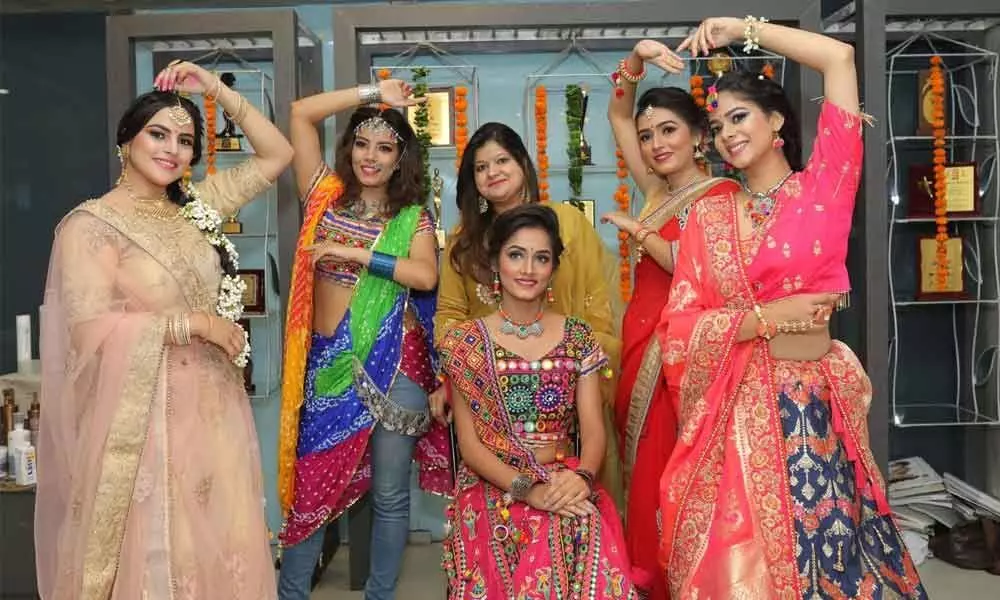 Highlights
In fashion, colours have drifted from bright and vibrant to subtle and pastels; the fabric is more about comfort than heavy. A floral saree with a belt and crop top with palazzos is the trend. Makeup in soft palettes that are rich yet subtle is in vogue, say experts…
Here, we are at the steps of the most vibrant months of the year with festive cheers and wedding bells ringing. Dasera or Deepawali, what really do our multitasking Indian women love the most, besides preparing special delicacies for her dear ones…
A moment in the mirror and time on hand, she will want to see a radiant herself draped in a la mode, eager to hear an applause.
The Hans India spoke with industry experts to curate information so as to bring out the ideal 'Womenia' this festive season. Comfort, elegant and trendy are the key terms this festival says fashionistas and makeover artistes.
Festive Essence – Fashion:
"Shades of colours and styles of silhouettes have undergone a shift. Hues have changed from bright and vibrant to subtle and pastels, silhouettes have become more edgy and innovative and the fabric has gone to lightweight and comfortable in the place of heavy," say designers Bharat Reshma Grover from Studio H2, New Delhi.
Festive wardrobes of young girls and women from all age group will be ruled by hues of pastels. Sarees, lehengas, shararas, or crop tops, these shades are the key to a perfect elegant look.
During this season, designers are extensively using tones such as dusty pink, peach, soft orange, beige and pastel pink to lemon green or soft mauve.
The designer says Bollywood divas Katrina Kaif, Shilpa Shetty, Kriti Sanon are making a glamorous fashion statement in floral sarees. "These sarees are going to be a rage this festive. Floral sarees can be worn with a bustier blouse and big choker.
Further, spice up the look by donning a glitzy, fancy, sequinned and studded belt. Also, sarees with tassels and fringes and blouse in ruffled sleeves will give a boho-chic festive look."
As floral has made a comeback this season, fashionista's suggest print on print or solid single colour for crop top and skirt, while for lehengas and skirts they say floral in pastels, greens and blue will do the magic.
Also, shop for printed lehengas and cholis with subtle work of embroidery and embellishment of pearls on them, pair it with deep neck embellished crop top in the same colour with a flowy skirt or tulle lehenga. Do not forget to ace the look with heavy or sleek jewellery depending upon taste, they add.
Fashion designer Bharat Reshma Grover also suggests going classy, traditional and ethnic while wearing beautiful kurtas in chikankari and gota patti work.
These can be combined with palazzos, shararas or skirt, reviving the nawabi era by donning a Hyderabadi pearl necklace and chandbali with an ensemble or look royal by wearing kundan polki set.
Enhancing Beauty – Makeup:
"Unlike last season, trends are now shifting towards soft palettes that are rich yet subtle, with base towards creating texture that looks nourished and dewy so that the skin glows with the health of nourishment and looks hydrated and resplendent.
No longer heavy, very fancy or flashy makeup is desirable; nude makeup with a hint of highlighter or glitter to add the charm of festivity will rock the look," says Mallika Gambhir, makeover expert, founder, Persona Salon and Beauty Academy, New Delhi.
Drawing attention to eyes remains the core of this festive makeup look. As a subtle base, nude glossy lips with dramatic eye makeup is in vogue this season. She says sultry smoky eye makeup is sought-after look for girls who want to go for a stylish and sexy look.
But be cautious before choosing smoky eye makeup as its not traditional makeup, so play safe while picking contrast colours, she adds. The look can be completed with waterproof eyeliner in dark brown, white or coloured eyeliner and black mascara.
The artiste suggests nude eye makeup look for those who want minimalist makeup. To create this look, neutral colours that match colours next to own skin tone and versatile yet vibrant colours like rose, peach, beige, champagne or light brown are good choices.
For this, the makeup is done in a subtle way, with a hint of shimmer. Informing about Graphic Retro eye makeup, she says, the charm of the retro era can be revived with bolder colours, graphic prints and signature modern look.
Meanwhile, if an off-shoulder dress is worn, a touch of glow on the body will go well by adding sparkle with shimmering body oil, the artist recommends.
Coming to the essential of completing the festive look is hair styling.
What goes along with a traditional dress is a western and modern hairdo such as a messy bun, fishtail braid, low bun, diagonal braid, rolled up to do, side braid, messy side braid with layers, does just that.
To up the festive charm, embellish these hairdos with flower accessories or accessories studded with pearls or Swarovski.
However, a front bump hairdo remains an evergreen hairstyle that is in fashion since the retro era. With a front bump hairdo, hair can be tied into a ponytail or curl loose hair into soft waves and let them free-flowing.
Also, the bouffant hairstyle looks royal, chic and very classy. The makeup that is done in beige and shades of pastels works well with this hairstyle.
Minimalist, minimalist rings everywhere and so it does for base and lips. Here, nude and subtle makeup is all the more important if dramatic or creative eye makeup is donned.
According to Gambhir, application of sheer or radiance-boosting foundation base will make the face shine. "Do not forget to complete the look without embellished nails.
Since its the time for celebration, a touch of Swarovski and sequins studded nail art done in hues of gold, dark red or silver can create the magic," she concludes.