Solitude is essential, even in lockdown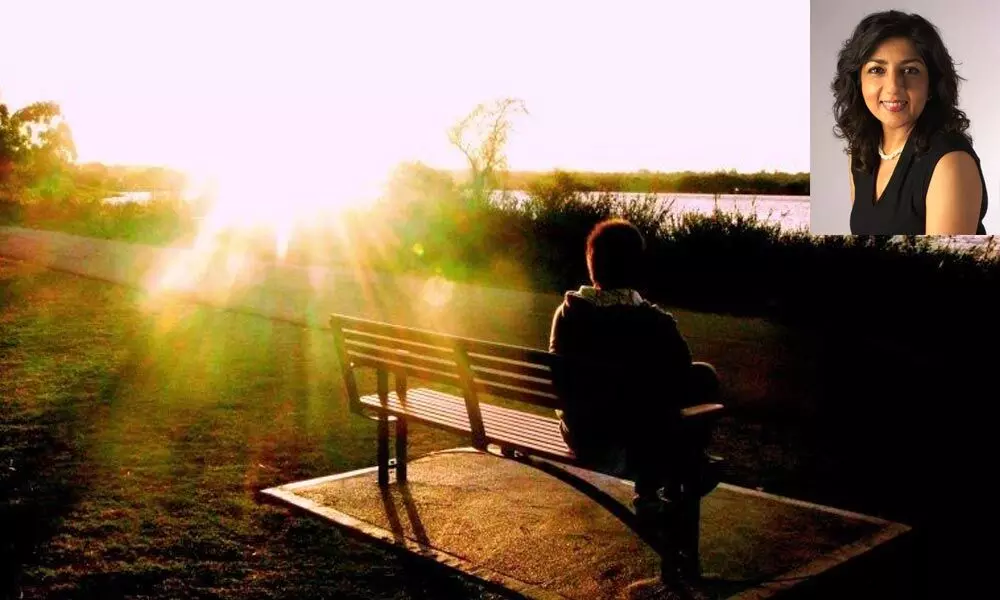 Highlights
Shobha Nihalani who is out with her tenth book, a thriller 'The Blue Jade', writes on how solitude even during lockdown is important and how writing can help in observing the self and feel calm
Trying to stop the mind is impossible, but slowing it down through moments of simply observing the inner self is possible. Research shows that being in solitude makes one creative, with the capacity to come up with new and innovative ideas. To let the mind dwell in a relaxed state is to get into a zone via simple breathing. In those moments, we know that all the pings and buzzes of the devices can be dealt with later
We are so connected through the digital world that finding solitude is virtually impossible. The pressure to be part of the hustle-and-bustle of life's daily distractions can be like quicksand, sucking us deeper into the complex web of technology.
The constant social media updates and digital connections demand our attention and that makes it difficult to unplug. Whether on social media or group chats, the trend to share every aspect of our lives has become a norm – from photos of cooking experiments to rants about rule-breakers. With this constant deluge of content and chatter, there is so much pressure to respond.
Fortunately, there's an easy way to soothe the mind – take a break for just ten minutes. First, detach from plug-ins, disconnect from devices and avoid your gadgets. In fact, get up and physically move away from them! Sit facing a window so that you can see the view outside. Then, just observe without judgment or opinions. It will probably seem difficult at first. We are so used to being mentally and physically on the run that sitting still is a big task. Without distractions, it is easy to get fidgety or bored. The temptation to pick up the mobile phone is compelling.
Trying to stop the mind is impossible, but slowing it down through moments of simply observing the inner self is possible. Research shows that being in solitude makes one creative, with the capacity to come up with new and innovative ideas. To let the mind dwell in a relaxed state is to get into a zone via simple breathing. In those moments, we know that all the pings and buzzes of the devices can be dealt with later.
This form of regular quiet time brings about an imperceptible sensation of peace and calm. In those few moments of solitude, the breathing slows. The rush to react to any external influence suddenly seems unnecessary. Even writing is like that. I tend to procrastinate at times, so to discipline myself I focus on the goal of writing, say, three hundred words. Then I reward myself to a short look at some instagram posts. It's true that we cannot avoid technological trends, but we can carve time out so that they don't take over completely.
This discipline helps me to achieve my goals regularly. Writing is a deeply inward-focused, evolving process. So is being in solitude. Many people presume that writers are mostly just sitting in one place, typing away, and not active. But the writer is mentally active, constantly creating, rewriting, making connections, imagining plots. The writer builds characters and situations. And to be honest, the creative process can be downright exhausting. After a particularly intense writing session, I do need to switch off and do something different. And that's when solitude helps me. After any onerous task, sitting in solitude can usually bring about a sense of calm.
I've had experiences of being so far inside my flow of writing that I have lost track of time and forgotten appointments or meetings. This flow is like being in another state of mind, forgetting oneself. It is like tapping into some otherworldly creator that we tune in to like a radio signal. Being in that space is enriching and fulfilling and gives us a sense of purpose.