Strokes of nature on canvas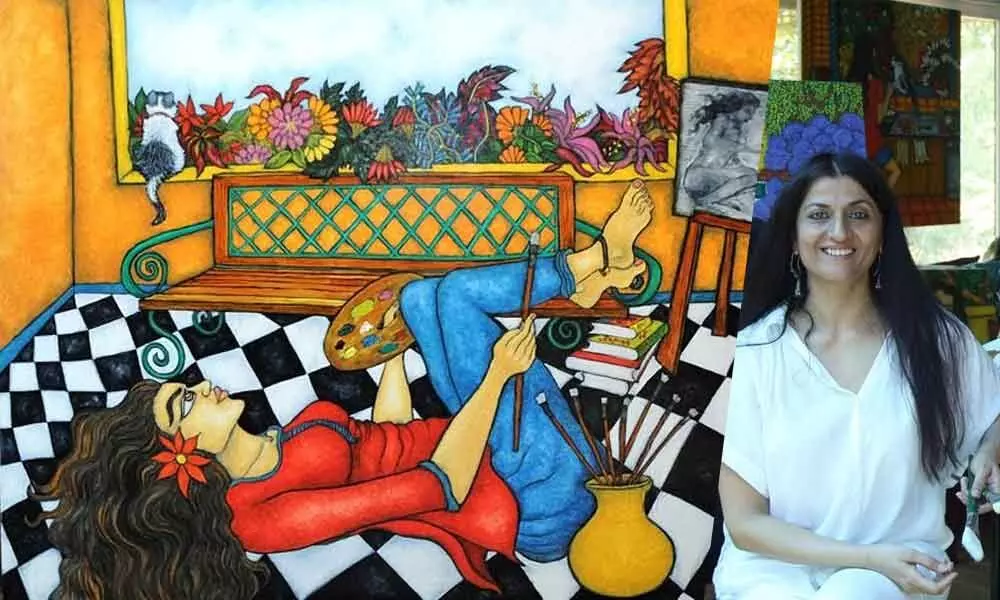 Highlights
ArtistValleryPuri's optimism towards life comes alive through the various series of her art works
ArtistValleryPuri's optimism towards life comes alive through the various series of her art works. Her outgoing personality is reflected in her bold use of colours and strokes that are inspired by post-impressionism and modernism.
The artist's oeuvre explores mundane objects and chores, and one loses oneself in the details of gardens and landscapes that flow into bustling cities. Through her paintings, one experiences large figurative works that make one think about situations that we pass through every day without a second thought.
Vallery is a self-taught artist, therefore there are no rules or methods that she adheres to. She says, "I learn with every painting and that adds to the wonder, the miracle, the gift that I have been so lucky to have been blessed with.
It is a journey of self-discovery and like Hindustani music, my thoughts (Khayal) can be short (Chote) or long (Bade) and that determines the size of my paintings.
I am inspired by all that surrounds me and therefore my work is rarely pre-meditated. My brush simply follows my heart and it continues to lead me to wherever it is, that am going to."
Vallery's each painting is a frame of time, observation and reflection of the artist's world. "My journey as an artist began at a very young age.
I started painting human figures by the time I was five and by the time I was eight I was learning other art forms like Bharatanatyam and Karnatic music.
I loved dance with a passion and still love it although I stopped performing several decades ago. Dance and dancers influenced my paintings initially and from there I went on to choose all kinds of subjects that impressed and triggered my imagination.
My topics have ranged from subjects like "where have all the forests gone?" (title of my exhibition), dealing with our disappearing forests and fauna, "One billion Plus" was about our bursting population and overcrowded cities.
I have done Several series on Gods and Godesses, Ganesha series, Kali series, Devi series. Home, Dreams, Meeting places, Buddha are some of the other series I have exhibited."
About her inspiration she says, "My medium of choice is primarily oil now although I have used other mediums in my painting journey. I learn with every painting and everything continues to inspire me."
She has been painting professionally for the last 25 years now. "Recently I have done a few paintings during this Covid 19, lockdown but my outlook is a positive one where, as an artist I foresee life getting back to normal and the lockdown being a time of growth and learning.
Meanwhile my work for my next exhibition is in full swing and it's a topic very close to my heart as few people know that between the ages of 2 and 22 my father had 4 transfers to Secunderabad and that I grew up here.
My theme is about Hyderabad city and I will speak more about it when I complete my work on it,"Shares Vallery.