Technology, need and importance for women entrepreneurs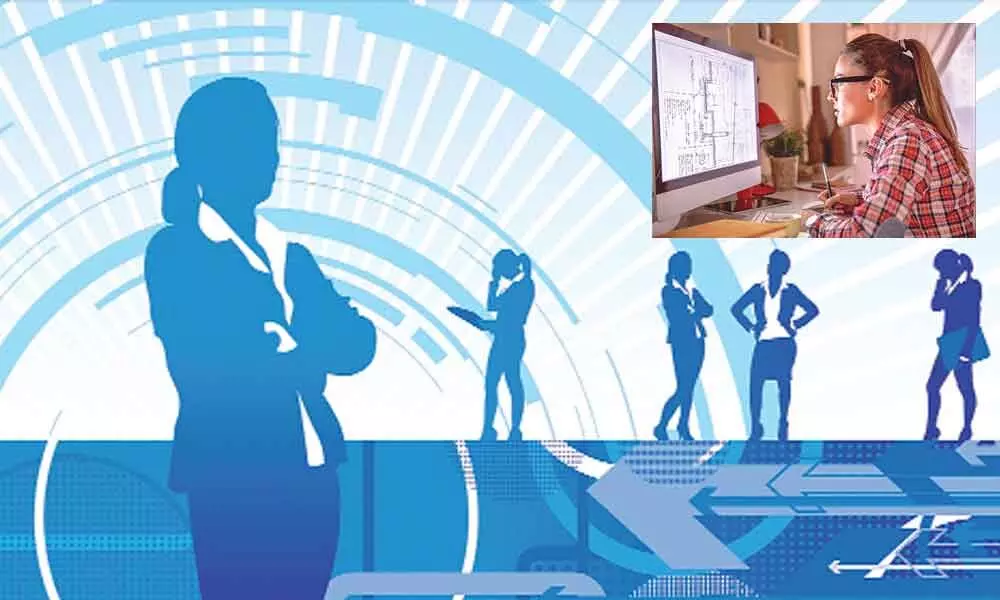 Highlights
Unlike in the past, where physical strength played a role in determining how well a job could be done, today, Innovation is nuanced and straightforward. Hence the playing field between men and women has been levelled
In fast-growing economies, People have faith in technology; it is the best way to bring people together. Tech has exceeded humanity and society. And, the backbone of society is women, and in technology, they have proven to be truly dynamic.
Today advanced tech- solutions have made it possible to deliver better goods and services faster than ever before. Innovations like the cloud have given rise to countless SaaS-based companies. The services offered by these companies make businesses more efficient.
Technology has transformed behaviour
Technology has transformed behaviour that people live differently than they used to, a few years ago. For instance, the smartphone is ubiquitous. Using it, people are shopping differently than they did before.
They are mastering job-related skills nobody had in the past decades. They are learning new languages, watching their favourite TV shows, movies, and listening to music on digital devices.
The evolving trends of music, watching movies and TV shows have given birth to the audio industry.
The audio industry in India has been seeing with a prodigious growth over the past decade. The way audio and music are being created, as well as being consumed, shows the altering patterns and trends.
It is fair to say that these sweeping changes brought about in fields of the audio industry and other industries, have made lives very different for the younger generation than people in the 80's.
The radical changes being brought about by technology are accelerating and helping women to enter the industry.
For women entrepreneurs', technology presents a huge opportunity. The reasons for the same are as follows.
The scope of technology
For women entrepreneurs, audio technology is a tremendous equalizer. A sound technology will work just as well for a woman as a man.
The universality of technology is why more businesses are led by women ever before. Innovation has not only grown massively more powerful, but it is also more intuitive than ever before.
The intuitiveness of technology is behind the success of so many women entrepreneurs in the tech arena. The perception that tech, especially audio technology, is a field for which women lacked the natural aptitude has been proven wrong.
Women are just as likely to become successful programmers and founders of technology companies as men.
Technology helps bring ideas to fruition quickly
Technology has revolutionized the world. Ideas that leading experts espoused have been turned on their head. Amazon and Flipkart are two examples of this.
Before the success of Amazon, very few believed that online retailers could succeed. It was thought that shopping was a social activity that could only be exercised in brick and mortar stores.
Women entrepreneurs' understand every aspect of every divisional technology. The element is that technology is the ­driver behind incipient companies quickly growing to multi-billion dollar valuations.
Now in highly competitive, the women entrepreneurs recognize the importance of technology for business development. The number of startups headed by women is too numerous to name.
More women are leading startups because technology is giving them access to valuable online networks. Despite growing sophistication, tech has also become easy to understand by everyone irrespective of gender. Examining new technology, a woman will appreciate its potential as well as anyone else.
Unlike in the past, where physical strength played a role in determining how well a job could be done, today, Innovation is nuanced and straightforward. Hence the playing field between men and women has been levelled.
Finally, technology is helping bring ideas to fruition quickly. Because women understand other women well, they have a better chance of creating successful products and services for each other.
What earlier took generations to accomplish happens in a fraction of that time today. For women entrepreneurs, this is a huge plus because they can quickly act on a bright idea and benefit monetarily from the same.
(The writer is a , director, sales & marketing, Thomson Audio India)