The fine touch of heritage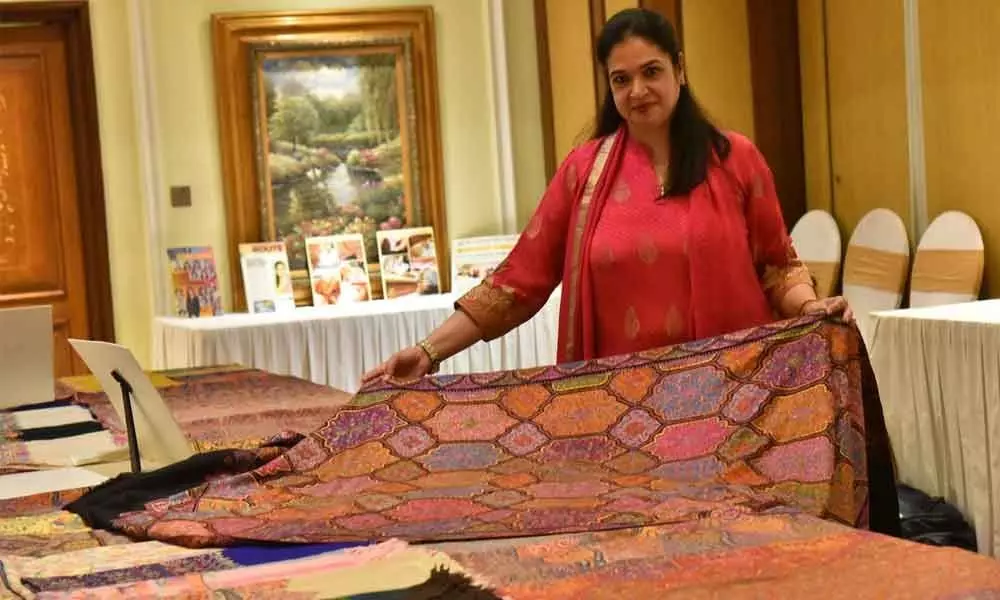 Highlights
Textile designer Varuna Anand, the founder and designer of the brand 'The Splendour of Kashmir' speaks about the rich culture, heritage and craft of Pashmina shawl making
Jammu and Kashmir- based, textile designer Varuna Anand is on an endeavour to promote the indeigenous heritage art of shawl making across India.
She is is exhibiting at Taj Krishna in Hyderabad, and is showcasing exclusive collection of luxurious Pashmina shawls along with other wide range of hand embroidered and hand-woven shawls made by master craftsmen.
Born and bought up in Delhi, Varuna never thought there will be a huge difference in the different variety of shawls. "When I got married and came into J&K I realised that living in New Delhi, I saw women wearing wonderful shawls like I never saw before.
The craftsmanship I saw was just not available anywhere else, and I really wanted to bridge the gap between buyers of this prized art and the creators of it."
Varuna studied Textile Designing in Delhi and was passionate about fine textiles. She says, "I believe your destiny drags you to where you are supposed to be and hence marriage brought me to J&K.
Life somehow unfolded and my husband Parveen Anand was the one, who supported my passion for textiles and channelised it into promotion of these fine shawls from our state."
Working with ancient crafts does need dedication and Varuna faced her share of challenges. "My husband started this business for me in 2011.
But unfortunately, he passed away in 2012. I have two daughters; one was nine years old and another was seven years old at the time of his death.
But after his passing away I was left to deal with the craftsmen and weavers by myself, which was a great challenge initially, but the people of our state are compassionate and caring and gradually their faith in me increased and they supported all my efforts," she shares.
Making fine Pashminas extensively hand embroidered by craftsmen in an intricate skill. She says, "The art of shawl making from Kashmir emphasises the skills of the craftsmen in the way a fragile fabric like Pashmina holds these extensive hand embroideries without getting torn.
It is an art, which requires a balance of great skill, hours of hard work, extreme dedication and weeks and months of frustration and those special moments of sheer joy. These craftsmen do it with heart and soul to create each piece, which is an individualistic; hence you will not find a repeat piece."
As for the designs of the shawls, Varuna tries to keep the traditional patterns alive as they make the soul of these shawls. She elaborates, "Playing with colours is more interesting when it comes to shawl designing.
The designs for shawls have to be very intricate and extensive. The wait to see each piece complete is the most exasperating part of shawl designing, by the time the piece comes one almost forgets what we were working on.
Sometimes it is very hard to convince the craftsmen on our viewpoint and with their artistic bent, this can get very difficult as upsetting them will only yield a poor end product. To maintain a balance sometimes is very hard and exasperating."
With the understanding of the craft and learning the intricacies of business, Varuna's 'Splendour of Kashmir' became a much sought after brand. "Buying a shawl is like buying a piece of jewellery where word of mouth appreciation takes you a long way.
Every satisfied customer probably opens doors of 10 others for you. My sincerity in giving my clients the finest pieces of this art probably built this platform stronger for me," she states.
Subscribed Failed...
Subscribed Successfully...