A better darshan of Lord Balaji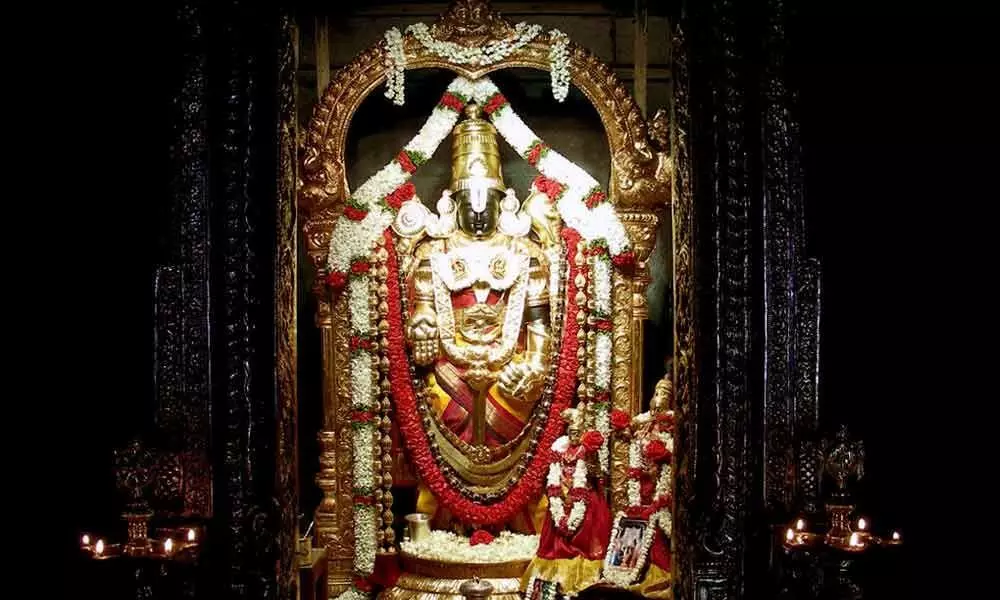 Highlights
Tirumala temple attracts pilgrims not only from from different parts of the country but also from other countries as well. Most of the common pilgrims who come barely have a glimpse of the lord.
Tirumala temple attracts pilgrims not only from from different parts of the country but also from other countries as well. Most of the common pilgrims who come barely have a glimpse of the lord.
How best to improve the quality of darshan is the main concern of the TTD and the organisation is constantly grappling with it.
On the one side normally the temple is closed around 12 am and reopened by 4 am though depending upon the rush of pilgrims darshan times are extended beyond 12 am. Three times naivedyam should take about 2and 1/2 hours though even this time is compromised to facilitate greater time for darshan .
In an arrangement where the secular staff have an upper hand in dictating the rituals minimum time that needs to be allowed for performance of proper rituals is not being followed.
If we follow them properly allow two and half hours for naivedyam and close the temple by 12 am and reopen by 4 am about 17 1/2 hours of time would be available for accommodating both the VIP darshan as well as the common pilgrims .
Even this can only be possible provided the administration takes care to issue limited tickets for Archana thomala seva and for Friday abhishekam and contain those coming for the sevas within bangaruvaakili facilitating darshan line for common pilgrims to run while these sevas are going on .
Presently the abhishekam tickets are given in large numbers spilling beyond the Bangaru vakili forcing the line for the common pilgrims to be stopped at the time of abhishekam reducing the number of hours available for Darshan for common pilgrims on Fridays.
Since the common pilgrims as well as the VIPs have to be accommodated with in these 17 hours more VIP tickets mean lesser time for common pilgrims . TTD should have a self-discipline of issuing not more than 500 VIP tickets on any one day.
Then only there will be greater amount of time available for the common pilgrims . But this would be a tall order given the fact that there are 36 board members today and any number of other MLAs and MPs and others who recommend devotees for the VIP quota.
At least TTD can start with a public display of how many VIP tickets are issued on each day (including the Srivani trust contribution tickets) so that the information is on public domain and can have restraining influence. Today this list is very opaque and on certain days running to a few thousands .
For the common pilgrims TTD normally adopts maha laghu darshan terminating the darshan at Bangaru vakili .
On days when there is no rush it is converted to laghu darshan where the pilgrims go beyond Bangaru vakili up to Ramula vaari meda and take a turn .This facilitates a better darshan but nowadays with the rush this form of darshan has become a rarity .
Within the time available for the common pilgrims TTD is today accommodating about 70000 pilgrims per day consisting of different modes of ticketing .around 20000 pilgrims who come climbing the hills are accommodated under Divya darshan scheme another 20000 under Seeghra darshan of Rs 300 tickets and another 15000 under slotted darshan where they take a token for a time slot down hills .
The balance 15000 are the common pilgrims who come into the queue without any prior booking and get the last preference and keep waiting for a long time to get darshan .
Even if 3-second darshan is arranged for a pilgrim in the 17 hours available for Darshan maximum that can be accommodated including the VIPs is around 20000 whereas today on an average 70000 pilgrims are having darshan of the lord .
Ideally TTD should gear up to limit darshan for not more than 20000 pilgrims a day so that the pilgrims also have the satisfaction of having a good darshan .
This can only be achieved when they have a complex at Tirupati from where not more than 20000 are allowed to come up the hills on any one day under different darshan modes excluding those who online make a booking and come under Seeghra darshanam scheme.
Of course, this arrangement should exclude certain important days like Vaikuntha Ekadasi and Puratasi month considered auspicious by Tamilians to have a darshan of the lord. Simultaneously a system of not more than one darshan for one year should be followed .
Given the advances in bio metric systems this is not difficult . This can immediately start with VIPs. A decision of this nature neither the EO nor the board will be in a position to take .
The initiative has to necessarily come from the chief minister since he alone can face any political fallout coming out of such a decision.
(Writer is former Chief Secretary, Government of Andhra Pradesh)
Subscribed Failed...
Subscribed Successfully...