Bigotry at its best: Elegy on demise of secular India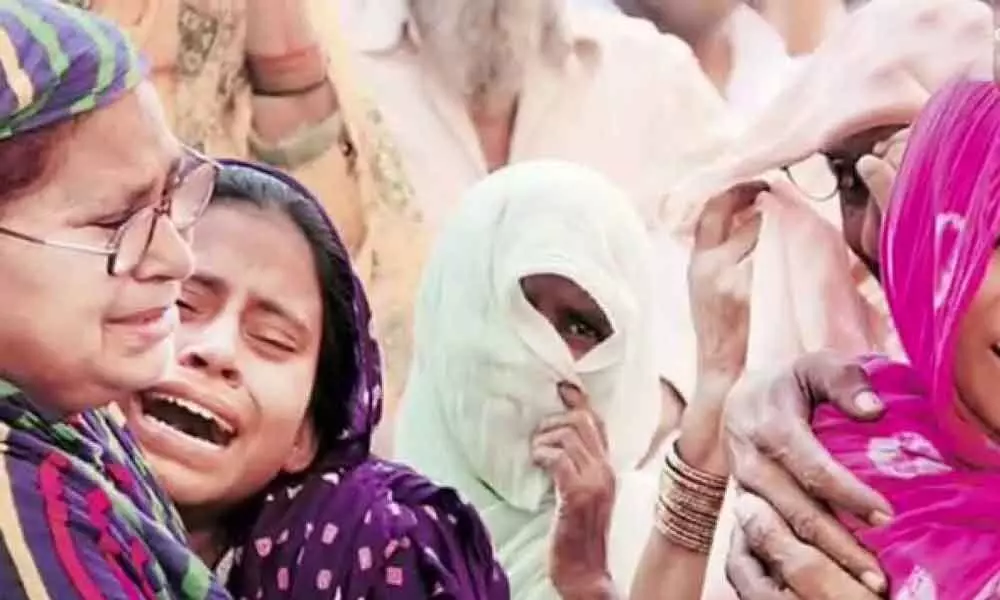 Highlights
Bitterness is palpable everywhere and the delicate membrane that keeps the civil society united seems to have developed cracks at some points.
Bitterness is palpable everywhere and the delicate membrane that keeps the civil society united seems to have developed cracks at some points.
Apprehensions, angst and unkindness are writ large on countenances across the length and breadth of the country. Yes, times are not good.
Post historical if not hysterical verdict on Babri Masjid-Ram Janmabhoomi dispute case and the controversial Sabarimala decree, heated arguments have been heard in the media – both social and conventional – and also in private and political conversations in parks during morning walks, across coffee tables and in the canteens of offices during lunch breaks on communal harmony and religious intolerances.
While most of them attribute the reasons for the communal hatred that has been in its worst form during the recent years in the country on the fanatic undercurrents of the present dispensation at the Centre, some of them, more scholarly type, blame the British for their 'Divide and Rule' policy during the Raj.
If one takes a look at the amount of communal hatred and intolerance going on across the globe, one might feel a tad scared to know that India, which is known for its 'unity in diversity' stands fourth in the list of worst religious intolerant countries in the world only next to Syria, Nigeria and Iraq where communal violence is the order of the day.
Those who simply put the fanatic Hindutva agenda of the Rashtriya Swayamsevak Sangh (RSS) and efforts of umpteen right-wing Hindu outfits to ensure the so-called Hindu revivalism as the reason for the existing hostility among religions in India are just missing the woods for trees. These outfits are only fanning communal flareup that subsisted through ages.
According to some ancient texts, communal violence took place in the country even during Maurya dynasty. Around 18,000 followers of a particular Jainism sect were exterminated on the order of King Ashoka, the ruler and an ardent devotee of Lord Buddha, as some of its leaders drew a picture of Buddha in bad taste.
No one can assess the factual correctness of this historic reference, but we were taught right in the childhood that there is no smoke without fire! Archeologic remains have been found suggesting deliberate destructions in 2nd century AD in northern India.
With the advent of Muslim rulers in the medieval India, there were several instances of religious intolerances with many fixated Muslim rulers destroying Hindu, Buddhist and Jain temples and looting their wealth.
History books say that there were religious clashes during Delhi Sultanate, Mughal empire and then in the British India. It must be mentioned here that according to history books, Turkish Muslim ruler Timur systematically slaughtered and committed other atrocities on a large scale, not only on Hindus, but also Indian Muslim population.
Records indicate that Timur killed one hundred thousand prisoners, mainly Hindus as well as many Muslims, before he attacked Delhi. The worst communal violence in the history was witnessed post-Independence.
Thousands of people, both Hindus and Muslims were massacred after the partition and the religious hostility was its peak during 1947-48. However, assassination of the Mahatma by a Hindu fanatic put an end to the rivalry for time being.
For centuries, there were reformists and religious leaders who successfully preached and toiled hard to bring in harmony among faiths.
Buddhists, Jains, Parsis all did their best to live in harmony despite differences in creeds. What more, Sikhism was born in Punjab as part of Guru Nanak's effort to harmonise Hindu and Muslims in the largely Hindu dominated Indian society.
Independent India became a 'secular' State where everyone has got the right to practise the religion he or she believes in.
Leaders like the Mahatma, Jawaharlal Nehru, Vallabhbhai Patel, BR Ambedkar and hundreds of others stood for religious harmony and social equality. Things seemed fine till communal riots were reported from Jabalpur, Aligarh and Meerut. Then there were incidents of isolated communal violence 1964, 67, 69, 70, 74, 77 and so on and so forth.
Though progressive outfits and leaders started vehemently criticising the rising communalism, none cared to seek a permanent remedy for the potentially destructive ill.
Hindu zealots burnt their midnight oil to kindle religious intolerance as part of their evil designs of institutionalising Hinduism in the predominantly Hindu populated India.
While Hindu fundamental outfits unleashed a blitzkrieg of minority hatred among vast majority of Hindus through various mediums, Muslims were desperate to seek their identity and to get recognised in India as its proud citizens.
International Islamic terrorism came handy for Muslim hardliners to wage a communal war, coupled with abundant encouragement by the neighbouring Pakistan, which ironically had a cordial relationship with India during Nehru's rule.
Right-wing Hindus labelled every Muslim a terrorist and left no stone unturned to see they are either killed or deported to Muslim ruled countries.
The implementation of Hindutva agenda began on the dark day of December 2, 1992, when a large and frenzied mob of karsevaks demolished the 16-centruy Babri Masjid which brought the advocates of Hindu Rashtra rich dividends.
The downfall of the grand old party of India which kept the country united despite its intricate diversities for decades began with its leaders adopting appeasement tactics and going out of bounds to cling to power instead of drafting an astute policy to educate largely illiterate Muslims and create awareness among gullible Hindus who blindly believed in illogical and often absurd practices.
Humanity started taking a backseat and fear and vengeance attained prominence: burning social issues were conveniently forgotten, artificial and heightened nationalism (read Hindu nationalism) became the talk of the town.
Progressive thinkers and social rights activists have been muzzled and jailed, some even murdered in most ghastly manner. And for the past six years or so, the Hindu hardliners have gained an upper hand and licence to kill members of minority Muslims and Dalits, with the blessings of the present ruler, masquerading as the messiah of masses.
Today, the he silently allows anti-nationals to lynch, rape, murder, mutilate and ask them to leave the land in the name of numerous Acts created unilaterally, leaving no room for anyone to revolt.
Religions have lost their sanctity, courts of justices have become a tool for the State to execute its evil designs in a legal way, at least in front of the rest of the world. None dares to speak.
Major public undertakings have been privatised, educated youths' cry for employment for livelihood has been muted, farmers are killing themselves with no sight of relief anywhere, raped and devasted girls are just weeping in the dark alleys of their hutments, and sensible citizens are cursing themselves for being witnesses to the atrocities on minorities in the highest order, economy is going to dogs and white collar criminals who cheat the country's banks to the tune of millions of crores of rupees have been patronaged an protected. Secular India ceases to exist anymore!