Exports: Govt boost vital to weather headwinds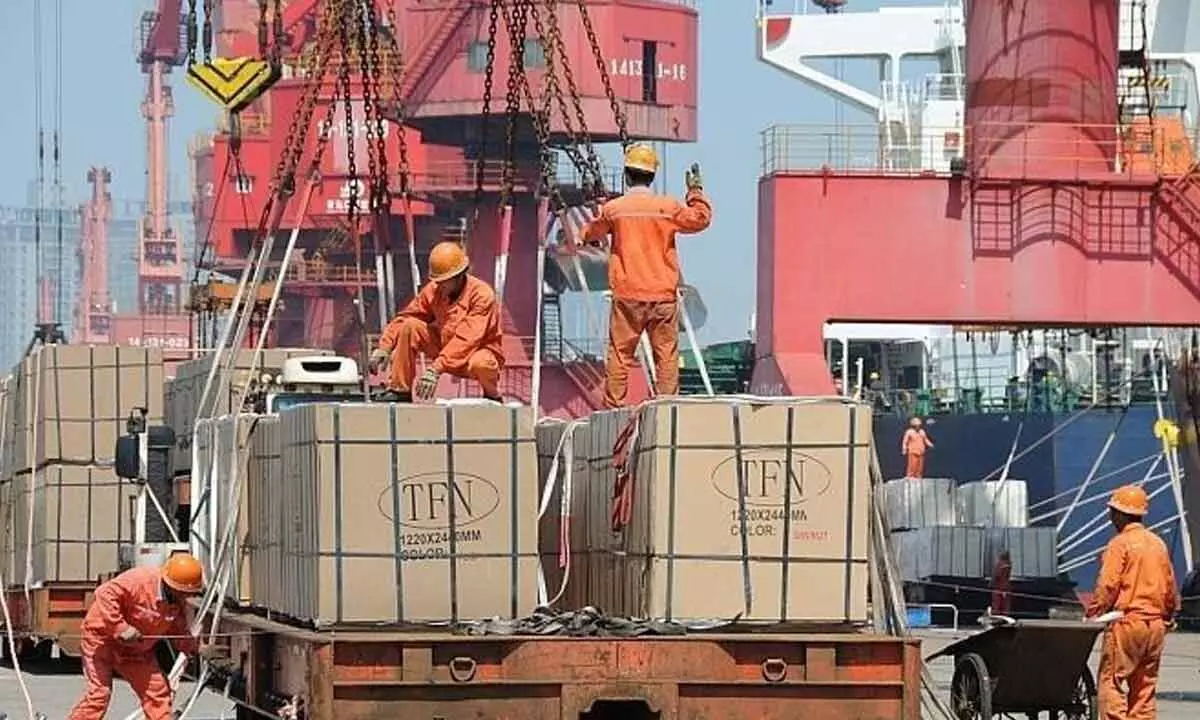 Highlights
External headwinds have made their impact felt on the country's exports.
External headwinds have made their impact felt on the country's exports. A decline in merchandise exports has been recorded for the third consecutive month with official data for April showing a fall of 12.7 per cent. The dip reflects global recessionary trends and overall sluggishness in demand especially in the key markets of the developed world. The situation is not looking bright for the next few months though exporters are reported to be confident of an uptick in growth after a few months.

The ripple effects of the slowdown have already affected major apparel export hubs like Noida and Tiruppur. Ominously, exporters in both centres have decided to shut down operations for 10 to 15 days in a month, according to media reports. The reason is a shortfall in orders by around 50 per cent compared to last year. The good news is that no jobs have been cut so far but this may happen in case the situation worsens for the apparel industry.
The slowdown had begun in 2022-23 when exports fell by 16.7 per cent last October. It has now coalesced into a trend with exports having declined for three consecutive months. The outlook for the current fiscal, 2023-24, is thus not upbeat with a dip being recorded in the first month of April.
Among sectors hit hardest are gems and jewellery, which have reported a fall of about 30 per cent compared to last year. Engineering goods and textiles exports have also been affected, especially to countries like the U.S., the U.A.E. and Singapore. Electronic goods and pharma products, on the other hand, have still managed to clock significant growth. In fact, electronic goods have risen by as much as 26 per cent largely due to rising demand for smartphones, which have been going against the general trend of contraction in other sectors.
There is a broad swathe of reasons for the setback on the export front. Much of the world, including advanced economies, is still trying to cope with the ramifications of the war in Ukraine.Though global supply chains have now been restored to some extent, energy constraints continue to be issues of concern in the developed world while the South is facing food shortages.
The war has affected the supply of oil and gas from Russia to Europe largely because of sanctions imposed by the western alliance. At the same time, foodgrains supply from Ukraine and Russia has also been held up due to difficulties in making shipments while the conflict is underway.
Inflationary pressures continue in many countries though these have fallen from the peaks of a few months ago. The aggressive rate hikes of the U.S. Federal Reserve have been followed by similar actions by central banks in many European countries and the U.K. Yet the threat of recession continues to hang over the U.S. especially with some agencies forecasting a full-fledged slowdown by the end of the year.
There is little that exporters can do to beat the general fall in demand. But government can play a role by using this time to negotiate and conclude free trade pacts with major trading partners. A crucial one with the European Union had been hanging fire since 2013 but has now been revived with a firm intent to conclude the FTA as soon as possible. Several rounds of talks have been held since last year but some sticking points include high import duties on alcoholic spirits and wines as well as on automobiles. Another issue on the agenda now is the EU's decision to impose a carbon tax on some types of metals.
It must be recalled that the EU accounts for about 14 per cent of this country's exports so a successful conclusion to the talks is bound to benefit bilateral trade in the long run. As for the India- U.K. free trade agreement, it was expected to be concluded quickly but has taken longer than expected largely due to political changes at the helm in the U.K. The ninth round of talks was held last month though these began in January last year. Concerns over immigration that were expressed by some British ministers last year have also been a sticking point during the negotiations.
Currently talks are also under way for a trade pact with Canada and discussions have begun to revive the proposed FTA with the Russia-led Eurasian Economic Union. The progress on FTAs has thus been much swifter than in the past with pacts having been concluded just last year with Australia and the U.A.E.
Such tie-ups are essential to give an edge to exporters in markets where demand is gradually falling in line with global recessionary trends.
India has walked out of regional trade pacts like the Regional Economic Comprehensive Partnership (RECP) in Southeast Asia, so it has lost some potential benefits from being within it. To compensate, it must continue its existing strategy of wrapping up bilateral trade pacts quickly with major trading partners.