Unfazed by slowdown, art goes places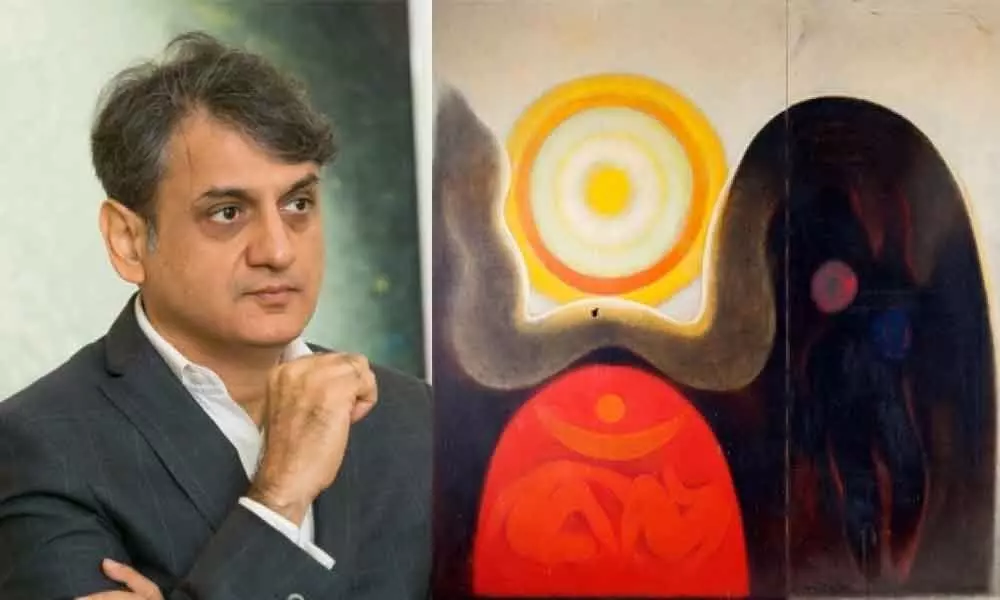 Highlights
If art is recession proof, then galleries which house some of the most famous works as well as artists need to make their presence felt.
If art is recession proof, then galleries which house some of the most famous works as well as artists need to make their presence felt.
Which is possibly one of the reasons why Delhi Art Gallery (DAG) has a new address in the middle of Lutyens Delhi, with its inaugural exhibition "The Sixties Show" on September 29.
Ashish Anand, MD & CEO of DAG spoke to us on taking art to wider audience in India and facilitating deeper engagement.
There are a few things in life which are recession-proof. Art seems to be one of them. Is this so?
This statement seems to bear the truth in the current scenario and results of recent auctions of the Indian art highlight this. The art market, as we recognize it, took off only at the start of the new millennium, peaking around 2006-08, before witnessing a downturn.
What we saw then was a crash in the contemporary market, something that has still to heal in the Indian context. The moderns rode the recession and performed well both in terms of value as well as sustained interest.
As a result, it has grown from just the progressives to other high modernists, and auctions, for instance, are reflection of this slight shift with more artists now being introduced.
The fact that art has been relatively recession-proof is a function of the fact that it has essentially been an under penetrated asset class in India.
With the growing awareness of art in India and abroad through museum shows as well as museum-quality gallery shows, participation in international art fairs, increasing public-private collaborations in the art and culture space - which is taking art to wider audiences - the size of the art market will only grow.
India has a lot of museums and galleries, but they have never garnered the attention that private galleries do. Is that because of the curators and collections or is it due to the lack of exceptional pieces?
It is not that museums in India do not garner attention. A case in point is Victoria Memorial Hall which has an annual footfall of 20 lakh people. Another example, very close to our heart is Drishyakala, which has seen an average footfall of 2,500-3,000 people every day.
Generally speaking, Indian museums have great collections. The need of the hour, I feel, is to engage in public-private partnerships so as to energise these spaces.
In a rapidly changing world that is buffeted by political, social and economic turbulences, when cultural practices and habits are changing in a more global and competitive world, museums are also changing.
They have to change, and we believe these changes and developments should take place in India, guided by the strong leadership of the Government of India along with the private sector.
Please explain to us what you mean by democratising art.
We recognise that art is and has been a part of India's civilisational values.
Much as a language has been a tool of communication, so is art. Not only that, it also provides a historical and societal narrative, enriching our perspectives of ourselves.
With this understanding, DAG has been committed to taking art to wider audiences and facilitating deeper engagement as it recognizes the value of art in understanding our past as well as our present.
While Drishyakala is a major example of our aim of democratising art, our museum collaborations - whether they are in India (Eternal Banaras in Varanasi) or abroad (Chittaprosad in Ireland's Hunger Museum, in the US) - and multiple galleries exhibitions are another.
Further, we are also trying to change the discourse in other ways: Creating information in languages other than just English, taking art to students from diverse backgrounds, working with the differently-abled to engage those less fortunate within the ambit of art. We are doing all this in close collaboration with scholars, curators and museums so as to strengthen the arts and culture ecosystem.
How did you come about focusing on tactile/sensory experience of art for the visually challenged?
DAG has been at the forefront of making art accessible to the visually impaired not only in India but also as one of the first private art institutions in the world to engage in such accessibility outreach.
At our own gallery spaces, with most of our exhibitions, we construct programming and workshops around tactile reproductions. At Drishyakala, we have taken another step forward.
Each of the three exhibition floors has their own tactile gallery, with a selection of artworks from the main exhibition converted into sensorial/tactile reproductions.
Here, our team facilitates this extraordinary sensory and auditory experience of Drishyakala and adds to it by storytelling particular to the tactile artworks and the artists.
You are opening a new gallery at the end of the month. Share some of the details.
Following India's economic liberalisation in 1991, we were quick to seize the opportunity to establish India's premier, pioneering gallery, locating it within the 13th century precincts of the Hauz Khas monuments and lake in South Delhi.
Over the years, as the character of Hauz Khas Village changed, DAG's unparalleled growth, including galleries in Mumbai and New York, required relocation.
With this in mind, DAG - which now also operates the Drishyakala art museum in Red Fort and has ambitious plans for populating distinctive art districts in the city - has decided to move its gallery to the heart of town, at The Claridges. We believe this to be a fitting address for art lovers.
Exhibitions will be curated from the DAG collection. They will provide a range of choices across major movements and periods spread across different geographies of art practice in India, and by Indian artists overseas.
The first of these exhibitions, "The Sixties Show" - part of a series - is aimed at drawing attention to the feverish pace of art practice in the 1960s, an important decade during which the pull of the Progressive Artists' Group remained strong, Group 1890 was established and experimentations in indigenous solutions became the norm.