Dayananda Sagar University celebrates 3rd annual convocation in Karnataka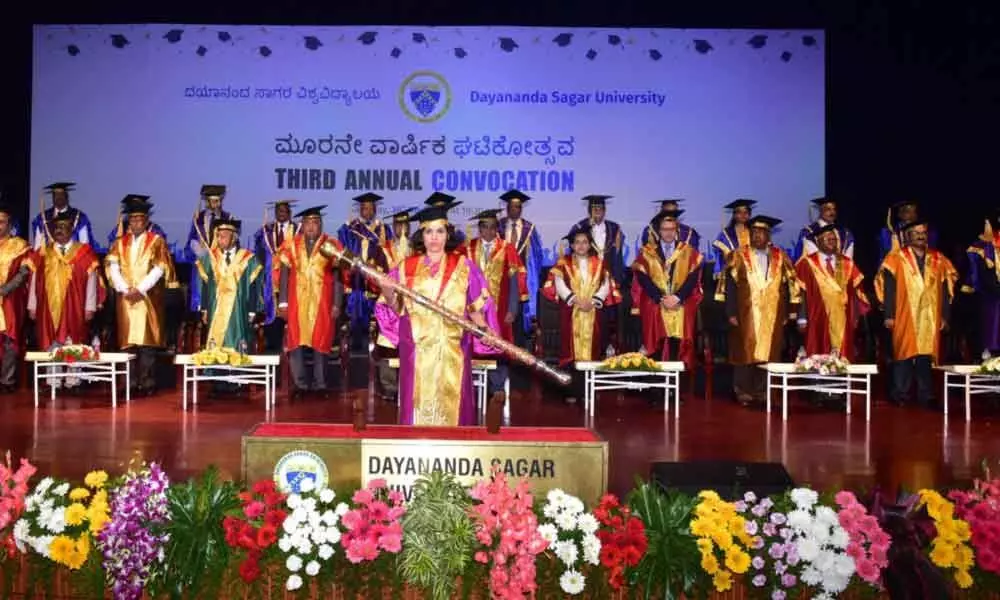 Highlights
Dayananda Sagar University (DSU) in Karnataka, with over 6 decades of legacy in education, was created with a mission to promote and foster...
Dayananda Sagar University (DSU) in Karnataka, with over 6 decades of legacy in education, was created with a mission to promote and foster innovation, creativity and scholarly pursuits among its students and faculty members for the benefit of the society at large.
The Sponsoring Trust viz., Mahatma Gandhi Vidya Peetha Trust was founded by late R Dayananda Sagar, a barrister at law from United Kingdom, a politician par excellence, a vociferous journalist, who believed in "Education completes a man and knowledge empowers". Since inception in 1962, the Trust has been doing a yeomen service to the field of education being true to the vision of the founder. Today the Trust runs 14 institutions, together called Dayananda Sagar Institutions (DSI) of great eminence and imparts knowledge in engineering, science, commerce, management, health care & liberal arts.
The legacy of DSI has led to establishment of Dayananda Sagar University in 2014 as a Private University under a State Act in Karnataka. Since then the University has seen steady growth in every dimension, may it be the student strength or the research activities or any other activities of higher educational pursuits. DSU has gone beyond all linguistic, racial & other frontiers to keep its global character. The University always emphasized the diffusion of professional knowledge on one hand & character building among the youth on the other.
Dayananda Sagar University witnessed its Third Annual Convocation on the 30th November 2019, amidst the august gathering of 1800 students and parents. Padmabhushan Dr. V S Ramamurthy, Professor Emeritus-NIAS, Former Director-NIAS, Secretary to GoI, Department of Science & Technology was the Chief Guest of the event and delivered the Convocation Address. In all, 555 students (322 Boys & 233 Girls) from Schools of - Arts & Humanities, Basic & Applied Sciences, Commerce & Management, Engineering and Health Sciences, graduated and were awarded the degrees. Among the 30 toppers, 12 were awarded with Gold Medals & 18 were with Silver. Interestingly out of 30 medalists, 20 were are girls.
Padmabhushan Dr V S Ramamurthy, in his Convocation Address to students impressed upon the students the impact of Science and Technology, Innovation and Entrepreneurship drive the economy of countries worldwide. He advised students to work for the larger social good.
Dr Hemachandra Sagar, Chancellor, Dayananda Sagar University delivered the Presidential address and emphasized that the new journey begins now and the students should aspire the future with confidence. Dr Premachandra Sagar, Pro Chancellor, Dayananda Sagar University exhorted the students to be prepared for the disruptive changes in technology witnessed by the world and noted that change is inevitable and permanent.
Subscribed Failed...
Subscribed Successfully...