New Group II officers felicitated in Hyderabad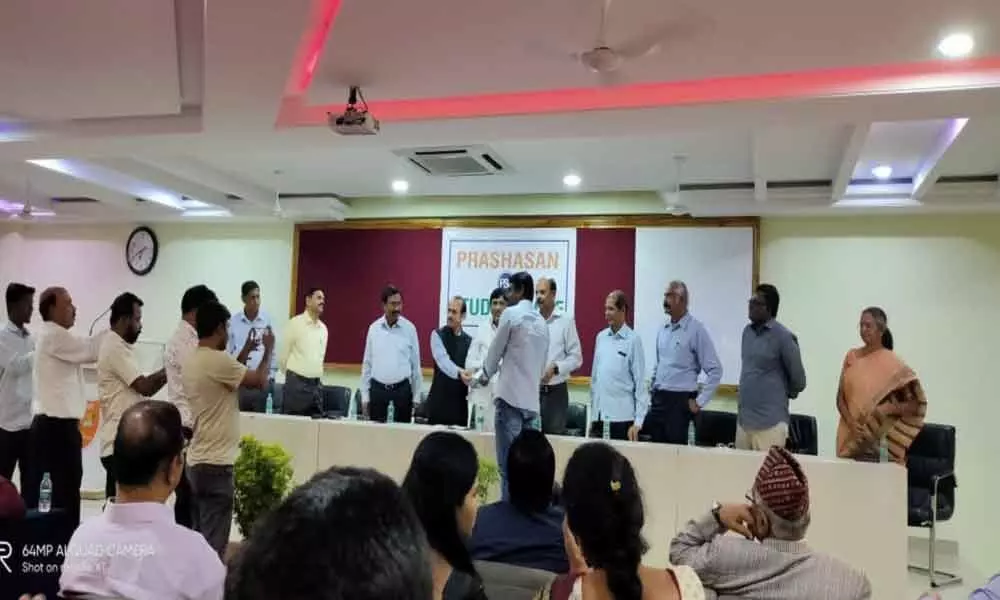 Highlights
Despite being a nascent state Telangana emerged as one of the best performing states, said B.Vinod Kumar, vice-chairman Telangana State Planning Board at a function organised by Prashasan study circle to felicitate the pass outs of state Group II services examination conducted by TSPSC
Hyderabad: Despite being a nascent state Telangana emerged as one of the best performing states, said B.Vinod Kumar, vice-chairman Telangana State Planning Board at a function organised by Prashasan study circle to felicitate the pass outs of state Group II services examination conducted by TSPSC. He added that the state is being looked up to as a role model for other states in the country and attributed the distinction largely to the policies of the government and their implementation by the administrative machinery. He exhorted the new recruits to various services such as revenue, state taxes, municipal administration, co-operation, registration and other departments to carry out the government programmes with zeal and commitment while ensuring that citizens welfare and rights are kept in view.

Vinod Kumar further stated that persons of integrity were chosen by the Chief Minister for key positions and the results are there for everyone to see. He emphasized that aspirants must place their trust and confidence in TSPSC and attributed the success of those present in the meeting to the honesty and integrity of the body.
He commended the effort of T.Vivek, former Member of TSPSC and founder and chief mentor of Prashasan study circle for conducting mock interviews for the candidates that helped them to hone their skill and merit resulting in their final selection. T. Vivek, Chief Mentor of the study circle stated that as many 109 candidates who attended mock interview were successful and one among them secured 8th rank.
B.Shivadhar Reddy, Addl.DGP, exhorted the new recruits to discharge their duties with honesty and integrity and not fall prey to the temptations of illegal pecuniary gains. In his address laced with anecdotes from real life he asked them to make a choice between honesty and dishonesty and questioned whether it was worth having a career and life of stigma.
Cpat. L.Panduranga Reddy, a veteran mentor of competitive exams urged the chief guest to prevail upon the government to correct the skewed ratio between direct recruitment and rank promotions and suggested that ideally it should be 70:30 as in the recruitment for all- India services or alternatively in 50:50 ratio. He further suggested that preliminary stage of three level state exams shall be entrusted to UPSC to avoid legal litigation as many a time state Service Commissions have been found faltering and recruitments have been inordinately delayed. He also made a plea to the government to entrust the task of training the aspirants to Prashsan study circle given the stupendous performance it posted in the recently concluded group 2 recruitment.
Senior officers from commercial taxes, excise, registration, municipal administration and co-operation outlined the nature of work and inherent challenges of the respective departments for the benefit of new recruits.
Successful candidates attributing their success to the mock interview conducted by the study circle stated that it was very similar to the actual interview conducted by TSPSC. P.Bhaskar 8th ranker was felicitated with a commendation certificate by the chief guest.
On this occasion film maker & director Syed Rafi was designated as the brand ambassador of Prashasan study circle. K.Chandan, mentor of the study circle proposed vote of thanks.