Farmers meet against India joining Regional Comprehensive Economic Partnership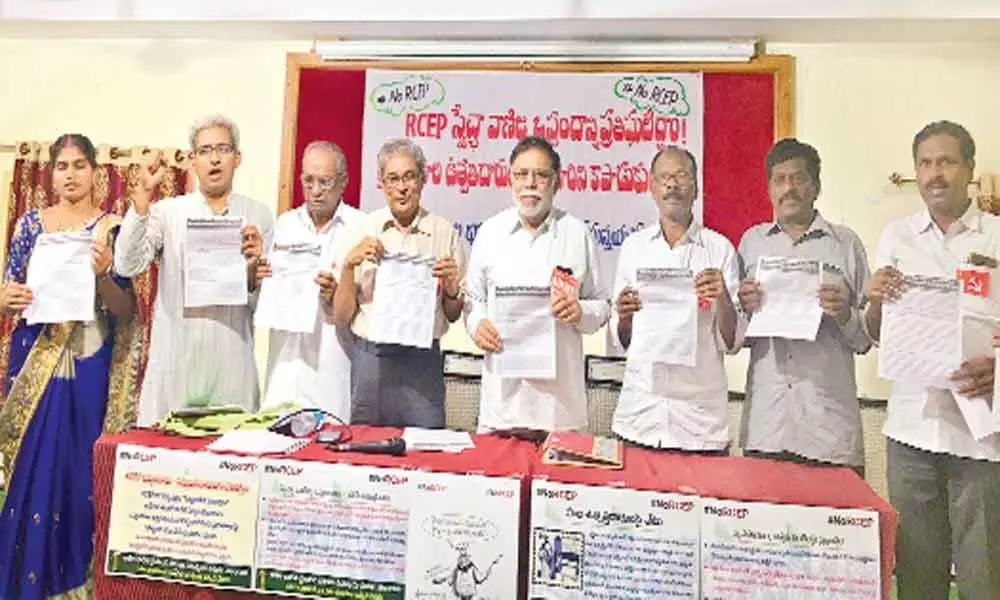 Highlights
"Free Trade means 'freedom' for MNCs but 'bankruptcy' for farmers, milk producers and small traders. RCEP will be a big blow to farmers' livelihoods...
Hyderabad: All India Kisan Sangharsh Coordination Committee (AIKSCC) Telangana unit organized a state level farmers' meet "Farmers Against RCEP" today at Sundarayya Vigyana Kendram in Hyderabad.
The meeting mobilised farmers and milk producers from several districts against the Regional Comprehensive Economic Partnership (RCEP) free trade agreement, whose negotiations are in the final stages now.
The Regional Comprehensive Economic Partnership (RCEP) is a proposed free trade agreement (FTA) between the ten member states of the Association of Southeast Asian Nations (ASEAN) (Brunei, Cambodia, Indonesia, Laos, Malaysia, Myanmar, the Philippines, Singapore, Thailand, Vietnam) and its six FTA partners (China, Japan, India, South Korea, Australia and New Zealand).
The Indian government is moving ahead with the negotiations into the final stage, with the final Ministerial round planned from November 1st, 2019 and the finalization with Head of states planned for November 4 if the agreement is concluded.

The unanimous demands from the meeting were that India should not enter into the RCEP trade agreement, and that the Telangana government should stand with the farmers and write to the Central government objecting to RCEP, just as Kerala, Punjab and Karnataka have done.
The meeting was chaired by Prof A Prasad Rao (retd Professor of ANGRAU), Kirankumar Vissa (Rythu Swarajya Vedika), Sarampally Malla Reddy (National Vice President of All India Kisan Sabha) and Vemulapalli Venkatramayya (President of All India Kisan Mazdoor Sabha) explained about RCEP, its impacts and the response from farmers and people's organizations in various parts of India.
T Sagar (Telangana Raithu Sangham) detailed the plans for taking the protests to all districts of Telangana on October 25th. Several representatives of farmer organisations spoke against the agreement, pledging to wage a campaign demanding India's keeping away from RCEP. They included Sireesha, a women farmer and milk producer, who represented the women farmers' collective Mahila Kisan Adhikar Manch (Makaam), Keccherla Rangayya (All India Kisan Mazdoor Sabha), Prasad (Vyavasaya Karmika Sangham), B Bhaskar (Akhila Bharata Raitu Coolie Sangham) and B Kondal (Rythu Swarajya Vedika).
Kirankumar Vissa of Rythu Swarajya Vedika said, "RCEP will bring cheap imports which will further drive down the prices. Earlier, the FTA with ASEAN resulted in huge imports of palm oil, pepper, rubber and other plantation crops, and the price crops pushed thousands of farmers out of cultivation.
RCEP will make it much worse." S Malla Reddy of All India Kisan Sabha said, "Even under WTO, import tariffs are allowed on many products but under RCEP, import duties are reduced to 0%-2% on all the products. This will be a death blow to Indian farmers and small industry too. Already, due to cheap China imports, many small manufacturing units in India have been shut down."
As part of nationwide mobilization against RCEP, AIKSCC Telangana is planning for district level protests in all districts on October 25th. A protest rally is also planned in Hyderabad. All farmer organizations and many dairy cooperatives will join the protests.
Subscribed Failed...
Subscribed Successfully...