Rs 2 cr worth red sanders logs seized on Tamil Nadu border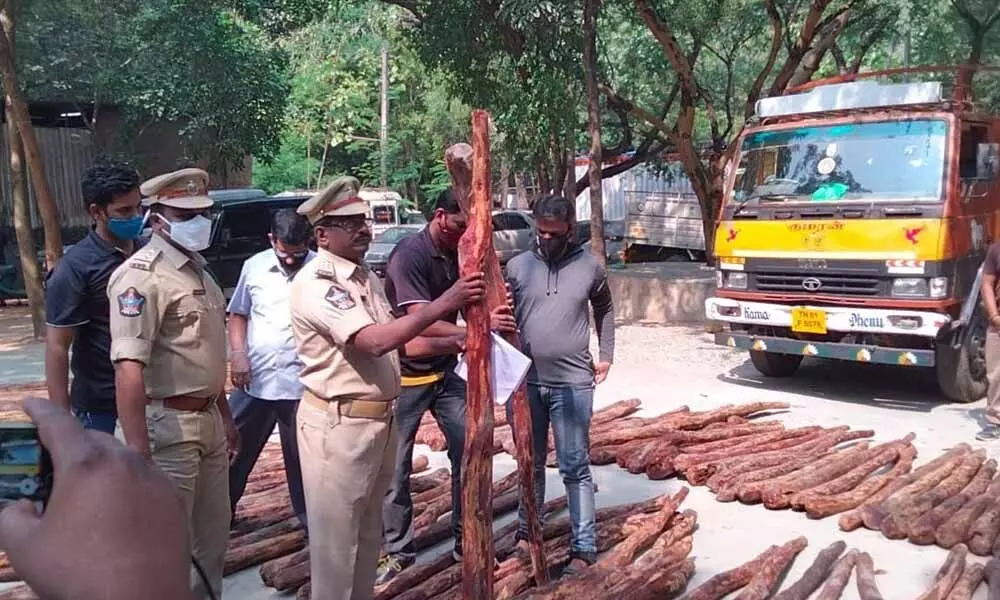 Highlights
Task Force personnel lay in wait for 5 days before making the biggest catch
the 227 logs were kept ready to be smuggled to TN
Truck driver arrested, search is on for the smugglers
Tirupati: In a major haul, Red Sanders Anti-smuggling Task Force (RSASTF) on Saturday seized 227 logs that were readied for transfort at Appambedu in Pichatur mandal in Chittoor district. The logs which are of B quality weighing about 4 tonnes, are said to be worth around Rs 2 crore. Task force DSP Venkataiah speaking to the media said following a tip-off, task force personnel were since five days keeping a watch on the district border with Tamil Nadu which ultimately yielded a rich dividend to the force with the seizure of 227 logs which is the highest catch in the recent times.
The truck driver was arrested and the logs and the vehicle were seized, DSP said adding that intense search is on in the state borders to find out the persons behind the failed smuggling of the huge quantity of the red sanders believed to be to Tamil Nadu..
The smugglers in a tactful move deferred and delayed the clandestine transport of the red sanders logs but the task force stubbornly stayed put on the borders resulting in the seizure of a large quantity of red sanders, he said, lauding the team of task force, including Tirupati task force team and the Kodur sub-control team playing key role.
CI Subramanayam, RSIs Bhaskar, Vasu, Suresh, Venkatamuni(Koduru),FRO Prasad, Kodanda and others involved in the operation were also present.