Tirupati: Two-decade long wait ends; TTD employees to get house sites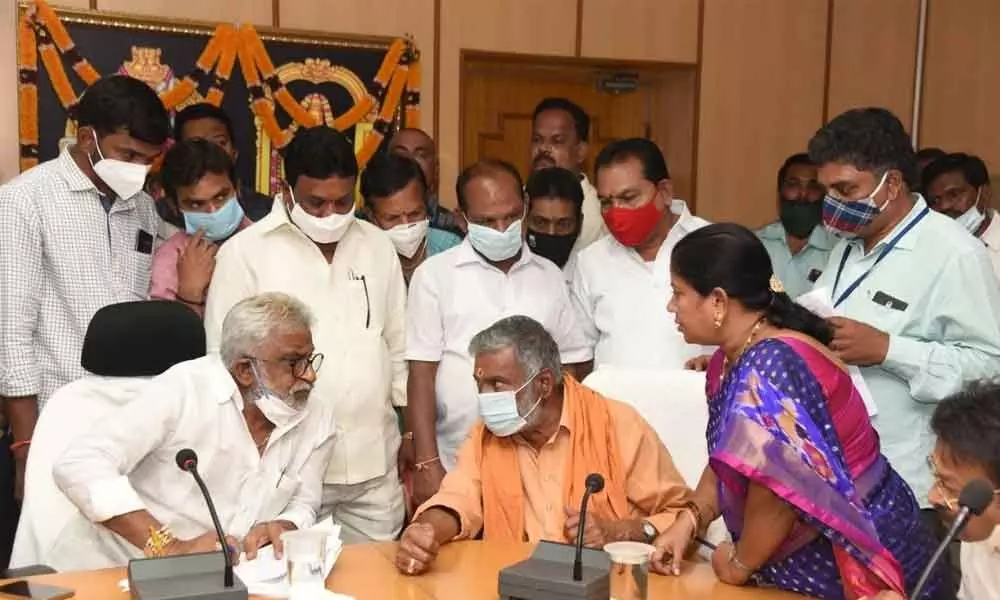 Highlights
The TTD employees' about 20-year long struggle for house sites came to an end with the TTD chairman Y V Subba Reddy informing the employees' representatives at a meeting held here on Wednesday that Chief Minister YS Jagan Mohan Reddy gave his consent for providing house sites to the employees
Tirupati: The TTD employees' about 20-year long struggle for house sites came to an end with the TTD chairman Y V Subba Reddy informing the employees' representatives at a meeting held here on Wednesday that Chief Minister YS Jagan Mohan Reddy gave his consent for providing house sites to the employees.
The TTD chairman along with senior YSRCP leader and Panchayat Raj Minister Peddireddy Ramachandra Reddy and city MLA Bhumana Karunakar Reddy held a meeting with the employees' Joint Action Committee (JAC) leaders on the long pending issues of the TTD employees including the issues of house sites and cashless treatment.
Following the Chief Minister's nod to the proposal to provide house sites to TTD employees, Chittoor District Collector Dr Narayan Bharat Gupta in principle agreed for the allotment of 300 acres of suitable land identified in Vadamalapeta mandal, about 25 km from the city for allotment of house sites to TTD employees, chairman Subba Reddy said adding that as sought by the Chief Minister a proposal will be sent through the District Collector for the finalisation of the house site allotment to TTD employees.
It may be recalled that the TTD Employees' Association leaders who approached the Panchayat Raj Minister and also the city MLA for resolving the long pending issues of the employees had several rounds of discussions on the pending issues resulting in the two ruling party leaders taking the issue to TTD chairman for settlement.
The chairman further said that efforts would be made to secure the approval of the State Cabinet after forwarding the proposal to the government for providing houses sites to TTD employees as soon as possible.
Subba Reddy also assured to consider the employees' demand for cashless treatment facility instead of Employees Health Insurance and also to retain the outsourced employees with the TTD instead of shifting and bringing them under the control of APCOS (Andhra Pradesh Corporation for Outsourced Services). He also agreed for hiking the monthly wages of the outsourced employees who have been working since a long time.
JAC leaders Venkatramana Reddy, Nagarjuna, Kalpana, Indira, Venkatesh, Gunasekhar, Ratna Prabhakar and others were present.