Vijayawada: Tobacco-free Youth Plan to be implemented for 60 days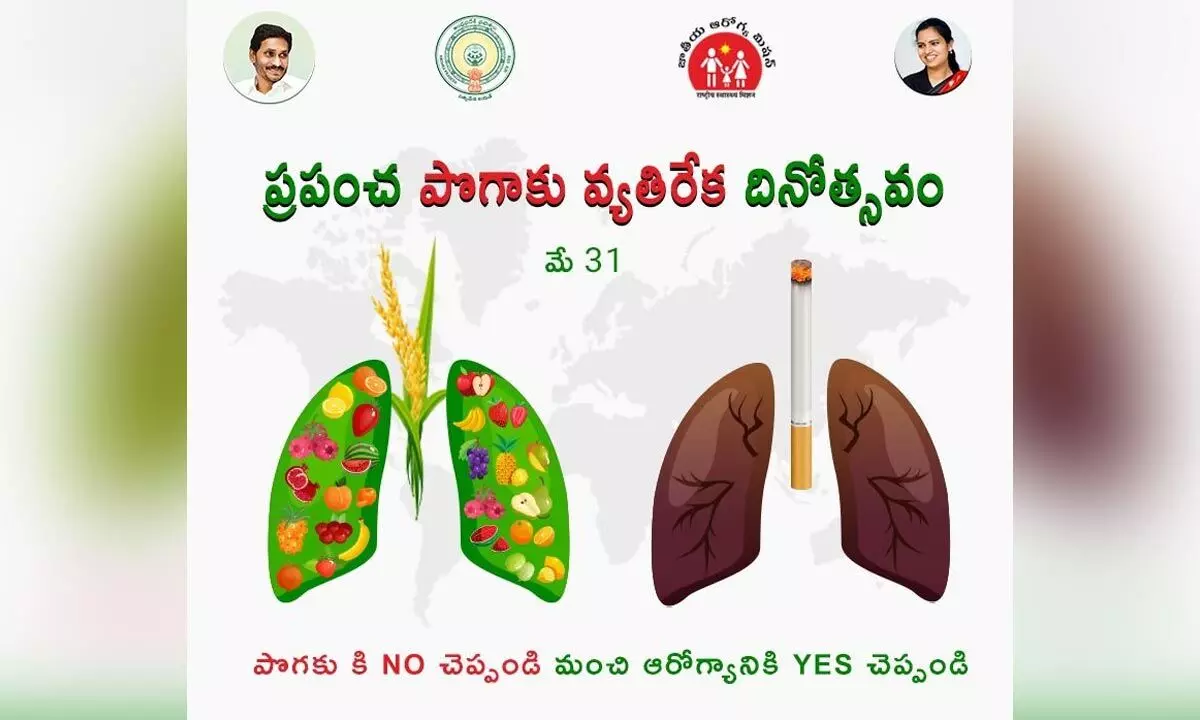 Highlights
World No Tobacco Day today
The campaign creates awareness on the harmful effects of tobacco
Theme of World No Tobacco Day- 2023 is 'We Need Food, Not Tobacco'
Vijayawada: The State government is going to initiate a strategic action plan 'Tobacco-free Youth Plan' in the State aiming to create public awareness of the harmful effects of tobacco. The campaign will commence on Wednesday (May 31) on the occasion of 'World No Tobacco Day' and continue for 60 days till July 31 across the State.
The campaign aims to focus youth by creating awareness and preventing tobacco use and assisting users to quit. Focus would also be on creating awareness and protecting youth from tobacco industry tactics.
As part of these programmes, public awareness activities such as 'No Tobacco Pledge' will be administered in all educational institutions and essay, painting, poster, quiz and debate competitions will be conducted on tobacco. Besides, the government also intensifies challans for smoking in public places and will seize tobacco product packs from the point of sale without warning.
In a press release on Tuesday, Medical and Health Department Commissioner Nivas said that May 31 is observed as World No Tobacco Day (WNTD) every year, which is an opportunity to highlight health and other risks associated with tobacco use, and for advocacy of effective implementation of the policies targeted to reduce tobacco consumption.
The theme of World No Tobacco Day- 2023 is 'We Need Food, Not Tobacco', Nivas informed. He said that this campaign encourages governments to end tobacco growing subsidies and to use the savings to support farmers, to switch to more sustainable crops that improve food security and nutrition. Special drives would be undertaken in the State for enforcement of provisions of the Cigarettes and Other Tobacco Products Prohibition Act (COTPA 2003), especially provisions of section 4 (prohibition on ban on smoking in public places); section 6 (prohibition on sale within 100 yards of an educational institution & sale to and by persons aged less than 18 years) & Section 7 (prohibition on the sale of tobacco products without statutory pictorial warnings), of the Act.
An action plan for implementation of the guidelines for 'Tobacco Free Educational Institutions (ToFEI)' is to be prepared and launched at State-level for the commemoration of WNTD 2023, with the target that all the Educational Institutions implement the Guidelines and are certified as Tobacco-free before WNTD 2024, the Commissioner stated.
He also explained that tobacco use leads not only to the loss of lives but imposes a heavy environmental, social, and economic burden. The estimated cost of tobacco use attributed to diseases and deaths in India for the year 2017-2018, among persons aged 35 years and older, is an enormous Rs 1,77,341 crore, he added.