Covid that crippled India's GDP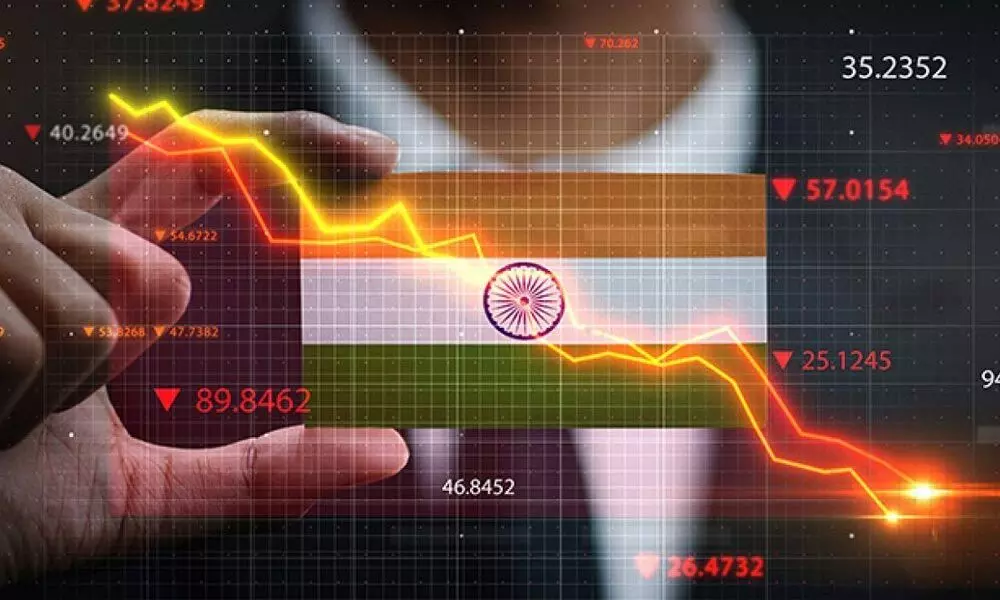 Highlights
It was coronavirus all the way in 2020; Economy down by a whopping 23.9% in April-June
Saying that coronavirus disease 2019, popular as Covid-19, created havoc in the Indian economy is a gross understatement. The global pandemic triggered by the Chinese-born novel coronavirus crippled India's GDP, with the country's economy contracting by a staggering 23.9 per cent in the first quarter of the current fiscal i.e. April-June period.

This sharp decline in GDP could be attributed to the nationwide lockdown that the Modi government imposed on March 25. Economic activity came to a standstill across the country during the total lockdown, which continued till April 20. Though the central government relaxed restrictions in those geographies where Covid-19 was not detected, the pandemic continued to haunt the economy as the Covid count rose steeply in many States.
However, the economic activity picked up after the unlocking phase began on June 1 and several sectors were opened. As a result, the contraction in GDP narrowed down to 7.5 per cent in Q2 (July-September). Revival measures announced by the central government under Atmanirbhar Bharat Abhiyan and steps taken by the Reserve Bank of India (RBI) also helped the economy.
Covid also took a heavy toll on the global economy as well. In October, the International Monetary Fund (IMF) estimated that global GDP would contract by 4.4 per cent in 2020. With a more potent strain of coronavirus detected in the UK, the impact on the global economy is likely to be far higher than the IMF has forecast so far. For India and its economy, 2020 was a nightmare, to say the least. Some rating agencies forecast that the Indian economy would be back in black during the October-December quarter. But 2020 will still turn out to be the worst year for the Indian economy in many decades.
Shaktikanta Das- The policy man
This retired 1980-batch Indian Administrative Service (IAS) officer of Tamil Nadu cadre and Narendra Modi's point-man for demonetisation, was appointed as the 25th Governor of Reserve Bank of India (RBI) on December 12, 2018, a day after Urjit Patel's abrupt resignation. Roped in to join the RBI amid a tussle between the government and the central bank over several issues, including the latter's autonomy, rich cash reserves and liquidity crises in the economy, Das, a soft-spoken and balanced bureaucrat, has constantly been trying to steer the RBI towards an innovative path to aid recovery. In the recent monetory policy, the RBI maintained status quo and kept the policy repo rate unchanged at 4 per cent, continuing Das' accommodative stance to support growth.

Jeff Bezos- Way beyond Richie Rich
While many businesses have been hit hard by the pandemic, Jeff Bezos, the 56-year-old founder of Amazon, has seen his fortune swell $74 billion in 2020. Already by far the world's richest person, Bezos has set a fresh record, increasing his fortune by an additional $13 billion in a single day in July to take his personal wealth to an unprecedented $189 billion.
Bezos had managed to make so much money as millions of people trapped at home by coronavirus lockdowns around the world turned to the online delivery giant to keep themselves fed and entertained. Bezos would have been even richer, if he had not been required to give his ex-wife MacKenzie 25 per cent of his Amazon shares when they divorced last year.
Markets- On a roller coaster ride
In the year that was, stock markets exhibited exuberance in the second half of the year what with Benchmark Sensex touching a record 47,000 mark. However, stock markets painted a starkly different picture in the first half with benchmark indices, haunted by the pandemic and associated lockdowns, registering historic falls day in and day out. However, indices- Sensex and Nifty - started regaining their lost glory after lockdown were lifted gradually from June.
The markets have seen healthy inflow of the foreign funds from foreign institutional (FIIs) which poured over Rs 1.35 lakh crore in Indian bourses. The IT and healthcare stocks led the rally and remained the biggest gainers.
Telangana- Ease of doing biz
Andhra Pradesh retained its top position in the nationwide Ease of Doing Business (EoDB) rankings for 2019, while Telangana slipped to the third spot from the second position it secured in 2018. In Telangana, the State government implemented reforms under the 17 categories, but could not implement the reforms with regard to filling up 90 per cent vacancies in specialised commercial courts, and reforms pertaining to the digitalisation of the transactions in the State Excise. India's position in the ease of doing business ranking had jumped 14 notches last year to 63 among 190 countries. In the last five years, the country has improved its ranking by 67 slots.
SIPs- Safe bet
The systematic investment plans saw a good demand in view of the prices of precious metals shooting up constantly. People found it safe and secure to invest in the MFs in view of market volatility. Several regular stock investors too shifted to mutual funds, finding them a safer bet.
Oil, Rupee- Constant uptrend
In the same coin as the stock markets, oil and rupee continued to rise through the year. Rupee touched a peak of 73 against the US Dollar. Despite the ups and downs in the international crude price, the Indian oil prices showed a constant uptrend through the year. Petrol and diesel prices touched record highs.
Reliance- The rise of Jio
The year 2020 has left more bad memories for many in the Indian corporate sector, but for Mukesh Ambani's Reliance Industries it has been the best. After 20 years of entering into the telecom business, it has emerged as the top telecom company in the country, with Jio raising $20 billion by selling minority stakes to global players like Facebook, Google and Intel. Reliance, in its AGM in 2020, has promised 100 per cent home-developed 5G technology for India. It has completed its $15-billion stake sale deal with global oil giant Saudi Aramco in June 2020.
Amazon- Pinnacle of investment
Amazon's growth in online sales skyrocketed in 2020. It also remained as one of the few companies to hire graduates for WFH during the pandemic times. Amazon Web Services has announced setting up an AWS Region with three Availability Zones in Hyderabad at an estimated investment of $2.77 billion, making it the largest foreign direct investment in Telangana. Telangana has an upwards curve for IT growth and government transparency in policy-making, the company stated.
Stimulus package- Call for self-reliance
In May 2020, Prime Minister Modi announced Aatmnirbhar Bharat Abhiyan, a stimulus package worth Rs 20 lakh crore allocated for different sectors to impede the pandemic's adverse effects. He gave the slogan of "go vocal for local" and stated that self-sufficiency is the only path that can pull the country out from the dark phase. The scheme covers five pillars -- economy, infrastructure, technology-driven system, vibrant demography and demand -- and would further involve land, labor, liquidity and laws.
Andhra Pradesh- Big push for MSMEs
Andhra Pradesh has unveiled its new Industrial Policy 2020-23 with much focus on micro, small and medium enterprises (MSME). The new policy plans to develop plug and play infrastructure facilities for MSME firms at affordable rates, besides making available pre-approved land parcels in industrial parks and develop clusters, mega industrial parks and specific industrial parks as per local needs. The State government has also identified 10 key sectors including food processing, textiles, pharma and biotechnology, and aerospace, thrust sectors, for which the government will extensively reach out to investors.
Adani Group- Multiplying wealth
The Adani Group founded by Gautam Adani has done exceptionally well in terms of business in 2020. Its market capitalisation has increased Rs 1 lakh crore, and Adani Green Energy has become the group's most-valued stock. Adani has become the second-richest individual in the country with $23.7 billion net worth this year. Six listed entities of the group have made money for equity investors in 2020. It has acquired a 74 per cent stake in Mumbai International Airport Limited (MIAL) from GVK Group, and won concession agreements for six airports in Jaipur, Guwahati, Ahmedabad, Mangaluru, Lucknow and Thiruvananthapuram.
Startups beat the pandemic to become unicorns
India saw close to a dozen startups becoming unicorns in 2020, what with Covid-19 wrecking havoc on the economy. While the pandemic has shaken the world and brought many businesses to a standstill, some Indian startups have shown resilience and quickly changed gears, courtesy the Covid-led shift to digital consumption that provided the necessary tailwind to sectors including education, commerce, healthcare, news and information, and payments. In all, 11 Indian startups - Unacademy, Pine Labs, FirstCry, Zenoti, Nykaa, Postman, Zerodha, Razorpay, Cars24, Dailyhunt and Glance - became unicorns this year.
According to a report jointly prepared by TiE-Delhi, a not-for-profit network of entrepreneurs, and global management and strategy consultancy Zinnov, around 75 per cent startups are gradually, but steadily, recovering post-lockdown, while 30 per cent have pivoted to new markets for alternative revenue streams. India is expected to be home to around 62,000 startups, including 100 unicorns, by 2025, despite the huge impact of coronavirus on the country's startup ecosystem, the report said.
Interested in blogging for thehansindia.com? We will be happy to have you on board as a blogger.