Firecracker prices skyrocket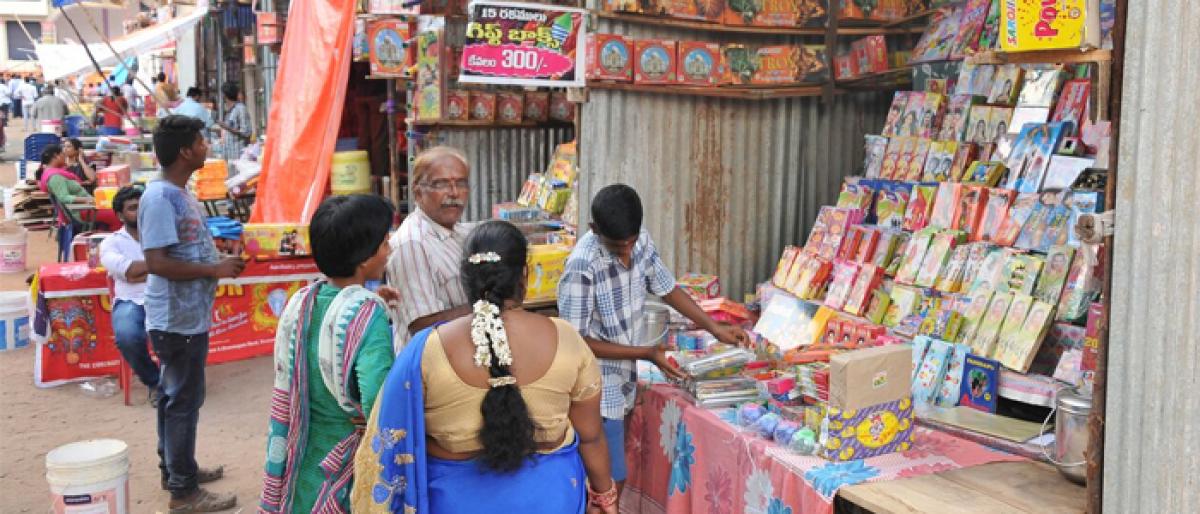 Highlights
All the fire cracker shops in the city are busy with the customers Though there is 10 to 20 percent hike in the prices of fire crackers, the people have been purchasing the crackers for festival of lights
Rajamahendravaram: All the fire cracker shops in the city are busy with the customers. Though there is 10 to 20 percent hike in the prices of fire crackers, the people have been purchasing the crackers for festival of lights.
Fire cracker shops were arranged at Subramanya Mydanam, Alcot Gardens, Government College, Kambala Tank, Ramalayam centre, Jawaharal Nehru Road, RTC complex road, Lalachervu and other places.
The price of normal match box is Rs 15 and colour box is in the range of Rs 20 to Rs 25 as per the brand and Lakshmi company bombs range from Rs 35 to Rs 200 as per the size. Kakarapuvvaattulu normal box is priced at Rs 20 and colour box from Rs 30 to Rs 45 as per size.
As Naraka Chaturdasi festival falls on Tuesday, the people were thronging the shops to purchase the crackers.