Race for BJP chief hots up in Andhra Pradesh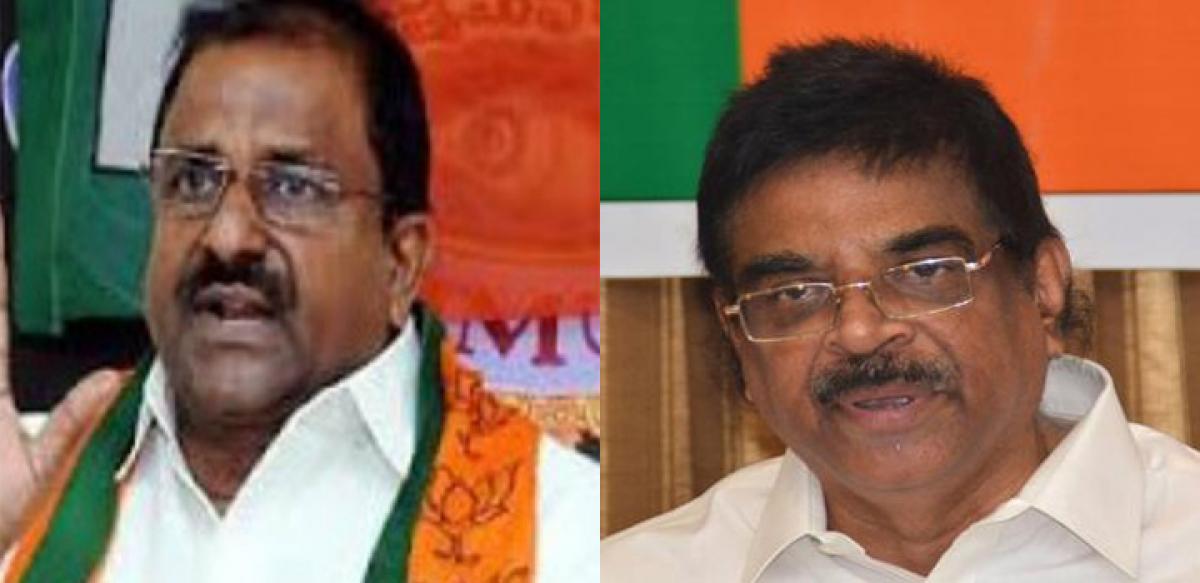 Highlights
The power struggle in APBJP for the top post of the state president seems to be hotting up. Candidates from two powerful communities are in the race and a no holds bar campaign is on by these groups at Delhi level. According to party insiders, a group led by national general secretary Ram Madhav is in favour of bringing a change in the present leadership so that it can gain in strength in the stat
Ram Madhav group favours Kapu leader Somu Veeraraju, while the other said to be close to Union Minister M Venkaiah Naidu wants a second term for K Haribabu
Hyderabad/Rajahmundry: The power struggle in APBJP for the top post of the state president seems to be hotting up. Candidates from two powerful communities are in the race and a no holds bar campaign is on by these groups at Delhi level. According to party insiders, a group led by national general secretary Ram Madhav is in favour of bringing a change in the present leadership so that it can gain in strength in the state and was favouring the Kapu leader Somu Veeraraju while another group which is said to be close to Union Minister M Venkaiah Naidu wants a second term for K Haribabu.
While the tussel is said to be between these two leaders, former Union minister D Purandeeswari is also said to be in the race. It may be mentioned here that she was the official translator for the party national president Amit Shah when he addressed the public meeting at Rajahmundry recently.
The group supporting Veeraraju however says that if the party has to emerge as a viable alternative to TDP by 2019 as desired by Amit Shah, it is necessary that the state unit should have a new leader like Veeraraju who is known for his attacking stance against the TDP. They alleged that Haribabu and his team have a soft corner towards TDP and hence were not adopting any kind of aggressive attitude against the ruling party.
This is being viewed as a stumbling block for BJP to emerge as a strong force in the state, they say. Of late, there has been noticeable change in the posture being adopted by the BJP. Even Endowments Minister Manikyal Rao had recently criticised the constitution of the market committees and water users' associations in Tadepalligudem. He had has also drawn the attention of the party high command towards the injustice meted to BJP in constituting the committees, though they are part of the government here.
More recently, the BJP MLA Vishukumar Raju caused some embarrassment to the government when he supported the YSRCP on the issue of excess payment to contractors in regard to Pattiseema project in the Assembly during question time.
Somu Veeraraju, has been in the party for more than three and half decades and has age on his side.
According to sources, he is also in the good books of the BJP national president and hence is believed to be a front runner for the post of state president. Sources told The Hans India that a formal announcement about the new president would be made in a day or two.
By: P Srinivas and Samson Raj