Left parties protest against City Square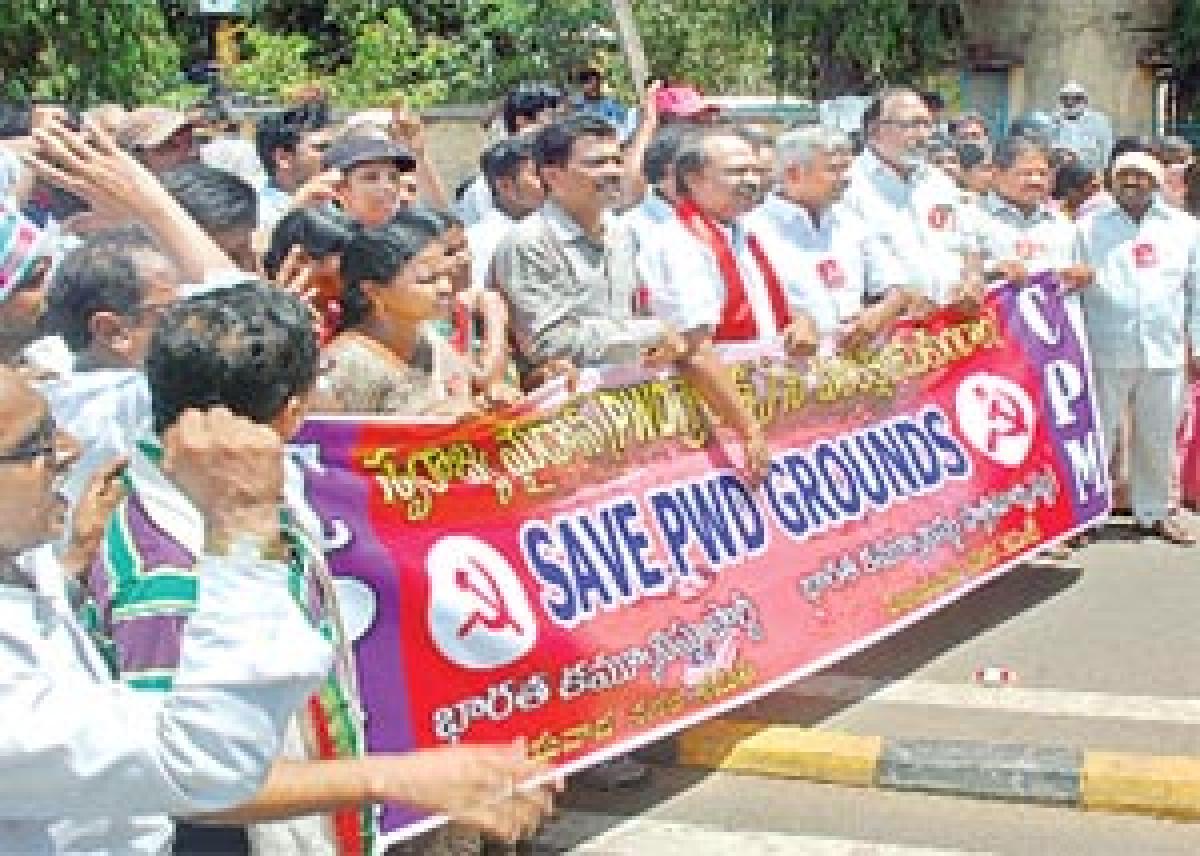 Highlights
Oppose leasing out Swaraj Maidan. Several injured in caning, police arrest leaders
Vijayawada: Hundreds of the activists belonging to Left parties staged a massive protest in the city on Friday opposing the State government's proposal to convert the prestigious Swaraj Maidan into City Square and lease it out to private firms.
Party leaders and workers reached the Swaraj Maidan in large numbers raising slogans against the government's move to convert the spacious and historical ground into a commercial venture in the name of City Square. They said that the people of the city were ready for any sacrifices to protect the grounds from being given to the private firms for maintenance.
CPM State secretariat member and the capital region convener Ch Baburao took strong exception to the government proposing to close the ground for the people and convert into a commercial venture. He said that the historical ground has been serving the needs of the people of the city for several years. The ground has been the venue for exhibitions, book exhibitions besides being useful for the youth to play and learn driving. The ground also has historical importance with people holding several meetings during freedom struggle, he recalled.
Baburao warned the State government of severe protest from the people and political parties in the city against the government move to convert the ground into private property. He sought to advise Chief Minister N Chandrababu Naidu to stop planning to hand over the prestigious and historical ground worth Rs 1500 crore to a private company just for Rs 300 crore.
CPI city secretary Donepudi Shankar alleged that the government had set its eyes on valuable properties in the State and was giving to the private companies in the name of development. The government was promoting private companies to make huge profits by taking huge extent of lands in the State in the name of public private partnership.
He said Swaraj Maidan has a history where several national leaders have addressed public meetings and several important events were held over the years. He wondered why the Chief Minister did not consult the local leaders and people on his plans to convert the prestigious grounds into a private property.
Stating that the government had proposed to build a new capital city, Amaravati, away from Vijayawada city, he wondered why the government wants to disturb the existing Vijayawada city in the name of capital. He sought to advise Chandrababu Naidu to develop City Square in the new capital leaving Swaraj Maidan to the people of Vijayawada.
As the leaders and the people raised slogans opposing the move, police reached there in large numbers and arrested the leaders. The police shifted the leaders to Pamidimukkala Police Station near Vuyyuru after dispersing the cadres from the scene. The police resorted to mild lathicharge to clear them from the area causing injuries to several persons, including women. The police arrested Baburao, Shankar and CPM city secretary Donepudi Kasinath and others.