Dalits demand site for crematorium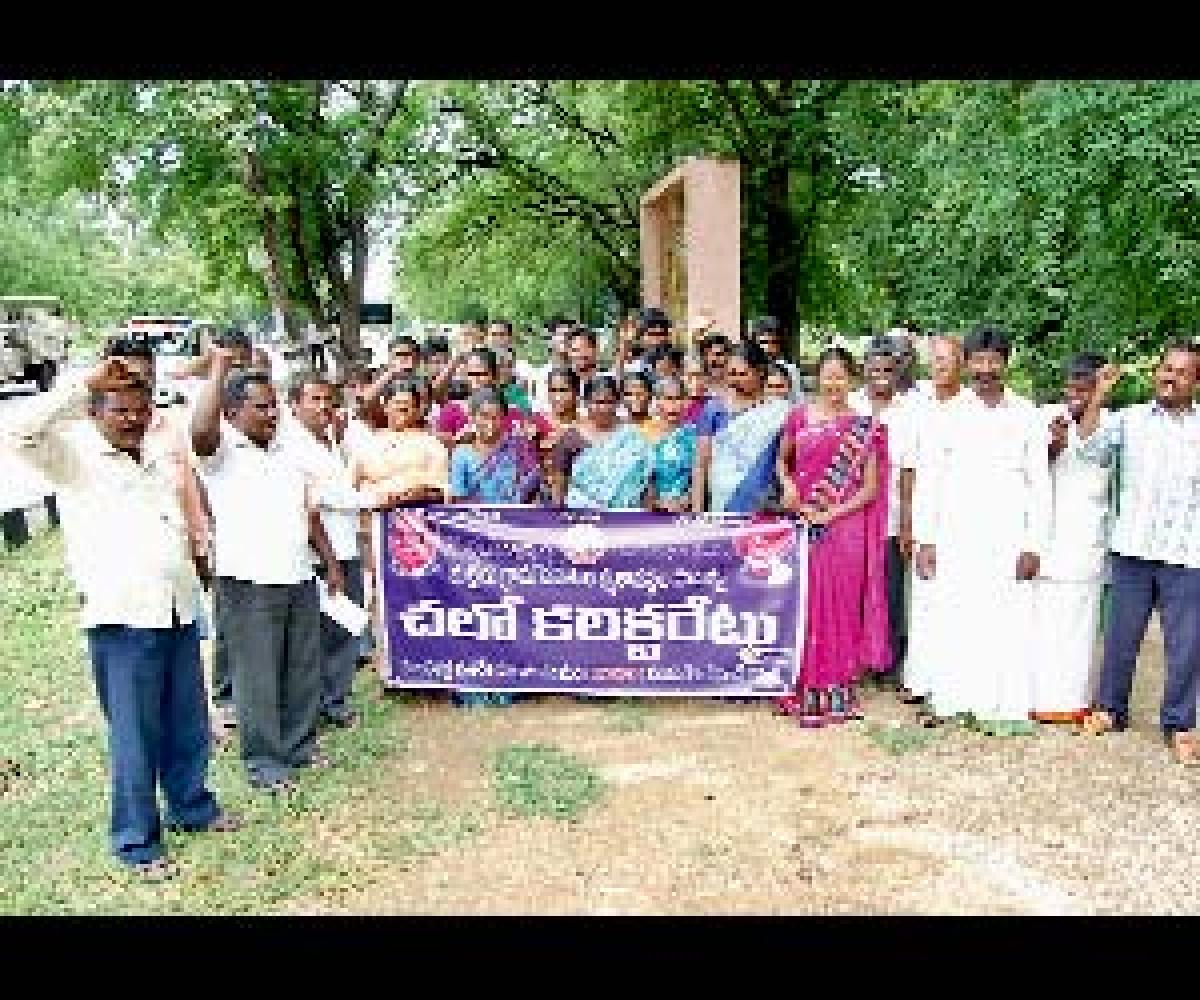 Highlights
Residents of Dalitwada in Malleru village in Peddapanjani mandal under the limits of Palamaner Assembly constituency have staged a
- Residents of Dalitwada in Malleru village say upper caste people are not allowing dead bodies of dear ones to be cremated
- Allege untouchability is still prevalent in the village as Dalits are not allowed inside the Hindu temples and two-glass system is followed in hotels
Chittoor: Residents of Dalitwada in Malleru village in Peddapanjani mandal under the limits of Palamaner Assembly constituency have staged a dharna in front of the Collectorate here on Monday, demanding that the government should allocate site for the crematorium. They have raised slogans against officials for their indifferent attitude towards their long-pending demand.
Addressing the residents, Kula Vivaksha Porata Samithi (KVPS) Palamaner Division president Nagamma has expressed anguish for not allocating site for crematorium to the residents of Dalitwada. She found fault with the officials of the Revenue department for denying land at the behest of upper caste people in the village. Nagamma alleged that leaders belonging to upper caste are not allowing the dead bodies of the Dalits to be cremated on the outskirts of the village. Explaining the woes of Dalits, Nagamma said that caste discrimination still exists in the village. "No Dalit is allowed to enter inside the Hindu temples and two-tier glass system is still prevalent in hotels," she said.
The KVPS leader stated that several representations were given to Mandal Revenue Officers of Peddapanjani but no steps were taken to allot site for crematorium. "Dalits are forced to cremated dead bodies of dear ones in an isolated place near the village," she regretted. The KVPS Palamaner segment secretary Sambaiah and a Dalit leader Kumari also spoke on the occasion.
Later, a delegation led by KVPS leaders have met Joint Collector 2 Venkata Subbaiah during the weekly grievance meet held at the Collectorate and submitted their petition to him. The Joint Collector immediately called Peddapanjani MRO and sought an explanation as to why the site for crematorium was not allotted. He instructed the SC Corporation Executive Director and District Tribal Officer to visit Dalitwada in Malleru village and take measures for rooting out the evil of caste system. "There is no place for caste discrimination in the present civilised society," he added. The JC gave a call to NGOs to take up the responsibility for removal of caste system in the village.