Economic reforms increased unemployment in India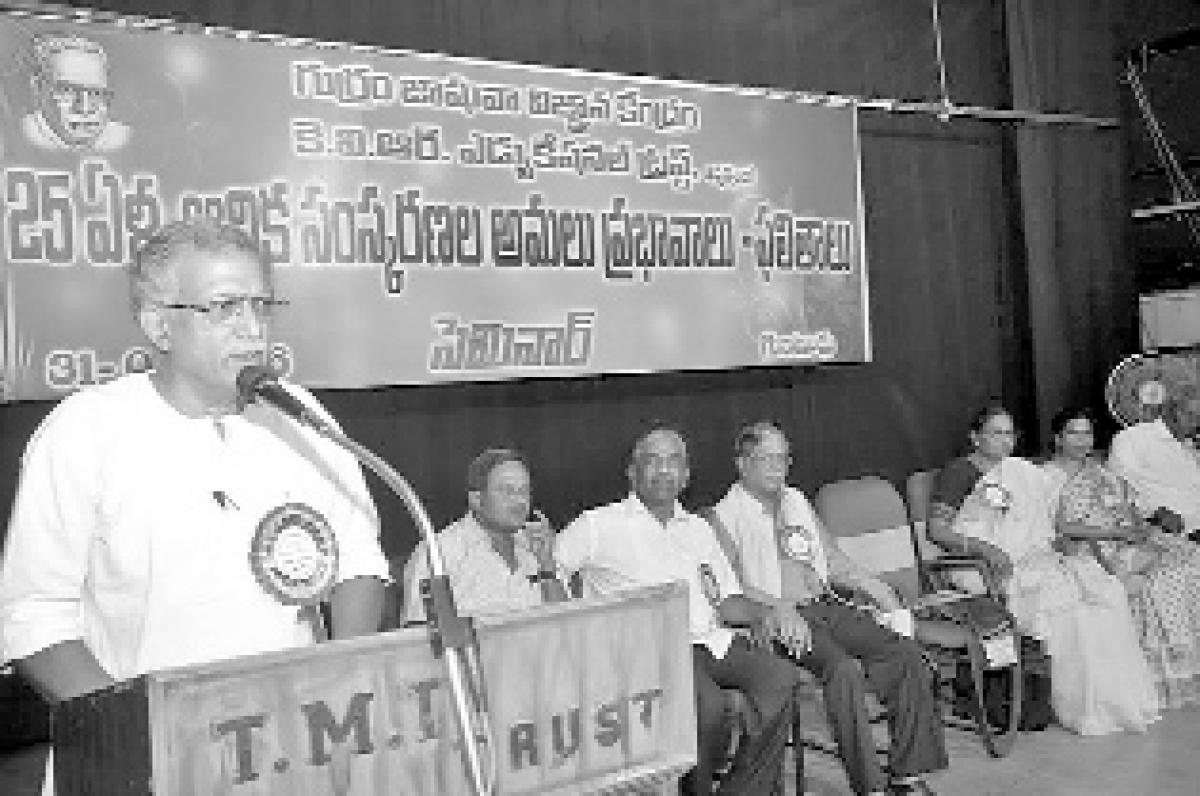 Highlights
They also said that engineering graduates could resort to agitation, if they are deprived of employment. They also stated that poor were not benefitted due to economic reforms till date. The seminar was jointly organised by Gurram Jashuva Vignana Kendram and KVR Educational Trust. Addressing the seminar, former MLC and The Hans India Chief Editor Prof K Nageswar said that after 25 years of economi
​Amaravati: Though economic reforms resulted in increased Foreign Direct Investment (FDI) inflows, there has been no corresponding increase in employment and there is even a decline in employment opportunities during the last 25 years, opined speakers at a seminar on '25 Years of 'Economic Reforms-Their Impact and Results' held at Sri Venkateswara Vignana Mandiram here on Sunday.
They also said that engineering graduates could resort to agitation, if they are deprived of employment. They also stated that poor were not benefitted due to economic reforms till date. The seminar was jointly organised by Gurram Jashuva Vignana Kendram and KVR Educational Trust. Addressing the seminar, former MLC and The Hans India Chief Editor Prof K Nageswar said that after 25 years of economic reforms, manufacturing sector had failed to take off in India in comparison with China.
Although service sector had expanded in our country it was due to lower wages, he added. He also said that IT companies were engaging B Sc graduates instead of engineering graduates to save on salaries. Another fall out of economic reforms was engineering graduates gravitating to US and other countries for well-paid jobs, he added.
Expressing similar opinion, MLC M V S Sarma said "Though FDI inflow increased due to economic reforms there was no proportionate increase in employment opportunities. In fact, China developed manufacturing sector and gained from economic reforms, so there is an urgent need to discuss alternative systems to spur growth in our country."
Dr Ramadevi batted for more funds for public health. She said, "Cuba and Western countries are spending more money on public health, as a result the people are using government hospitals.
Whereas, in our country middle class people are becoming poorer due to medical expenses, which was also mentioned in the Parliamentary Standing Committee report." Prof K S Chalam, Prof Purendra Prasad, Prof Vijaya Lakshmi, Prof Venugopala Rao and former MLC K S Lakshmana Rao also spoke.