Smugglers abandon goods van with 51 red sanders logs, flee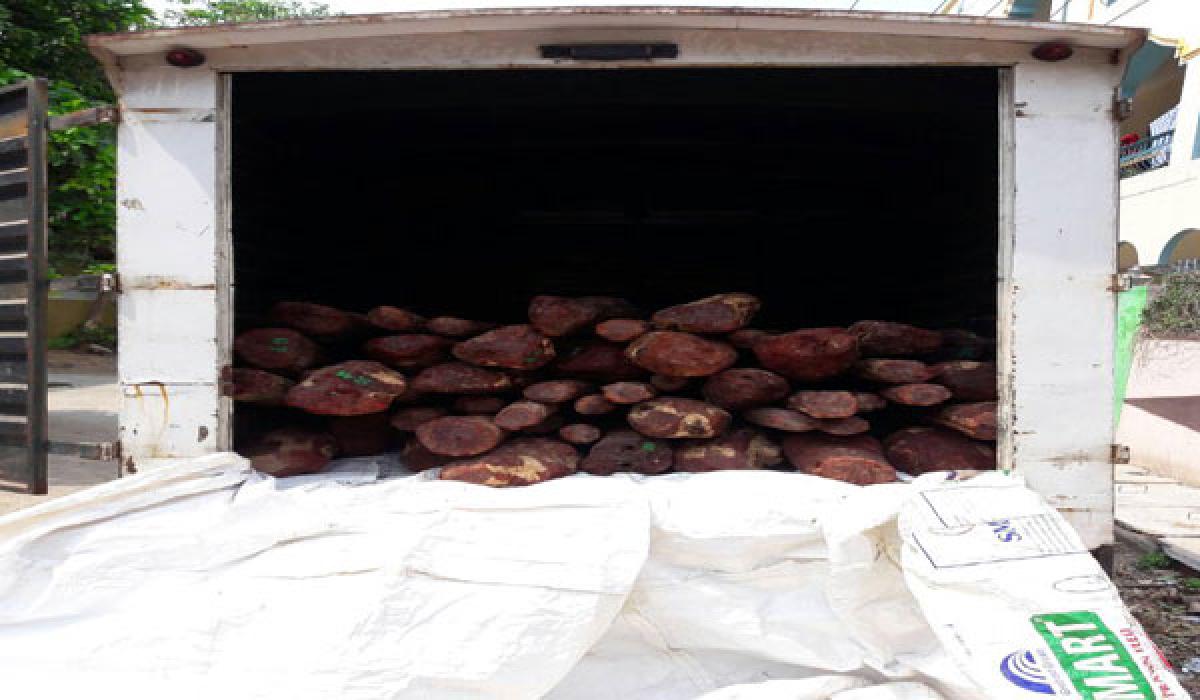 Highlights
The Red Sanders Anti-Smuggling Task Force (RSASTF) once again proved its mettle in outwitting the smugglers, who were forced to flee after abandoning the vehicle laden with 51 red sanders logs, here on Wednesday. The RSASTF developing a strong network of informers saw them smelling the movement of smugglers near the forest area, near Grand World Hotel, which is one of the frequently used exit poin
Tirupati: The Red Sanders Anti-Smuggling Task Force (RSASTF) once again proved its mettle in outwitting the smugglers, who were forced to flee after abandoning the vehicle laden with 51 red sanders logs, here on Wednesday. The RSASTF developing a strong network of informers saw them smelling the movement of smugglers near the forest area, near Grand World Hotel, which is one of the frequently used exit points for the smugglers, early in the morning, Wednesday.
Highlights:
RSASTF keep close watch on all exit points especially roads leading to Tamil Nadu

Smugglers abandon the goods van at Rayalacheruvu Colony in Tirupati
Acting on the tipoff that loading of red sanders logs was noticed near the forest area, the RSASTF personnel reached the area and launched a search but the vehicle with red sanders logs had already left. The resolute RSASTF took up a search in the city and also kept a close watch at all the main roads leading to Tamil Nadu.
Realizing that all exit points were under close watch, the smugglers after a five hour futile attempt to get away from the city with the stock of 51 red sanders logs, abandoned the goods van in Rayalacheruvu Colony in the city which was later found by the RSASTF searching party. After breaking open the doors of the vehicle, 51 logs were found by RSASTF personnel in the vehicle.
Task Force DSP SV Sridhar Rao said that the smugglers made the goods van to appear as belonging to the reputed Lucas TVS company, Chennai by writing the name of the firm on the van and also changed the vehicle registration number to hood wink the police. Smuggler chose Ganga Jatara for smuggling red sanders logs, as the local police will be busy with the security for the festivity which ended on Wednesday morning, he said adding that mapping up all the exit points proving
advantageous to task force.