6 killed, 2 injured in quarry mishap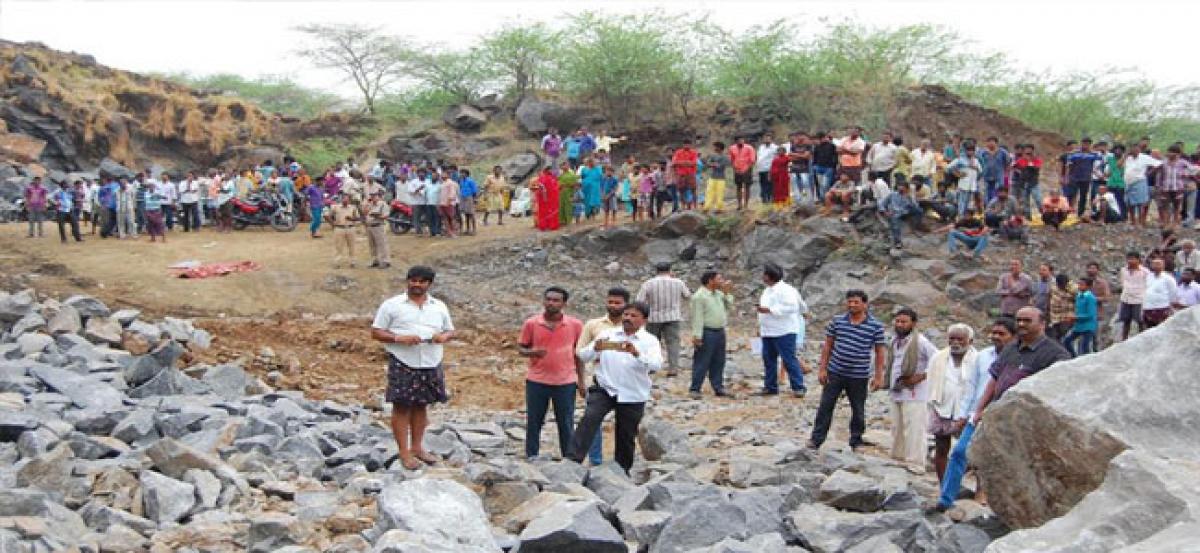 Highlights
As many as six workers in the quarry were killed and another two were injured, when a boulder fell on them at Gollapalem quarry under Phirangipuram mandal limits of Guntur district on Saturday.According to Guntur revenue divisional officer V Srinivasa Rao, the workers made arrangements for blasting a stone in the quarry and went for a recess. Meanwhile, boulders suddenly fell on retreating workers
Guntur: As many as six workers in the quarry were killed and another two were injured, when a boulder fell on them at Gollapalem quarry under Phirangipuram mandal limits of Guntur district on Saturday.According to Guntur revenue divisional officer V Srinivasa Rao, the workers made arrangements for blasting a stone in the quarry and went for a recess. Meanwhile, boulders suddenly fell on retreating workers and six of them were crushed to death by the huge descending boulders.
Highlights:
Boulders crushed workers who were retreating for recess
Preliminary reports say recent rains made soil around the stone slippery, leading to mishap
Government announces Rs 5 lakh as ex gratia to the deceased
A magisterial inquiry ordered into the mishap
According to preliminary reports, recent rains made the soil around stone slippery, which led boulders falling on workers.
The deceased were identified as T China Bala Sowry (40), Borugadda Nagaraju (48), P Rayappa (38), T Durganajaneyulu (36), T Sravan (54) and P Veeraiah. The officials pressed JCBs into service and extricated the bodies.
China Bala Sowry, Nagaraju and Rayappa were residents of Vignanapuram in Phirangipuram mandal, while Durganjaneyulu, Sravan, and Veeraiah hailed from Donabanda village near Ibrahimpatnam in of Krishna district.One of the injured China Raju managed to speak with media, while undergoing treatment at GGH in Guntur, he said, "We drilled holes in boulders and placed explosives for stone blasting. While we were retreating, boulders fell on us."
The condition of M Sai Ram, who is also injured is said to be serious and he is being treated at GGH Guntur.Upon receiving information about the mishap collector Kona Sasidhar, Guntur rural SP Narayan Naik rushed to the spot and inquired about the incident. They supervised extrication of bodies Kona Sasidhar said that a magisterial inquiry was ordered into the incident. "If quarry owner is found guilty, we will take stern action against him.
After getting the inquiry report, I will take further action," he stated and asserted the need to close quarries near to residential areas.Assistant director of mines T Srinivasa Kumar said that permission was given to Vaishnavi Crushers to quarry stone at Gollapalem.
"We do not know whether they have taken precautionary measures or not," he added.Meanwhile, Chief Minister N Chandrababu Naidu, who was attending Mahanadu in Vizag instructed, the district collector to extend helping hand to the kin of the deceased. Collector Sasidhar announced that they would give Rs 5 lakh as compensation to family of the deceased, who enrolled their names under 'Chandranna Bhima'.