Government to pay Rupees 15 lakh to the kin of deceased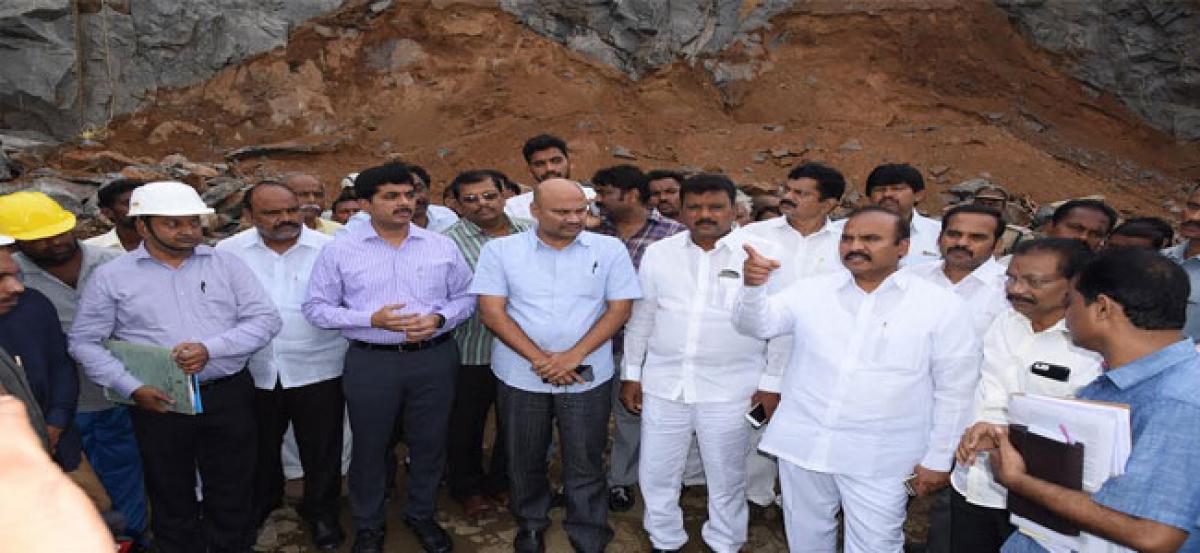 Highlights
Minister for mines R V Sujay Krishna Ranga Rao announced a compensation of Rs 15 lakh to the families of those died in Gollapalem quarry mishap in the district on Saturday. Speaking reporters here on Sunday, Ranga Rao said the government would pay a compensation of Rs 5 lakh under the Chandrannna Bima Scheme and Rs 10 lakh from quarry owner and assured that the government would extend all kinds o
Guntur: Minister for mines R V Sujay Krishna Ranga Rao announced a compensation of Rs 15 lakh to the families of those died in Gollapalem quarry mishap in the district on Saturday. Speaking reporters here on Sunday, Ranga Rao said the government would pay a compensation of Rs 5 lakh under the Chandrannna Bima Scheme and Rs 10 lakh from quarry owner and assured that the government would extend all kinds of assistance to the families of the victims.
Highlights:
Ministers Sujay Krishna Ranga Rao and Pulla Rao warn of stern action against those violating safety norms

Quarrying will be stopped in 21 mines near Gollapalem
Sujay Krishna Ranga Rao, minister for civil supplies Prathipati Pulla Rao, MLA Sravan Kumar visited Gollapalem quarry under Phirangipuram mandal and enquired about the incident, following orders from Chief Minister N Chandrababu Naidu.
Reminding that district collector Kona Sasidhar had already ordered a magisterial inquiry into the incident and was waiting for report Ranga Rao warned that the government would take stern action against the quarry owners who violate safety norms in the quarries.
He termed Gollapalem incident "most unfortunate" and expressed his sympathy with the bereaved families.He said action would be taken against those responsible for Gollapalem quarry accident once report of the magisterial inquiry is received. "It is responsibility of the quarry owner to take safety measures for workers in the quarry. The government warned all the quarry owners to take precautionary measures within a week. After that, we will conduct inspection and if any owner is found violating safety norms, action will be taken against them," Ranga Rao said.
He further said the government would accord permission to new quarries only after inspecting safety measures taken by the quarry owners. "The district administration has taken steps to stop quarrying in 21 mines near Gollapalem quarry following Saturday's mishap. Illegal miners will also face tough action. It is the responsibility of the government and quarry owners to provide safety to the lives of workers in the quarry," the minister said.
Civil supplies minister Prathipati Pulla Rao warned that the government will take stern action against those quarry owners who violate the safety posing threat to the lives of workers. He said the government would bear medical expenses of Sairam, a worker who was injured in the quarry mishap, in Gollapalem and is undergoing treatment.. Later, they went to Gollapalem quarry where district collector Kona Sasidhar explained about the mishap to the two ministers and the MLA.
Speaking to local media, Sujay Ranga Rao said the government would take all the steps to avoid inconvenience to the devotees who visit Mary Mata temple on the hillock due to operation of quarry. Joint collector-2 Munga Venkateswara Rao, RDO Srinivasa Rao, mining department deputy director Niraj Kumar, assistant directors Jagannadha Rao and Srinivasa Rao were present.