Executive order enough to grant Special Category Status to Andhra Pradesh: Congress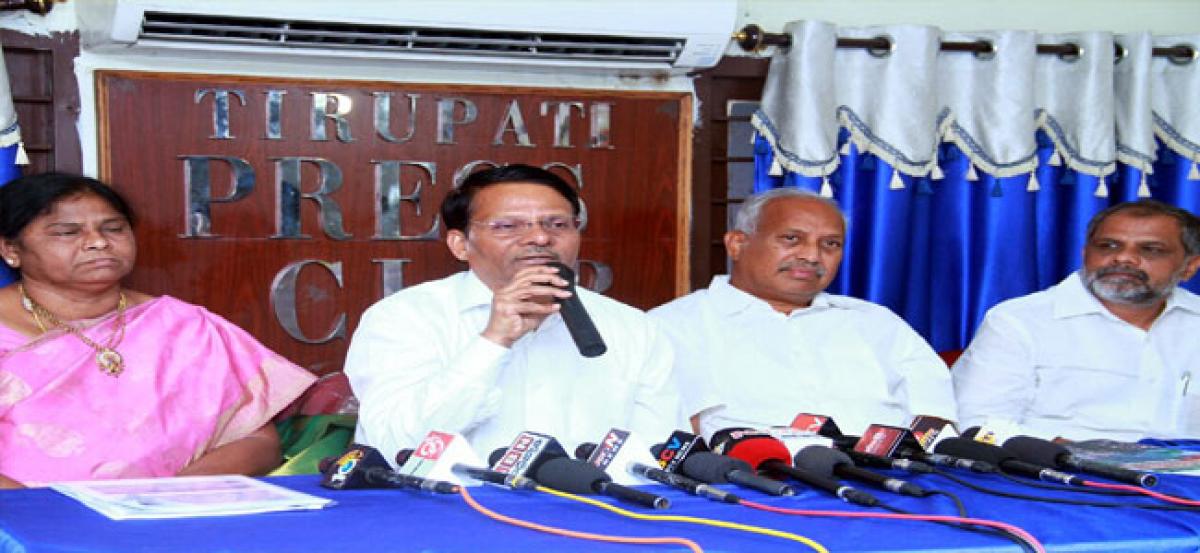 Highlights
Disputing the TDP and BJP contending that the Special Category Status (SCS) requires a statutory provision, AICC SC wing chairman Koppula Raju said that the SCS can be accorded through an executive order.Speaking to media here on Thursday, Raju said in the case of the 11 states which are enjoying SCS in the country, the central government after the approval of the National Development Council (NDC
Tirupati: Disputing the TDP and BJP contending that the Special Category Status (SCS) requires a statutory provision, AICC SC wing chairman Koppula Raju said that the SCS can be accorded through an executive order.Speaking to media here on Thursday, Raju said in the case of the 11 states which are enjoying SCS in the country, the central government after the approval of the National Development Council (NDC) issued orders according SCS to them.
Highlights:
AICC SC Cell chairman Koppula Raju says special status requires no statutory provision

Alleges BJP-led NDA govt took the country 30 years backward
"There is no need of any act for giving SCS to Andhra Pradesh," he said accusing the BJP and TDP of violating its promise on SCS and also the assurance given by the then Prime Minister Manmohan Singh on the floor of Rajya Sabha declaring SCS to AP.
Fuming fire on the BJP-led NDA government, the IAS turned Congress leader said that it failed in all fronts and said "the three-year BJP rule virtually took the country 30 years backward''. Prime Minister Narendra Modi before coming to power promised to provide two crore jobs every year but his government was able to create only two lakh jobs in its three-year rule badly letting down lakhs of unemployed youth in the country, he averred.
Continuing his blistering attack on Modi government, he said the failure of BJP's three-year rule is very much visible in every field and accused the party of forcibly rubbing the majority opinion revealing its feudal mindset shaking the very foundation of the democracy. Caste and communal conflict on the rise while the VHP, Bajrang Dal and Hindu Yuva Vahini activists unleashed terror in colleges and universities stifling the voice of others in the campuses.
The BJP government on it part slashed the grant to UGC by 50 per cent and curtailed the scholarship to researchers turning the youth who are the future of the national bleak. He also find fault with the BJP government on the ban on sale of cow and said that it is not proper for any government trying to restrict the food habits.
Taking a dig at Nava Nirmana Deeksha, senior Congress leader and former MP Chinta Mohan said it is not Nava Nirmana Deeksha but Navayuga Nirmana Deeksha, criticising Chief Minister Chandrababu Naidu undue favour of the private construction company. He said Naidu went to the extent of putting Dugarajapatnam port construction to favour a private port and this construction company affecting job opportunity to one lakh youth.
Mohan sought BJP leaders to take a cue from party patriarch and former Prime Minister AB Vajpayee a most liberal and even offered beef to his guests in his home. DCC president P Venugopal Reddy, PCC secretary N Srinivasulu and others were present.