Ensure 25% agriculture growth this year: Chief Minister N Chandrababu Naidu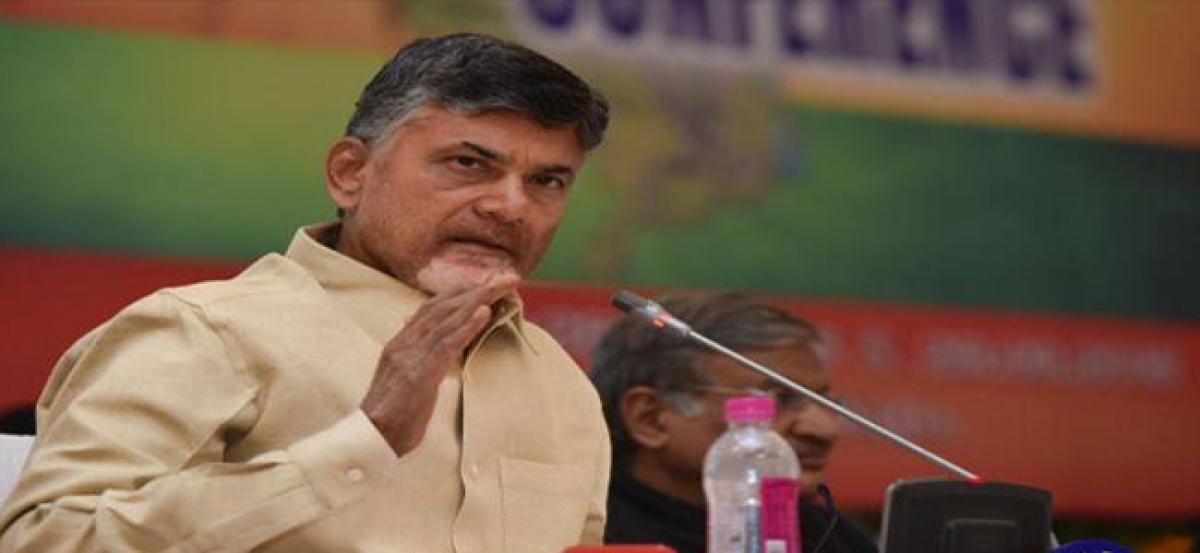 Highlights
Chief Minister N Chandrababu Naidu directed the officials to ensure measures for making agriculture profitable by using latest technology. While conducting a teleconference on agriculture and allied sectors at Secretariat on Friday he asked resource development centres to be established in all the engineering colleges for giving guidance to farmers. He observed that through real time governance ex
Amaravati: Chief Minister N Chandrababu Naidu directed the officials to ensure measures for making agriculture profitable by using latest technology. While conducting a teleconference on agriculture and allied sectors at Secretariat on Friday he asked resource development centres to be established in all the engineering colleges for giving guidance to farmers. He observed that through real time governance excellent results can be achieved.
Highlights:
Naidu wants to establish resource development centres in engineering colleges to guide farmers

Government is providing marketing facilities for the crops

Expresses unhappiness over the slow distribution of green manure in Visakhapatnam and Kadapa districts

CM asks officials to use drones to spray pesticides on horticulture crops
Envisaging that agriculture should be more remunerative he recalled that the government has already distributed 97 percent of soil health cards to the farmers and also providing seeds, fertilisers and crop loans.
He said that government is providing micro nutrients free of cost and distributed Rs 1,030 crore as input subsidy and Rs 420 crore as climate insurance to the farmers. He asked the farmers to use these funds as crop investment during the Kharif season.
As the government is providing all the resources needed for the cultivation much earlier this year, he aspired for higher yield from all the crops.
He asked the officials to ensure maximum yield from agriculture and horticulture crops during this year. "We have to ensure 25 percent growth in agriculture and allied sector this year. There is no shortage of water and power. We are giving inputs, crop insurance, capital subsidy to the farmers.
We expect high yield this year. We will ensure crop loans for tenant farmers. We have already directed the bankers to submit a report on the details of crop loans given to tenant farmers, bank and branch wise" the Chief Minister said.
Maintaining that the government is providing marketing facilities for the crops he said the expenditure for Geo Tagging was reduced to Rs 10 from Rs 600. Suggesting that e-cropping should be increased in Srikakulam, Prakasam and Vizianagaram districts he directed for 100 percent e-cropping, which was presently only 14 per cent.
While expressing unhappiness over the slow distribution of green manure in Visakhapatnam and Nellore districts Naidu said that the micro nutrients distribution should be expedited in East Godavari, Vizianagaram, Anantapur and Kadapa districts. He suggested using of drones if necessary to spray pesticides on the horticulture crops.
He directed officials to reach targets in the production of meat, eggs and fish. While giving road map for achieving success in agriculture Chief Minister said that response, supervision, understanding and implementation in time are the key success formulas.
He said the agriculture department has geared itself to overcome the dry spell while using rain gun technology. While directing the officials to be prepared for overcoming drought and increasing the income of the farm labour he opined that the income of every family should be at least Rs 10,000 per month, he added.
While suggesting encouraging of fish rearing in tanks and farm ponds Chief Minister opined that the farmer will get more income through rearing fish in farm ponds a la West Bengal. As there is no shortage of fodder the milk production should increase this year, he said. While envisaging the state should become Horticulture Hub across the country he asked the officials to encourage drip irrigation for horticulture crops.
Mines minister Sujaya Krishna Venkata Rangarao, agriculture special commissioner Hari Jawahar Lal, allied industries principal secretaries Manmohan Singh, Ramshankar Naik, CMO secretary Rajamouli, SERP CEO Krishnamohan and others were present.

Interested in blogging for thehansindia.com? We will be happy to have you on board as a blogger.