Shady deals: 200 B.Ed colleges face closure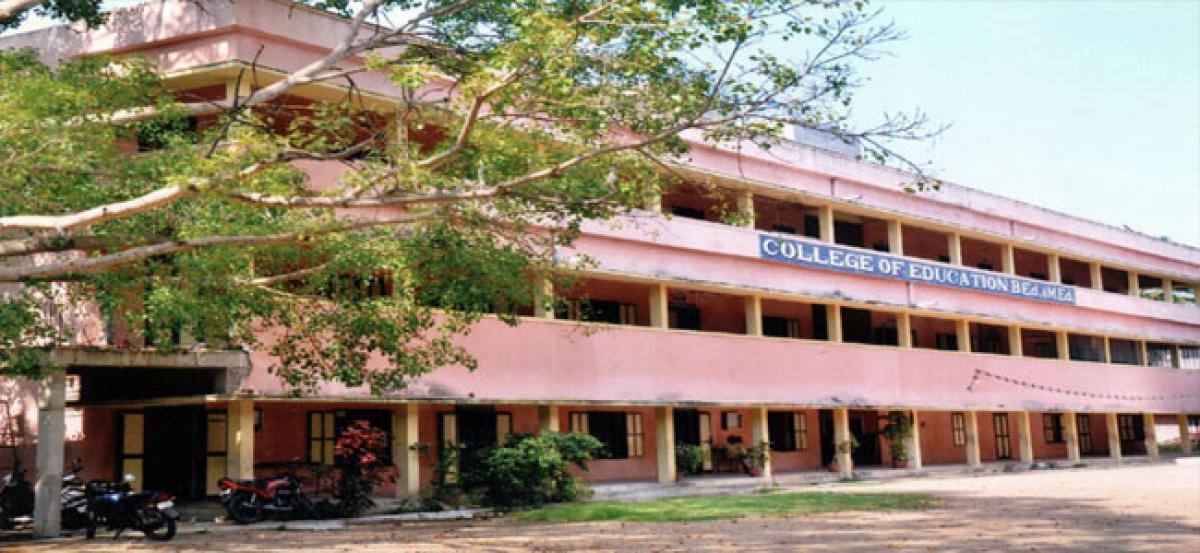 Highlights
Numerous irregularities of B.Ed colleges in Andhra Pradesh are coming into light and around 200 such fake colleges may face threat of cancellation of registration with the Centre's planning to put in place a mandatory accreditation and certification process for educational institutes to put check of commercial establishments just selling B. Ed certificates at a price and producing substandard teac
Amaravati: Numerous irregularities of B.Ed colleges in Andhra Pradesh are coming into light and around 200 such fake colleges may face threat of cancellation of registration with the Centre's planning to put in place a mandatory accreditation and certification process for educational institutes to put check of commercial establishments just selling B. Ed certificates at a price and producing substandard teachers.
Highlights:
APSCHE identifies several irregularities in B.Ed colleges

Fake colleges sell B.Ed certificates at a price of `2 lakh to `3 lakhs

APSCHE directs universities to verify and submit report on these colleges
AP State Council of Higher Education (APSCHE) has directed universities to verify details of B. Ed colleges and submit a report soon following suggestions of Union HRD Ministry. The APSCHE has identified around 200 colleges till now, out of a total 500 B. Ed college that have not even appointed Principals.
The irony is such fake colleges or the colleges that have not maintained any standards are reportedly selling B. Ed certificates at a price of Rs 2 lakhs to Rs 3 lakhs and permissions were given to such colleges without any physical verifications, sources said.
According to sources, the APSCHE directed all B. Ed colleges in the State to upload their details in higher education website as the government made it mandatory of accreditation and certification of the National Council for Teachers Education (NCTE). The APSCHE has given instruction to colleges to upload details of faculty, infrastructure details and other details.
As per norms, every B. Ed college should have 14 faculty members with education discipline of psychology, social sciences, teaching methodology and other subjects.
The colleges also have to upload photos, Aadhaar numbers, university certificates and some other particulars. The details will be displayed for public. Submission of details of labs, infrastructure, own buildings, land registration, and Panchayat or Municipal plan approvals for the building plans also made mandatory.
Following these directions, around 400 colleges uploaded the details but around 80-100 colleges of them have been identified till now that they don't have even principals. As per rules, every B. Ed colleges must have principal of having Ph. D in Education. Besides, around 100 colleges were suspected as fake.
APSCHE vice-chairman Narasimha Rao Pemasani told The Hans India that around 100 colleges did not upload required details that APSCHE wanted from them. "We think that the colleges have no address to mention but may sell just B. Ed certificates. Tough action will be taken on such colleges" he said".
The APSCHE directed Universities to verify the details uploaded by some B. Ed colleges to ascertain facts as most of the colleges are projecting same faculty as their staff. "The APSCHE will also conduct enquiry after the universities submits their report on B. Ed colleges" Narasimha Rao said. A senior officer said the B. Ed course has become a big business as thousands of students have been taking up the course every year.
The persons, who don't have minimum understanding on teaching education had established such colleges and were earning lakhs of rupees by selling certificates, he said. "No verification has been done till now on such colleges till now," said Rao.
By K Varaprasada Rao

Interested in blogging for thehansindia.com? We will be happy to have you on board as a blogger.