Marriage expenses rise by 10 to 20%, thanks to GST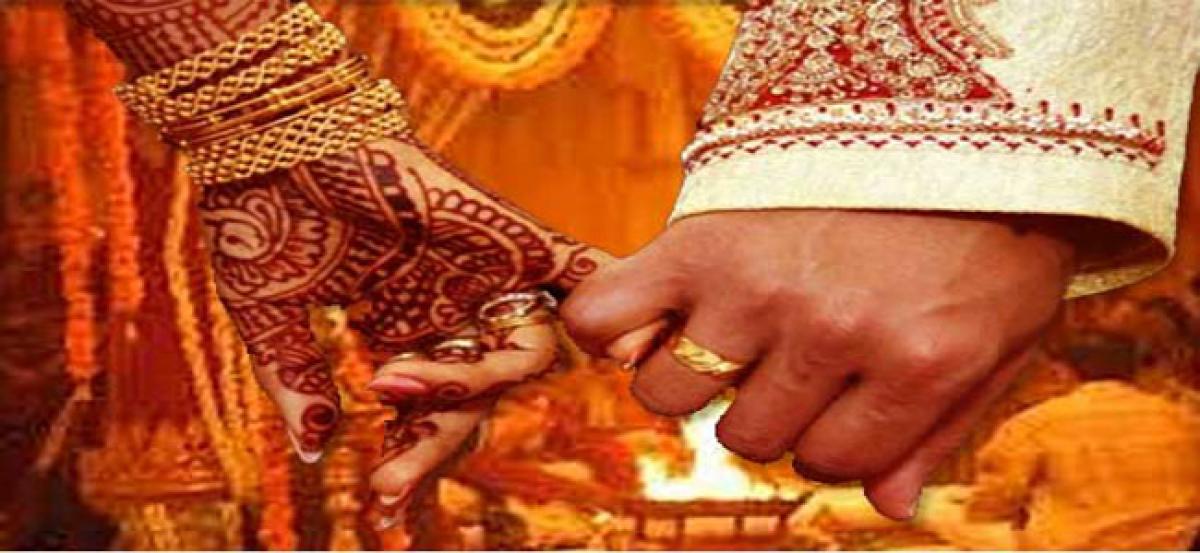 Highlights
Sravana Maasam is the most auspicious and happy month for Telugu people living in Andhra Pradesh and Telangana.
Vijayawada: Sravana Maasam is the most auspicious and happy month for Telugu people living in Andhra Pradesh and Telangana.
Marriages, house warming programmes, trade and business inaugurations and many other happy occasions are celebrated during this month in the two States.
A large number of brides and bridegrooms and their parents wait for the auspicious month of Sravana Maasam, which comes after the Aashaada Maasam.
But, the Sravana Maasam (Month) in 2017 which will begin on July 24 has deprived the happiness of a large number of parents, bridegrooms and brides due to the implementation of GST from July 1.
Marriage expenses will increase between 10 and 20 per cent with the GST. Prices of garments, jewellery, footwear, domestic appliances, cosmetics and other consumer products have gone up. Besides, hotel bills will also rise by 18 per cent.
Middle class and lower middle class people are worried over implementation of GST. For the first time in the history of India, tax is levied on the textiles, pointed out Andhra Pradesh Textile Federation president B Malleswara Reddy.

"Common people cannot bear tax between 18 and 28 per cent on textiles," he says. He alleged that the Central government is least bothered about the common man particularly the middle class and lower middle class.
Wearing new clothes for marriages is an age-old tradition in the two Telugu States. Even a poor family spends thousands of rupees to purchase new clothes. During marriages, they purchase fancy dresses with additional work like embroidery, designs and handwork which cost more.
Tax on gold articles increased from 2.5 per cent to 3 per cent. So, the investment on gold too will increase. Similarly, brides and bridegrooms buy new footwear for their marriages. Tax on footwear also increased due to implementation of GST.
Due to changing lifestyles, upper middle class and rich families are performing marriages of their children in hotels or arranging reception in the hotels. Now, the Tax on hotels too increased. Protesting against the hike of GST on hotels, South Indian hotels observed bandh for three days in June. Andhra Pradesh Hotels Association president M Srinivasa Babu said the GST would definitely affect the hotel business in Andhra Pradesh.
He said in recent years, people got habituated to hosting small parties, functions and marriages in the hotels. But, this GST will become a big burden to the customers, he added.
Thousands of marriages are performed in Andhra Pradesh in Sravana Maasam every year. The GST burden on the families will be in hundreds of crores. Many families purchase furniture to offer as gift to their newly-wed children.
The government has increased GST to 28 per cent on furniture, said Rajiv Arora, president of Vijayawada Furniture Dealers Association.
Consequently, the expenditure on furniture will increase. Similarly, the prices of domestic appliances and electronic goods also increased from July 1.
All these factors will cause huge burden on the families. N Ramesh, a private employee, who is scheduled to perform his daughter's marriage in Sravana Maasam said his budget for the marriage of his daughter increased by 10 to 20 per cent due to implementation of GST.
He said the family could not avoid purchasing new clothes, gold articles, footwear and some electrical goods and domestic appliances, which are gifted to the new bridges.
By M D Ameen