Youth told to become domain experts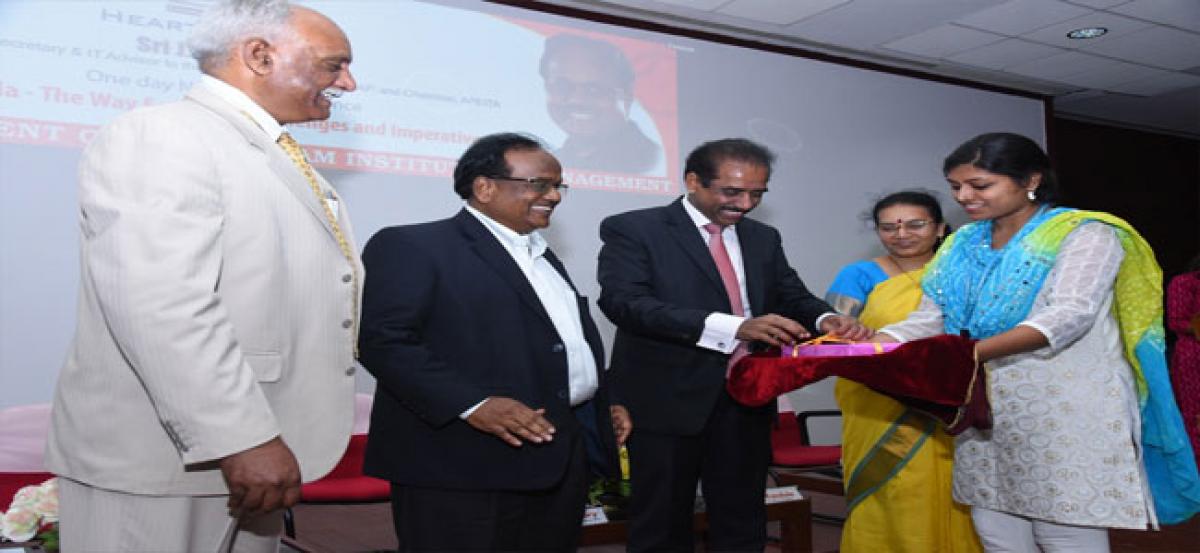 Highlights
GITAM Institute of Management, GITAM University, Visakhapatnam, organised a one-day national conference on 'Skill India-The way forward: Challenges and Imperatives'at the Mother Teresa Auditorium on the campus on Thursday. Delivering a key-note address in the conference, Special Chief Secretary and IT Adviser to the Chief Minister J A Chowdary explained how every developed country in the world ha
Visakhapatnam: GITAM Institute of Management, GITAM University, Visakhapatnam, organised a one-day national conference on 'Skill India-The way forward: Challenges and Imperatives'at the Mother Teresa Auditorium on the campus on Thursday.
Delivering a key-note address in the conference, Special Chief Secretary and IT Adviser to the Chief Minister J A Chowdary explained how every developed country in the world has reglobalising with the fear of unemployment of their own nationals.
With the latest developments in technology like artificial intelligence, block chain, analytics alike, the jobs were decreasing gradually, he said and advised the students to concentrate on developing deep knowledge and become an expert at it rather than narrowing their knowledge and skills.
The CEO of Capegemini Technology Services India Limited, Bengaluru, Srinivas Kandula, shared his perspective on skill gap. He touched upon the two major skill problems prevailing in the country, one being the real skill gap which was common universally, other being the disguised gap which was specific to India. He stressed on the fact that innovation and creativity index was being killed because of the reason that younger generation is moulded towards mediocracy as research involves a lot of uncertainty.
The Chief Operating Officer, Varun Group, Madhav Bellamkonda, spoke regarding skill gap in hospitality and automobile sector. He stressed on B2C context which was complex and challenging. He threw light on Maruthi Suzuki's mshare of 50 per cent in the Indian market. He mentioned about automating the automobile sector like using RFTDS innovation through smartphones for the present and coming generations.
The Director and Professor, School of Business, Nipissing University, Canada, Siva Prasad Ravi, spoke on that every country has facing the skill gap. The world has changing at such a quick pace where the academicians were not able to cope up with the rate of change regarding the skill sets.
The Pro Vice-Chancellor, GITAM University, K Siva Ramakrishna, initiated the seminar by briefing about the latest developments in the university. He emphasised that the country's demographic dividend would turn into demographic danger, if the young generation was not properly skilled. He also brought into light how the governments of State and Central can work together to create an environment where a call can be taken regarding the skill of future manpower.