City best bet for tourism investment: CM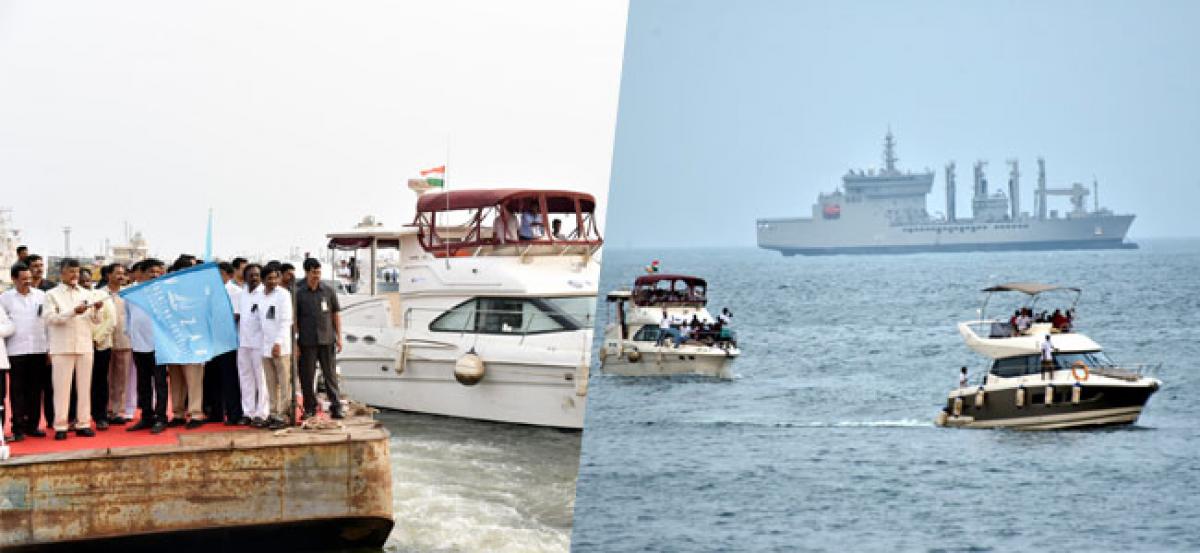 Highlights
The first ever Vizag International Yacht Festival was started in the city on Thursday. The four-day festival was formally
- Government is promoting tourism sector at a large scale concentrating on the nature blessed Port City
- Visakhapatnam is dotted with beautiful beaches and thick green hillocks
- Similarly, Araku Valley, agency circuit tourist spots and several more attractions will attract the investment, says Chief Minister
- To create more employment opportunities in the tourism sector, the state government is implementing a strategic plan
- As a part of the plan, the International Yacht Festival is one of the several programmes to be held throughout the year
Visakhapatnam: The first ever Vizag International Yacht Festival was started in the city on Thursday. The four-day festival was formally inaugurated by Chief Minister N Chandrababu Naidu by flagging off the yachts at IFR Jetty at Visakhapatnam harbour on Thursday. The festival had a grand start with mock drill and band from Naval Sea Cadets Corps.
With a vision to establish and put Visakhapatnam on the marine tourism map, the Andhra Pradesh Tourism in association with Visakhapatnam Port Trust organising the festival in which as many as internationally popular eight yachts are participating. The festival will be concluded on April 1.
The yachts would sail through the popular beaches Rushikonda, RK Beach, Tothlakonda and Yarada while engaging the on-board guests with activities, including swimming, fishing, snorkeling. The fleet would sail on the waters of Bay of Bengal during the day and park at The Fishing Harbour in the evening for customised galas with musical performances.
Speaking on the occasion, the Chief Minister said that Visakhapatnam is the best place to invest in tourism sector. The state government is promoting the tourism sector at a large scale concentrating on the nature blessed Port City. The city was dotted with beautiful beaches and thick green hillocks, he said and added that Araku Valley, agency circuit tourist spots and several more attractions would attract the investment.
Visakhapatnam will attract the tourists globally, he said. To create more employment opportunities in the tourism sector, the state government is implementing a strategic plan. As a part of the plan the International Yacht Festival is one of the several programmes to be held throughout the year, he added.
Talking about the Polavaram project, the Chief Minister said that the tourists also can enjoy the scenic hills view, which was nearer to both the National Highway and railway connectivity. The Polavaram project would also be a tourist attraction in the state, he added.
While balancing the tourism promotional activities, he said that government has identified various monuments and historical places at Rayalaseema region also. The government chalked out an action plan to develop the tourist attractions.