Be honest in profession, docs told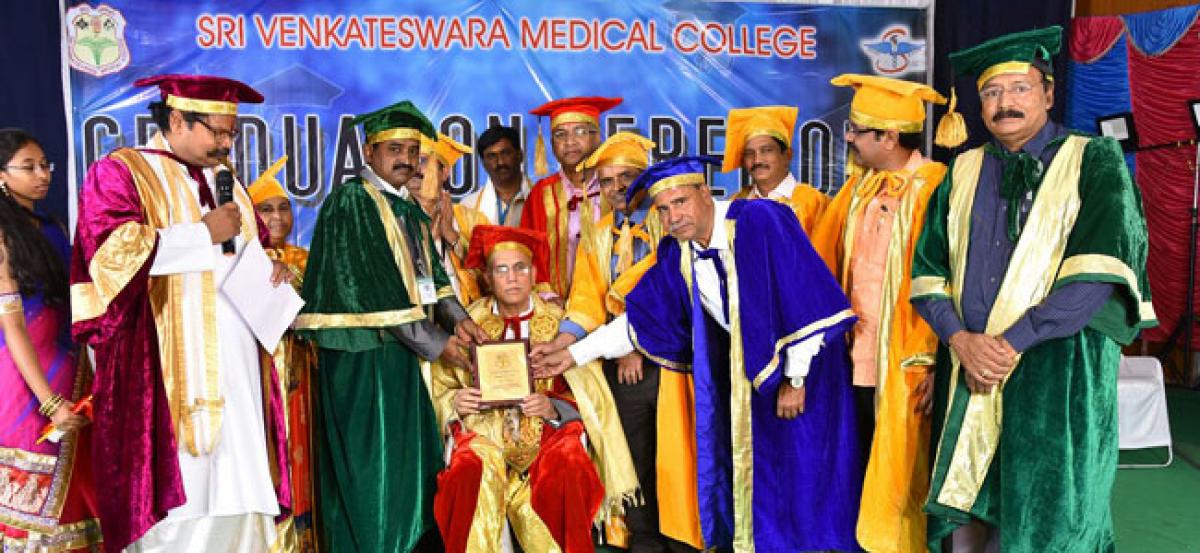 Highlights
The young doctors, who are going out with the degree, should give priority to service and human values and not for money
- More seats for AP students with state joining central pool: MGUMST V-C
- 143 students receive MBBS degrees from SVMC
Tirupati: The young doctors, who are going out with the degree, should give priority to service and human values and not for money, said Mahatma Gandhi University of Medical Sciences and Technology (MGUMST) Vice-Chancellor (V-C) Dr MC Mishra while addressing the MBBS graduates at the convocation function held at Sri Venkateswara Medical College (SVMC) here on Monday. He called upon the doctors to be honest in the noble profession. He also advised them to strive hard to get seats in PG courses. As Andhra Pradesh has joined in the central pool, the students have the opportunity of getting seats anywhere in the country.
They should make use of it and learn the local language, customs and traditions where they get the seat. Dr Mishra also administered the oath to outgoing medical students. In the convocation, 143 students have received their MBBS degrees.
College Principal Dr NV Ramanaiah has presided over the function and appreciated the outgoing batch for conducting World Health Day in a grand manner. Also, they agitated to get the Institute of Pregnant Women building to the college and worked well in clinical departments for the past one year. Senior doctor Armugam has attended the programme as special invitee. Ruia Hospital Superintendent Dr Siddha Naik, Maternity Hospital Superintendent Dr V Bhavani, Vice Principals Dr Ashok Kumar Reddy and Dr Sreenivasulu Reddy and other faculty members have participated.