Land allotment to cancer centre opposed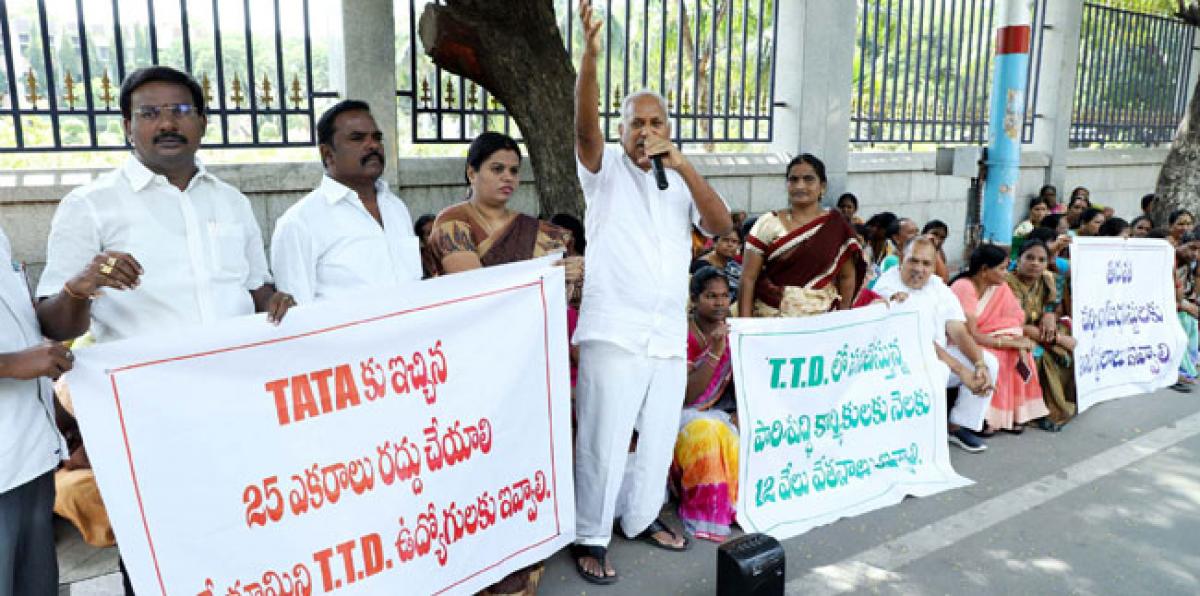 Highlights
Congress activists led by former Union Minister and senior Congress leader Chinta Mohan staged a dharna at TTD Administrative Building here on Tuesday, demanding the TTD management to hike the salary of contract health workers to Rs 12,000 and also cancel the land allotted to the Sri Venkateswara Institute of Cancer Care and Advanced Research SVICCAR
Tirupati: Congress activists led by former Union Minister and senior Congress leader Chinta Mohan staged a dharna at TTD Administrative Building here on Tuesday, demanding the TTD management to hike the salary of contract health workers to Rs 12,000 and also cancel the land allotted to the Sri Venkateswara Institute of Cancer Care and Advanced Research (SVICCAR).
Speaking on the occasion, Mohan said that it is the health workers numbering about 6,000 working as outsourcing workers slogging day and night are responsible for Tirumala, the abode of Lord Venkateswara remaining clean and tidy bagging TTD many national awards under Swachh Bharat.
But, they were paid only Rs 8,000 though they are facing many health hazards in their work including handling garbage, cleaning toilets and upkeep of roads etc., he said demanding to increase their monthly wages to Rs 12,000 keeping in view of the increase in cost of living and growing requirements of the families.
Mohan also demanded the TTD to cancel the 25-acre land allotted to the SVICCAR for setting up a cancer hospital here and wanted it should be given to employees working in TTD as house sites for which the employees have been demanding for long. He stated the same site was sanctioned to the cancer super specialty hospital in the Congress-led UPA rule.
He also sought the government to allot house sites to working journalists. PCC secretaries K Prameela, N Srinivasulu, Sevadal state secretary Prabhakar and others were also participated. Later, Chinta Mohan handed over a memorandum to the TTD EO.