Visakhapatnam Port Trust bags outstanding renewable energy user award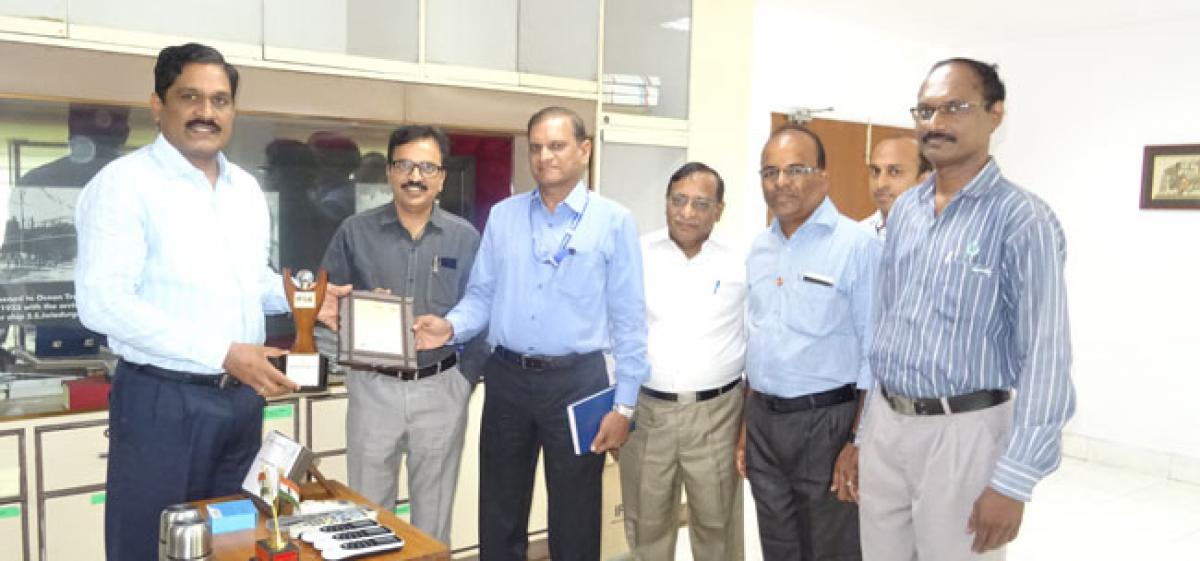 Highlights
Visakhapatnam Port Trust VPT has bagged the outstanding renewable energy user award established by the Indian Federation of Green Energy IFGE, New Delhi The jury of the IFGE selected VPT after screening all the large, medium and smallscale industries, service sectors units and organisations across the country
Visakhapatnam: Visakhapatnam Port Trust (VPT) has bagged the 'outstanding renewable energy user' award established by the Indian Federation of Green Energy (IFGE), New Delhi. The jury of the IFGE selected VPT after screening all the large, medium and small-scale industries, service sectors units and organisations across the country.
Union Minister of Commerce and Industry Suresh Prabhu presented the award to P Kamaraju, Superintendent Engineer (Electrical), VPT at a function held recently in New Delhi.
The VPT being the front-runner in green energy initiatives as per Ministry of Shipping (MoS) directions, has installed 10 MW solar plant near Visakhapatnam Airport area at a cost of Rs 57.5 crore and put into operation since May 17, 2017.
The plant is expected to generate 1.75 MU per year as well as reduces a carbon footprint to a tune of 68 lakh Lbs and the present consumption of VPT is 1.2 MU per year, thereby the 100 per cent power consumption of VPT is being met from green energy out of 10 MW solar plant generation through open access agreements with AP Transco and EPDCL of AP.
The remaining excess energy is being offered to VPT leasees as third party sale under the concept of green port initiatives by VPT. The VPT has already been adjudged as the second Cleanest Port in India for consecutive 2 years and got first prize in the Industrial category (Public) of AP Greentech Award 2017. The VPT has also bagged first and second prizes in individual home gardens for Chairman Bungalow and Deputy Chairman Bungalow.
VPT Chairman M T Krishna Babu has appreciated the whole team P L Harinadh, Deputy Chairman, R N Hari Krishna, CME, PVVP Hari Hararao, DCME, P Kamaraju SE (Electrical), T Kiran Kumar, EXE (Electrical) and J Siva Kumar AE (Elec) on the subject achievement and said that IFGE award is another cap for VPT's achievements.