UN all praise for Naidu's natural farming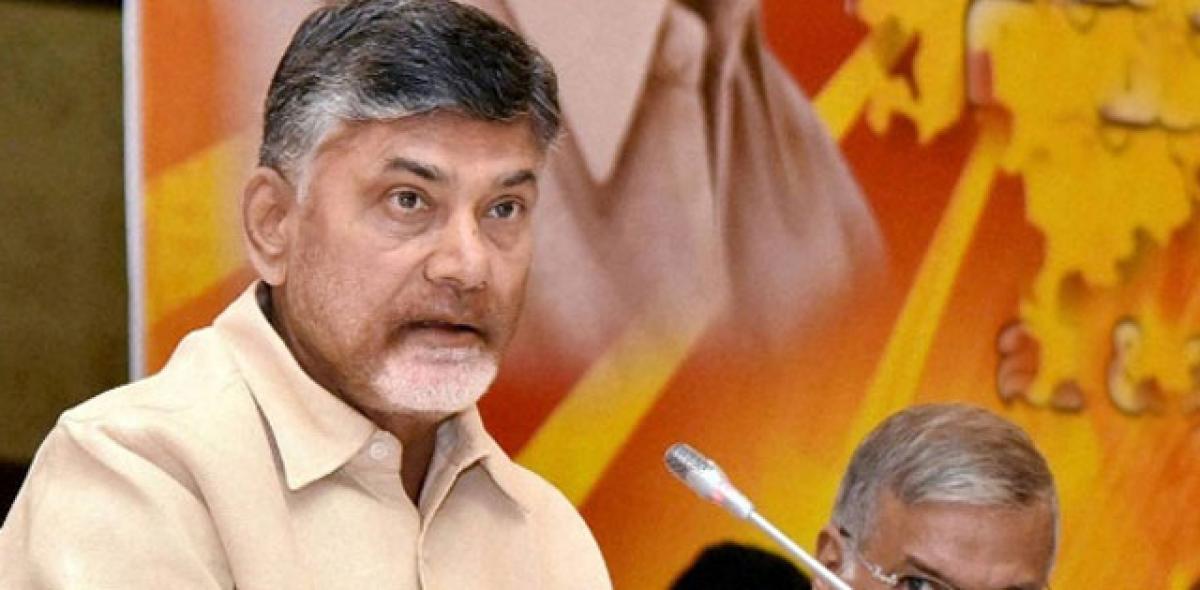 Highlights
Underscoring the importance of Zero Budget Natural Farming ZBNF in improving happiness index in the state, Chief Minister N Chandrababu Naidu has said he aimed to encourage 60 lakh farmers to go in for the new mode of agriculture by 2024
Amaravati: Underscoring the importance of Zero Budget Natural Farming (ZBNF) in improving happiness index in the state, Chief Minister N Chandrababu Naidu has said he aimed to encourage 60 lakh farmers to go in for the new mode of agriculture by 2024.
The Chief Minister was delivering a keynote address at the United Nations Environment Programme on "Financing Sustainable Agriculture: Global Problems & Challenges" on the sidelines of the UNGA on Tuesday.
The AP model of ZBNF won the world acclaim and all the delegates who participated in the programme were highly impressed, an official press release claimed.
Naidu impressed the audience by speaking in Telugu on the world platform for the first two minutes and then switched over to English. He said it was a rare opportunity for him to represent AP at the UN.
Naidu said that the core principle of the ZBNF comprised using microbial seed coating through cow urine and dung-based formulations, bio inoculants to stimulate soil microbiome, cover crops, soil aeration, water vapor harvesting and use of zero chemicals.
He said the state government had taken up village as the base to convert from traditional farming practice into natural farming. He added that the government aimed to convert 15 per cent of land in the first year, 50 per cent in the second year, 80 per cent in the third year and entire land by the fifth year. By 2022, AP will achieve all 17 UN Sustainable Goals though the UN aimed to achieve it by 2030, he said.
He explained that the vicious cycle of agriculture sector was "high cost, risk in production and marketing, food insecurity, migration, degradation of environment, climate impact, floods and cyclones". He said that this vicious circle has been hampering the sector. He pointed out that for all these problems, the ZBNF is the only answer. "It reduces input cost, increases yield, provides regular income, safe and nutritious food," Naidu said.
The Chief Minister said AP has been converted into a hub of natural farming and remains as a role model for the rest of the world. Everybody on the dais is working towards natural farming. "Promoting technology and nature together will work wonders," he said. Naidu said Mission 2024 as one intended to make Andhra Pradesh as India's No 1 natural farming state involving 60 lakh farmers covering eight million hectares and make the state a role model for the world.
He said that 62 per cent of population is employed in agriculture and related activities. AP has second longest coastline of 974 km and is the largest producer of fruits, eggs. Horticulture covers 1.7 million hectares, he said.
The Chief Minister said that the state government has been encouraging ZBNF to reverse migration to villages and therefore it is imperative to enhance soil health to safeguard our collective future. Naidu said that with the help of women Self Help Groups (SHGs), community resources persons and technology backbone of 6 million farmers ZBNF will be a formidable proposition. He said that this farming will help the state in reaching development goals. Erik Solheim, Executive Director of UNEP, praised Naidu for the AP model of ZBNF.
Earlier in a bilateral meeting with Dr Tony Simons, director General, world agroforestry centre (ICRAF) and Dr Ravi Prabhu, deputy director general, research ICRAF, the Chief minister discussed the ongoing research activities in AP to strengthen scientific evidence and assess impacts of Zero budget natural farming through field-based data collection.
Dr Tony Simons said that their organisation is carrying out research programmes in agroforestry sector in 30 countries and was eager to study the natural farming practices in AP. He expressed his readiness to extend their research programmes in natural farming practices to AP. He said that training of farmers would play a key role in success of natural farming. He expressed willingness to exchange technology know how.