25 pc rainfall deficit in AP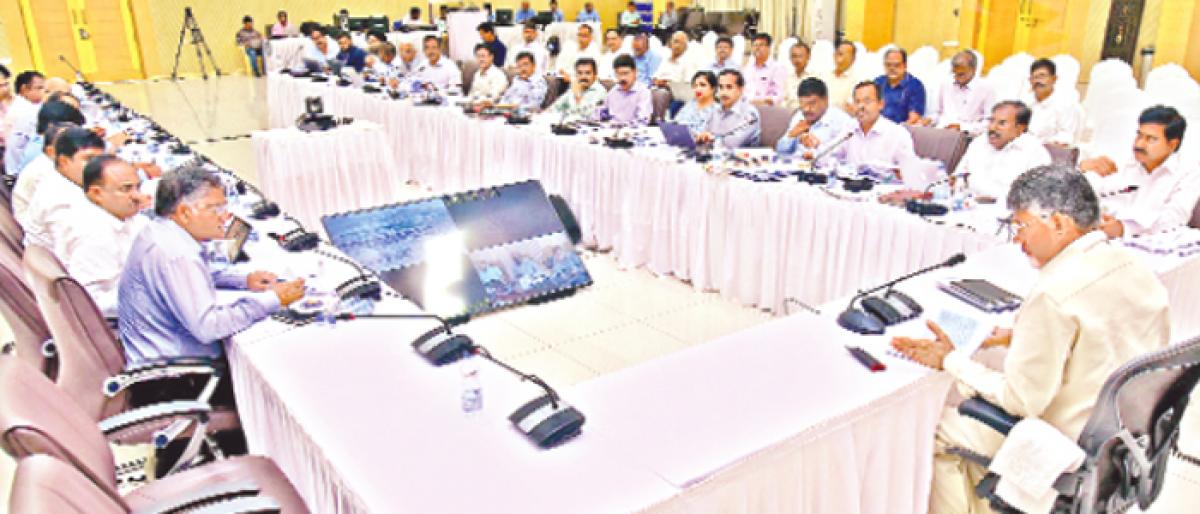 Highlights
Interlinking of water resources will ensure that all rivers turn into reservoirs filled with water, said Chief Minister N Chandrababu Naidu while reviewing progress of prioritised irrigation projects along with Polavaram in the capital city on Monday
​Amaravati: Interlinking of water resources will ensure that all rivers turn into reservoirs filled with water, said Chief Minister N Chandrababu Naidu while reviewing progress of prioritised irrigation projects along with Polavaram in the capital city on Monday.
He said that the Pavitrasangam became a reality and the focus has now shifted to Ananta Sangamam. Chandrababu Naidu directed officials to make plans for interlinking of Vamsadhara, Penna with Godavari and Krishna rivers. Under Ananta Sangamam, all rivers, water bodies, check-dams, projects and other water resources will be connected.
He said that this year there was more than 25 per cent rainfall shortage in the State. Interlinking of rivers will address this rainfall problem. This will also enable storage of water in reservoirs and improve the groundwater table. He told the officials to complete the Polavaram Project works as per the schedule. Minister for Water Resources Devineni Uma Maheswara Rao and other government officials participated.
Earlier, Naidu held a review meeting on Neeru-Pragathi at Undavalli. The Chief Minister expressed concern over the non-cooperative attitude of the Central government while reviewing on progress of Neeru Pragathi here on Monday. He said that the State government could withstand to the natural calamities like Hudhud and Titli with sustained efforts but he regretted over the lack of cooperation and attitude of successive Central governments.
He pointed out that the previous UPA government led by the Congress divided the State unscientifically whereas the present BJP government cheated AP by not fulfilling the promises made in AP Reorganisation Act-2014. It was also resorting to 'Suppressive politics' against States, he alleged. He further added that when the State government and TDP leaders started demanding fulfilment of promises, the BJP government was threatening by conducting Income-Tax and Enforcement Department raids on party MLAs, MPs and other top leaders.
He said that it was not good for the democracy. The Chief Minister said that the Central government and State government must compete on development front but the Centre should not resort to suppressive politics. He said that it would not good for democracy and it was against the spirit of concept of cooperative federalism. He said that with the help of advanced technology, the State government has been able to monitor implementation of rescue and relief measures.