Fish pedicure now in city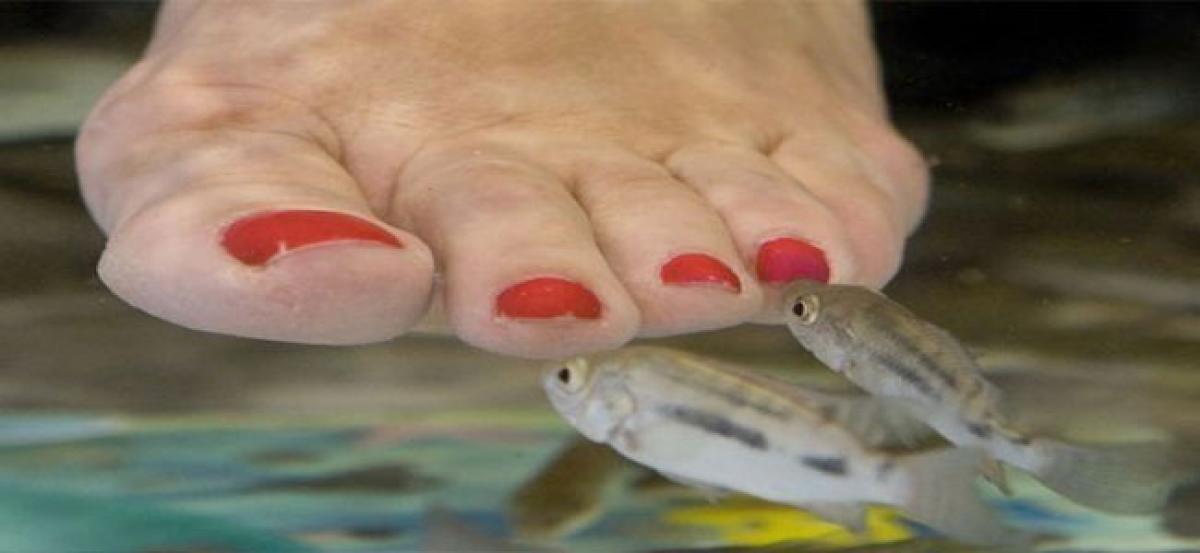 Highlights
Every women wishes to be beauty conscious Most of the denizens visit beauty parlour and spas for enhancing their beauty With the growing advancement in technology and other fields new techniques and traditions are being accepted by people
Vijayawada: Every women wishes to be beauty conscious. Most of the denizens visit beauty parlour and spa's for enhancing their beauty. With the growing advancement in technology and other fields new techniques and traditions are being accepted by people. In this regard pedicures play a major role in both men and women to keep their feet clean, elegant and graceful. However, new techniques in pedicure are being introduced in Vijayawada for the denizens to keep their feet tidy.
But pedicures don't just involve getting your toenails painted or keeping fresh. It involves in removing dead skin and calluses from the bottom of the foot. This skin can be removed through various methods via buffing with a pumice stone or through scraping with a metal foot file or razor. Many beauty parlours no longer use the metal scraper due to liability issues, but sometimes the pumice stone just isn't enough. Doctor Thai fish spa in Vijayawada offers a new method of pedicure by fish. The fish, called Garra Rufa fish, or sometimes 'doctor fish', actually nibble the dead skin from your feet. Fish spa benefits as it softens the feet and reduces itching and blemishes. It works almost like a pedicure, fish spa helps get rid of dark spots and rough feet.
R Revathi, owner of Doctor Thai fish spa, Vijayawada says, "This fish foot spa exfoliates the skin and removes dead skin and brings back the glowing skin. The fish eat up bacteria and dead skin from the foot and it is very relaxing. When you dip your foot inside a tank of fish, the fish attack you and start eating the skin. This tickling increases the secretion of endorphins (chemical from the brain). The release of endorphins provides a pleasant feeling. If you are going for Garra Rufa fish spa, it is beneficial as fishes salivate an enzyme which contains Dithranol (anthralin).
This stimulates the growth of new skin cells. This spa is considered as a medical treatment which treats feet problems such as psoriasis, warts, and calluses. It improves blood circulation in the body. This affects the skin and improves complexion. This fish can help stimulate blood flow, increase circulation, stimulate acupuncture points, decrease foot disorder and fungal infections," said Revathi. Swathi, a student says, "I'm really thrilled to see this technique and this type of innovative methods. My feet are so clean after this treatment. It's a great stress buster as the nibbling makes us laugh and giggle all the time."