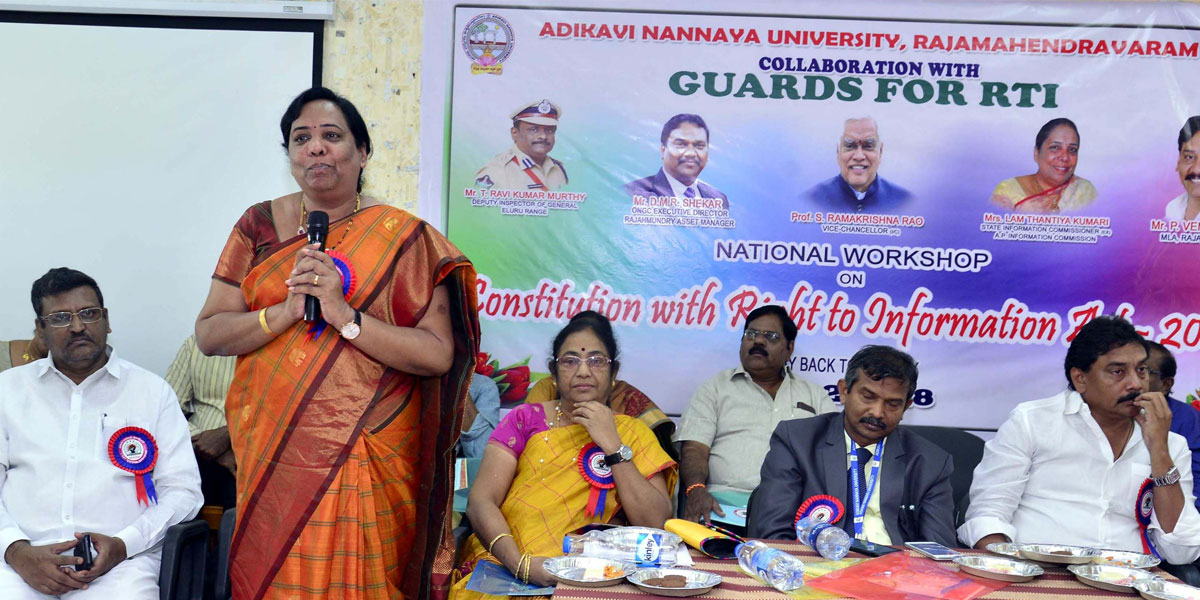 Highlights
RTI Act former commissioner Lal Tantiya Kumari has said that everyone in society, mainly women, should inculcate the habit of question on any issue, which helps them a lot In this modern society, women are under suppression, she said
Rajamahendravaram: RTI Act former commissioner Lal Tantiya Kumari has said that everyone in society, mainly women, should inculcate the habit of question on any issue, which helps them a lot. In this modern society, women are under suppression, she said.
Participating at a workshop conducted on RTI jointly by Guards for RTI and Adikavi Nannaya University here on Friday, she said women should not be ill-treated in society.
Questioning habit helps to decrease corruption in society and it helps to bring the fruits of government programmes to the doorstep of the people.
RTI was a boon in the hands of people and helps to know about various issues relating to government.
RTI also helps for good governance and increases accountability in society. The women should also know about RTI and its advantages, she added.
RTI for Guards president V Nageswara Rao, university registrar Prof S Teki, rector Prof PS Varma, OOMs president Durga Bhavani, university faculty, students were present.