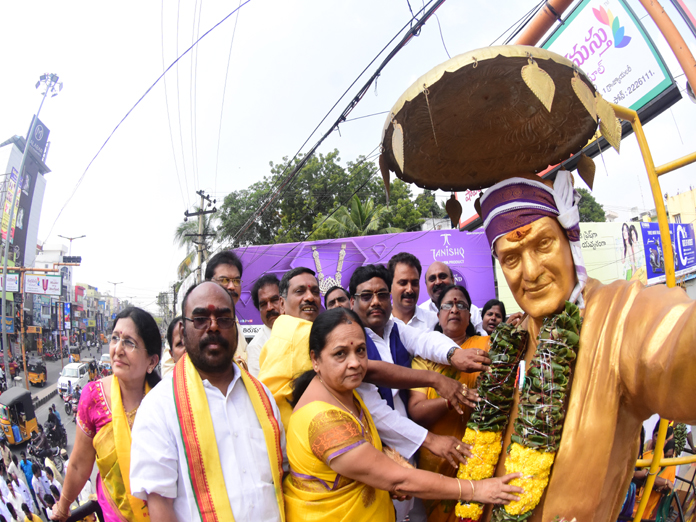 Highlights
The TDP district leaders paid floral tributes to TDP founder and former Chief Minister NT Rama Rao in Chittoor and other parts of the district on Friday, on his 23rd birth anniversary Party functionaries have garlanded the NTR statues and recalled his services to the State of Andhra Pradesh
Chittoor: The TDP district leaders paid floral tributes to TDP founder and former Chief Minister NT Rama Rao in Chittoor and other parts of the district on Friday, on his 23rd birth anniversary. Party functionaries have garlanded the NTR statues and recalled his services to the State of Andhra Pradesh.
Speaking on the occasion, Chittoor MLA DA Satyaprabha said NT Rama Rao had strived for empowerment of women and uplift of weaker sections of the society. "Chief Minister N Chandrababu Naidu is the right heir to continue NTR legacy," she added.
MLC B N Rajasimhulu, ZP Chairperson Girvani, Chittoor Mayor K Hemalatha, TDP official spokesman V Surendra Kumar, TDP leaders Chandra Prakash, Balaji Naidu and others were present. A blood donation camp was organised at TDP office in connection with the event in which number of TDP leaders and the fans of NTR donated blood.
In Tirupati, Karem Sivaji, Chairman of the Andhra Pradesh State SC, ST Commission, Tirupati MLA Suguna, TUDA Chairman G Narasimha Yadav and other TDP leaders have garlanded the statue of NT Rama Rao.