Cent per cent houses electrified in 5 districts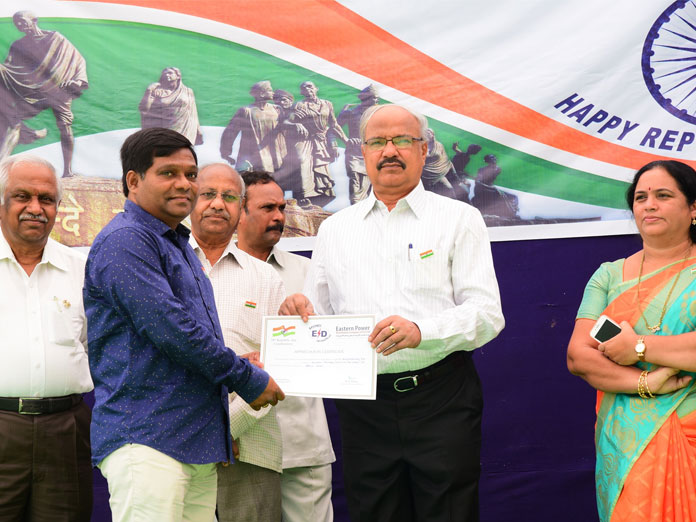 Highlights
APEPDCL Chairman and Managing Director H Y Dora stated that under the rural electrification programme, 100 per cent of households were electrified in the five districts in the jurisdiction of the APEPDCL
Visakhapatnam: APEPDCL Chairman and Managing Director H Y Dora stated that under the rural electrification programme, 100 per cent of households were electrified in the five districts in the jurisdiction of the APEPDCL.
As many as 407 remote agency villages were covered with solar power connectivity and given solar power to 7,058 houses in the agency areas, the CMD added.
Addressing a large gathering after unfurling the national flag at the 70th Republic Day celebrations on Saturday, Dora said that Visakhapatnam was the first city in AP, where underground cabling works are being undertaken in 23 sub-station jurisdiction under the financial assistance of World Bank with a cost of Rs 720 crore.
As many as 1,316 solar rooftop power units were synchronised so far with a capacity of 29MW and by the end of March 2019, 10 MW of more power would be achieved.
Under DFID technical assistance programme, works have been progressed to give solar rooftop connections with a total capacity of 5MW ranging from 05-2kw each unit to the Households Consumers of Madhavadhara and Muralinagar, the CMD added.
Under NTR Jalasiri scheme, 13,166 solar pump sets were released so far. Under Grid connected BLDC Solar pump sets, 216 pump-sets under 11kv Savaravilli Feeder of Vizianagaram District were synchronised with grid, he added.
Tenders were called for replacing 10,000 agricultural pump sets of the capacity of 10HP and 7HP with BLDC Solar pump sets in Godavari districts, Dora said.
Later, the CMD distributed the commendation certificates to 37 employees of the company of its five districts.
PEPDCL Directors B Seshu Kumar, TVS Chandrasekhar, Shoba Hymavati, CGRF chairperson D Dharma Rao and Chief Vigilance Officer M Srinivasa Rao and CGMs were present.