BMW i Vision Future Interaction concept revealed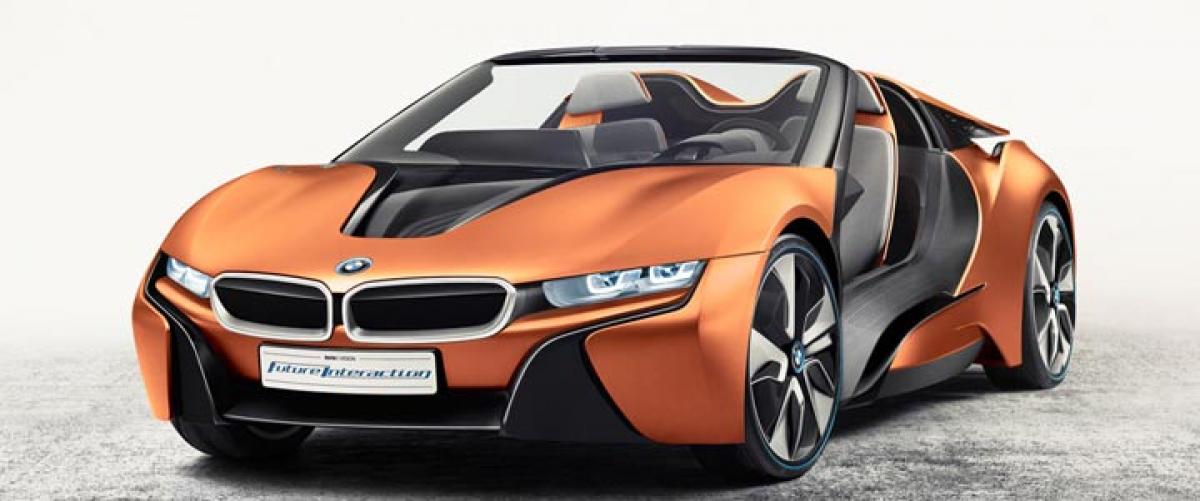 Highlights
BMW has revealed a new concept in the form of the i Vision Future Interaction concept at the Consumer Electronics Show in Las Vegas.
BMW has revealed a new concept in the form of the i Vision Future Interaction concept at the Consumer Electronics Show in Las Vegas. The car is based around a door-less version of the i8 roadster concept that was revealed in 2012 and features BMW's latest advancement in autonomous driving technology along with interactive information displays and internet-based features.
The interior of the i Vision Future Interaction concept is dominated by three display units including a large 110x400mm, 21-inch panoramic display stretching from the centre console across the passenger side of the dashboard. The steering is a redesigned two-spoke unit with controls for the display unit and drive mode selection. The car also comes equipped with a new heads-up display unit which projects information relating to speed, speed limits and navigation instructions on the windscreen within the driver's field of vision.
The driver gets an ultra high-definition display for the instrument cluster that projects 3D-like image depth but without the need for any specialised head-gear or glasses. In addition to providing the usual readout, the display also gives details about the cars ahead and about on-coming traffic that is out of the driver's line of sight. BMW claims that the system will allow for better safety, especially in autonomous mode where the car will warn the driver up to seven seconds prior to when an accident could occur.
The panoramic display stretching along the passenger side of the dashboard displays content from BMW's Open Mobility Cloud system via a wireless data connection with the information displayed varying as per the cars driving modes – even allowing for video calling during full autonomous mode. Furthermore, the car comes equipped with a system the company calls Air Touch. The system uses sensors on the dashboard to allow the driver or passenger to control the panoramic display's readout through hand-based gestures.
The car is equipped with three drive modes – Pure drive, Assist and Auto. Under Pure drive mode, the car delivers optimum levels of performance with driver assist function kept in the background. In Assist mode, the assistance systems become more involved with the driving of the car and actively intervene in times of need. In Auto mode, the car is fully autonomous, controlling all aspects of driving including steering, acceleration and braking. The steering lights up in a blue hue and the car provides an early warning to the driver to take control in case of the car moving out of its lane.
Subscribed Failed...
Subscribed Successfully...