New Kia Soul EV Electric Car: First Look
Highlights
Kia Motors has gifted one unit of the Kia Soul electric vehicle EV to the government of Andhra Pradesh to express its support for the administrations proEV stand
Kia has no immediate plans to launch any EV in India but when it's ready to, the Kia Soul EV does seem like a great car to kick things off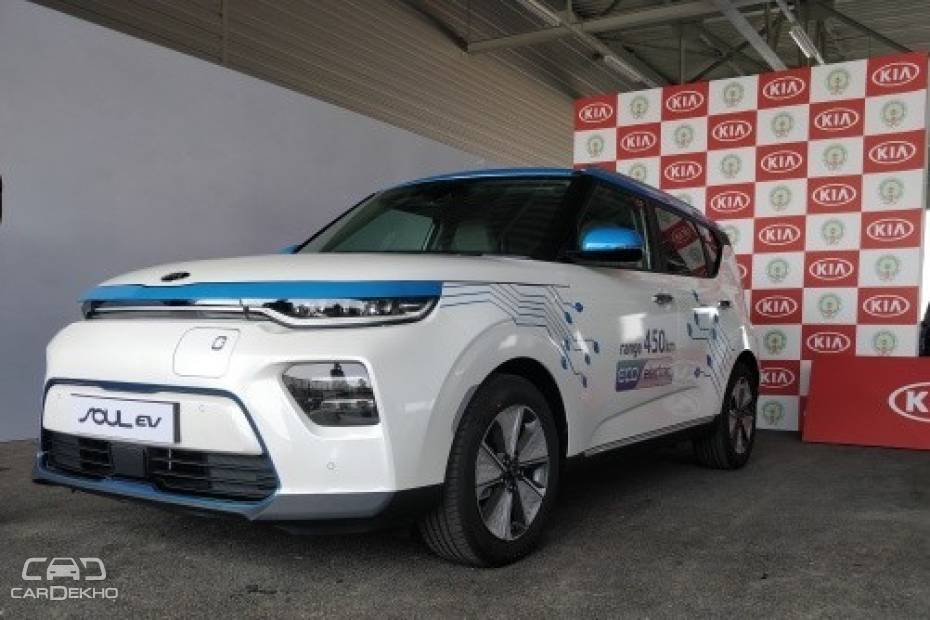 Kia Motors has gifted one unit of the Kia Soul electric vehicle (EV) to the government of Andhra Pradesh to express its support for the administration's pro-EV stand. The car comes to India just a month after its global reveal at the 2018 Los Angeles Motor Show, which certainly is heartening. However, Kia has made it clear that the Soul EV is not among its immediate launch plans for India. Till the time Kia deems the charging infrastructure in India strong enough, the brand will most likely consider a plug-in hybrid vehicle (PHEV) like the Kia Niro, at least, as an interim solution.
That said, the Kia Soul is an interesting way of packaging a zero-emission car. Let's see why.
Looks
Unlike, say, the Hyundai Kona, the Kia Soul does not look like an SUV or crossover. In fact, it looks like a big and boxy hatchback, which certainly makes its design very different from most other hatches currently on sale in India. The version brought to India is the 2020 model year, which comes across as far edgier and more futuristic than its predecessor, which was showcased at the 2018 Auto Expo.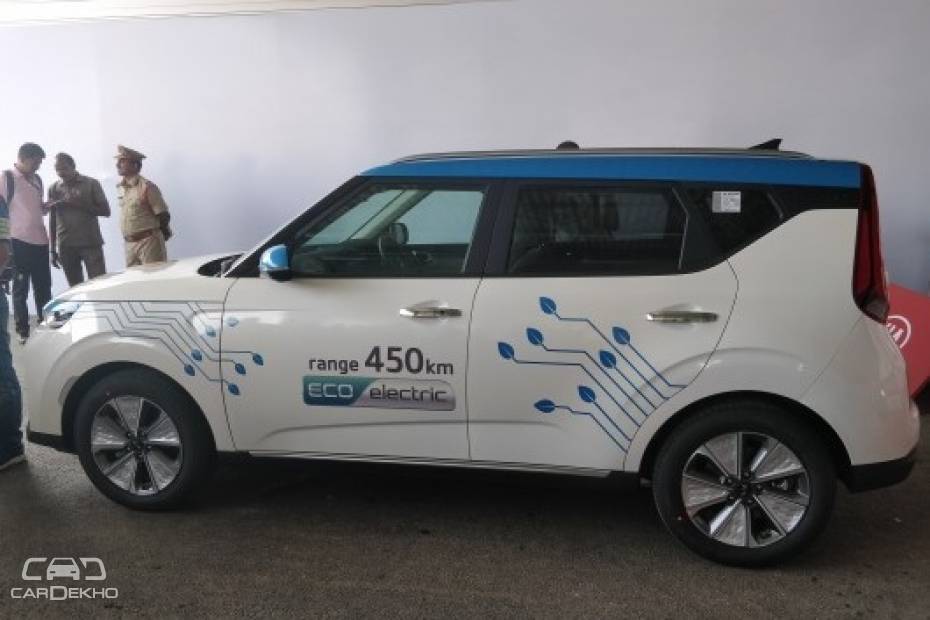 The new Kia Soul EV sports razor thin LED headlights, a more prominent lower grille and 17-inch alloy wheels with a design that seems to mimic fan blades. At the rear, the tail light design is one of the biggest design distinctions as it seems to wrap around the entirety of the rear windshield. And much like its predecessor, the 2020 Soul also has a concave effect on the rear end which is a quirky styling touch.
Also Read: Kia Carnival vs Toyota Innova Crysta: Spec Comparison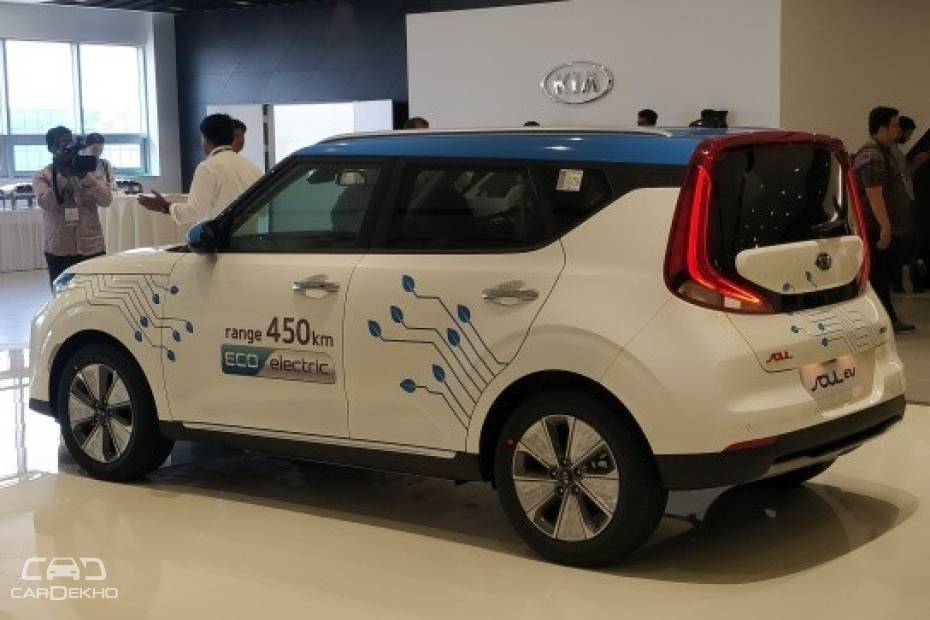 The Kia Soul does have aggressive styling and it's also a fairly large car. Measuring nearly 4.2 metres in length, it's just over 70mm shorter than the Hyundai Creta. However, with a width of 1800mm, it's wider than the Creta and at 2600mm, it has a larger wheelbase too. So while the boxy styling may make it look small in images, in person, it can stand shoulder to shoulder with any compact SUV or crossover.
Interior & Technology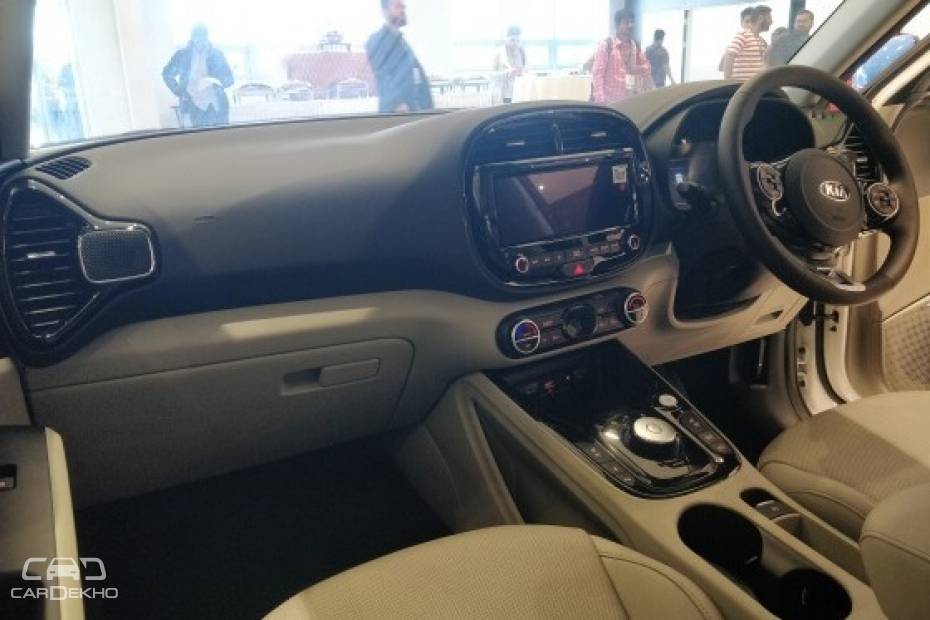 Much like it is in the outside, the Kia Soul EV manages to keep things quirky on the inside too. To the pleasure of many Indian palates, it does get a beige-black dual-tone cabin. However, the rest of the design isn't conventional. For one, the dashboard looks rather flat and is almost vertically stacked. You also sit fairly close to the windshield since the dashboard isn't particularly long.
The Rear Wheels Have A Surprise!: 5 Cool Features Spied On Kia SP2i SUV Prototype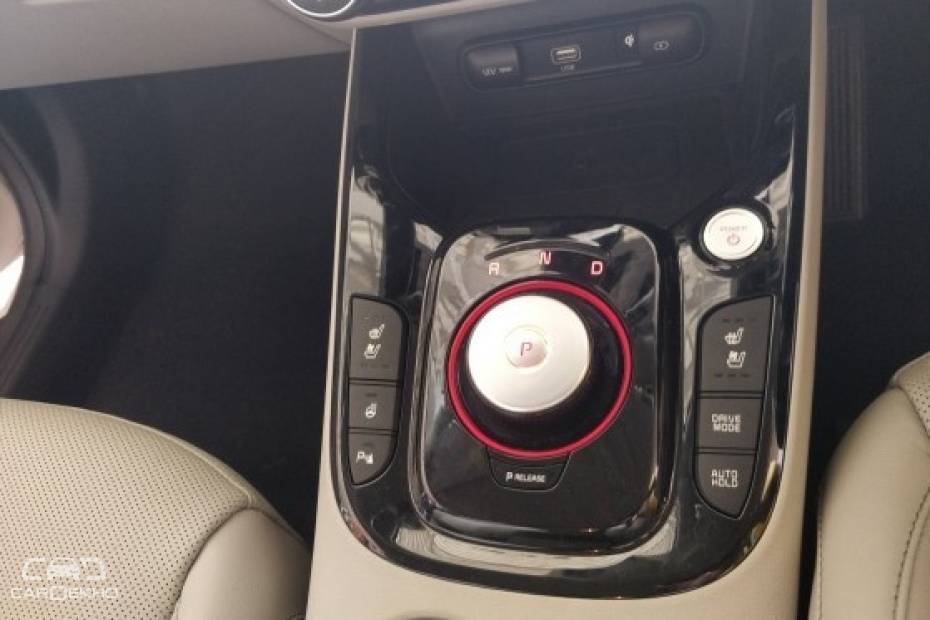 The features list is rich, complete with a 10.25-inch touchscreen infotainment system that supports Android Auto & Apple CarPlay, a 10-speaker Harman Kardon sound system, leatherette upholstery, a digital instrument cluster and heated seats. It even gets four drive modes (Eco, Eco+, Comfort & Sport) to improve adaptability for the driver.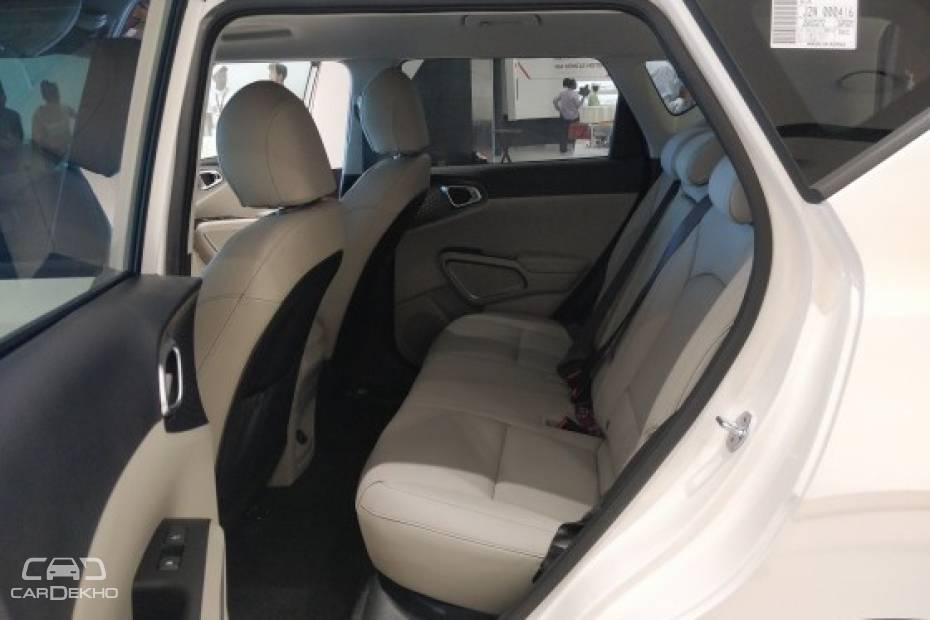 Does it make for a good family car though? Well, the exterior dimensions have been put to good use and the Kia Soul EV can fit in four six-footers quite easily, however, it's not wide enough to seat five comfortably. Thanks to the boxy shape, though, there's no sloping roofline to worry about, so there's decent headroom even in the rear seat for someone over 6-feet tall.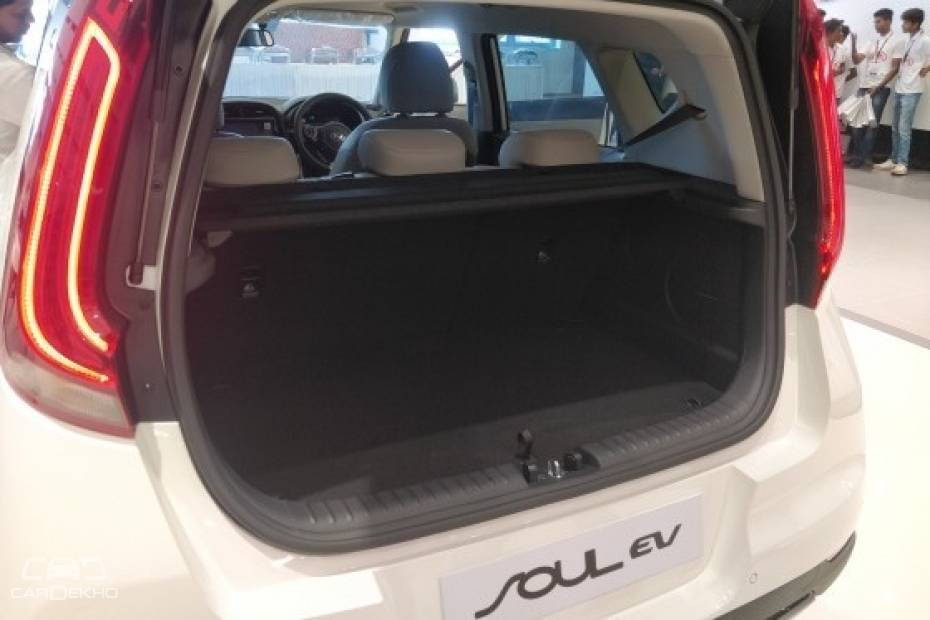 To top things off, the Kia Soul gets a smartly designed boot. Not only do the rear seats fold down (60:40), the boot floor itself has two levels. At level one, it sits just below the boot sill and has enough space for five to six duffle bags with the parcel tray in place. To get more room, simply lower the boot floor board by sliding it into designated slots and it sits just above the spare tyre recess, leaving enough room to place large trolley bags vertically.
Performance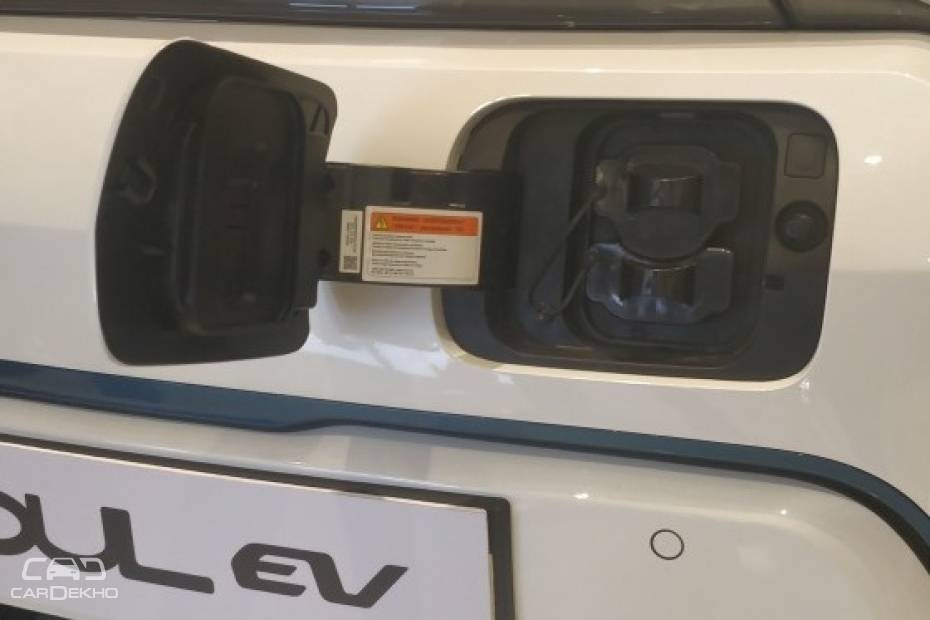 This is one aspect where the 2020 Kia Soul EV has advanced over its predecessor by leaps and bounds. Not only does it produce more power (204PS) and torque (395Nm) than before, thanks to its larger, 64 kWh lithium ion battery (vs the old 30 kWh battery), it also gets a significant travel range boost. While the old Kia Soul EV could be driven for just under 200km on a full charge, the 2020 Soul EV more than doubles that with a claimed range of around 450km.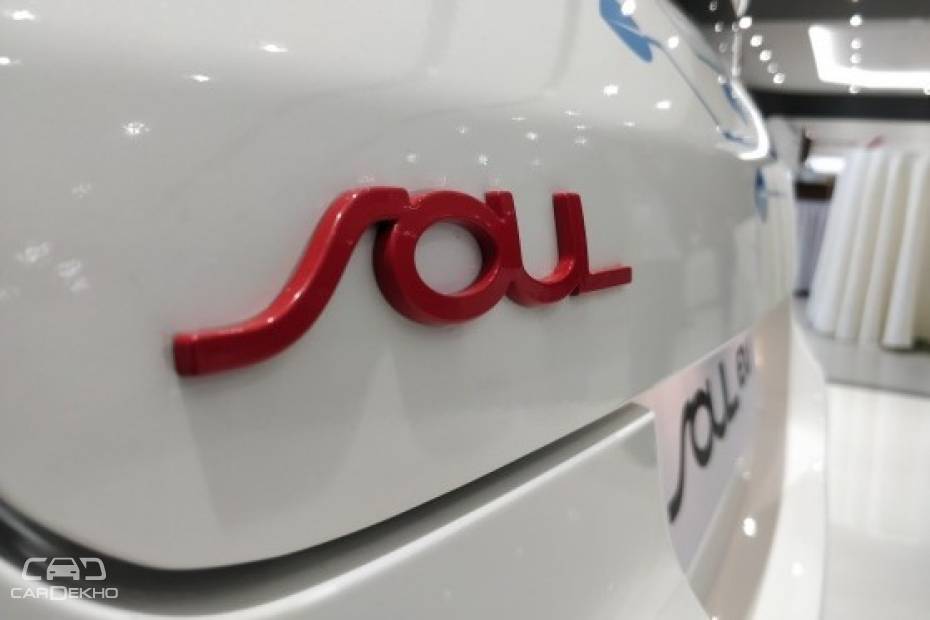 That's not just enough for an intercity road trip, it's also plenty for a half a month's worth of the average office commute! A complete AC charge takes just over 9.5 hours and the Kia Soul EV does come equipped with DC charging capability as standard, which requires between 1 hour to 75 minutes.
It has also got decent punch on tap with 0-100kmph taking a claimed 7.6 seconds and a top speed rated at just under 170kmph.
Safety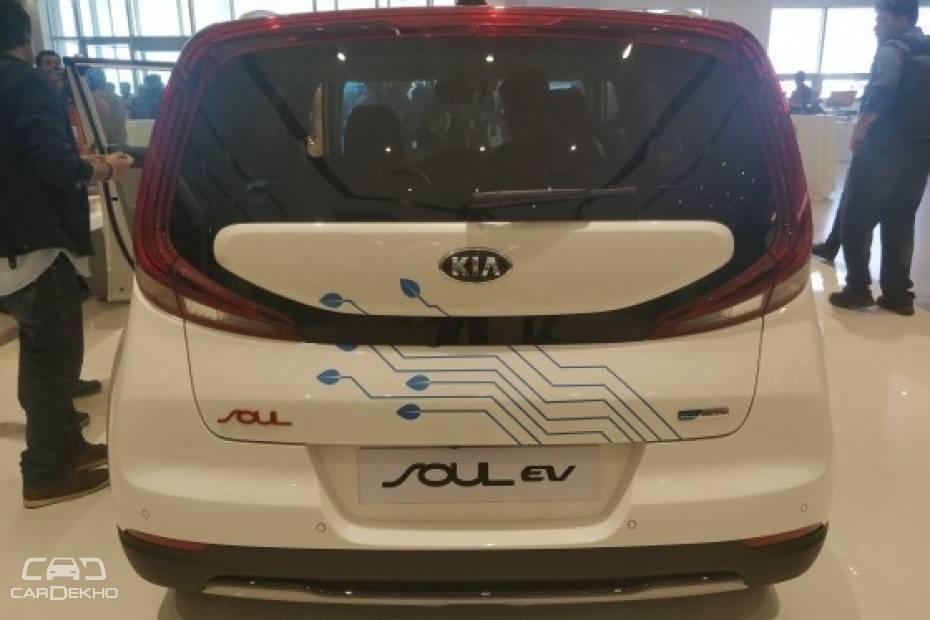 The Kia Soul electric comes with a very extensive safety pack. Features include seven airbags, ABS with EBD, traction control, ESP, hill-start assist and tyre pressure monitoring. It also offers a suite of driver assistance systems like forward collision warning, forward collision avoidance assist, lane departure warning, lane keeping assist, driver attention warning and adaptive cruise control, along with blind spot assist, rear cross traffic assist and rear parking sensors.