D-Day for Deccan Chronicle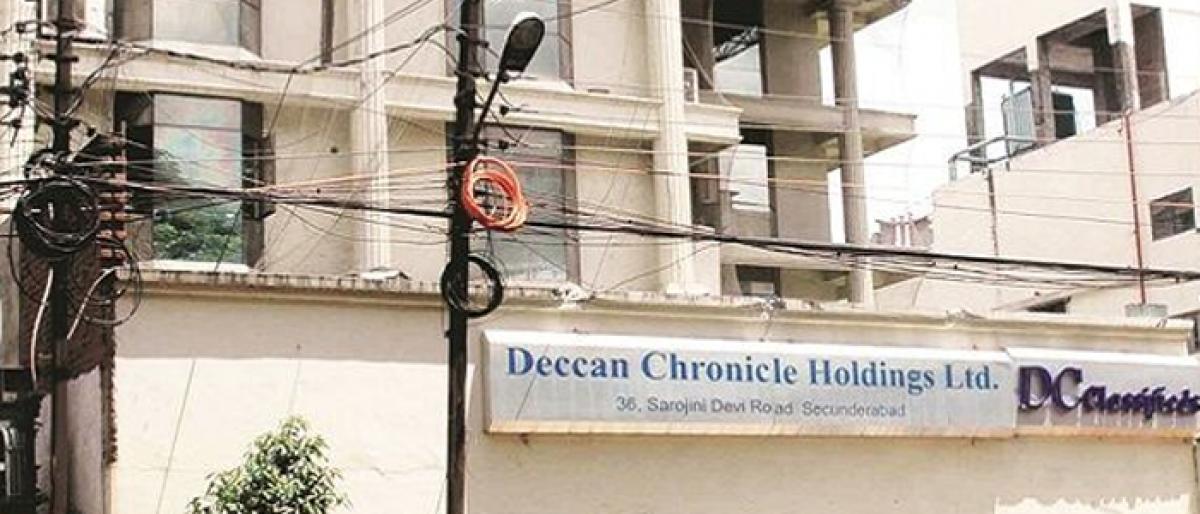 Highlights
The Hyderabad Bench of National Company Law Tribunal NCLT is expected to take a call on the fate of debtladen Deccan Chronicle Holdings Limited DCHL on Tuesday nearly a week after bankers rejected a resolution plan submitted by Vision India Fund, a part of Kolkatabased Srei Infrastructure Finance Limited The NCLT court will either extend deadline for resolution process or send the company i
​Hyderabad: The Hyderabad Bench of National Company Law Tribunal (NCLT) is expected to take a call on the fate of debt-laden Deccan Chronicle Holdings Limited (DCHL) on Tuesday nearly a week after bankers rejected a resolution plan submitted by Vision India Fund, a part of Kolkata-based Srei Infrastructure Finance Limited. The NCLT court will either extend deadline for resolution process or send the company into liquidation.
The year-long insolvency process of the media house hit a major roadblock last Tuesday (July 10) with Committee of Creditors (CoC) comprising 18 banks and financial institutions voting against the resolution plan of Vision India Fund, the top bidder among a clutch of companies and media houses that showed interest in buying the trouble-hit DCHL. The plan got only 56 per cent votes in its favour.
As per Insolvency and Bankruptcy Code (IBC) under which the insolvency proceedings are being taken up against DCHL, not less than 66 per cent votes are required for a resolution plan to get through.
Though Vision India Fund submitted a revised plan at eleventh hour on July 10 after its earlier proposal was voted out, CoC could not take it up as final deadline for submission of the plan ended on the same day. The Court-I of NCLT's Hyderabad Bench headed by Ratakonda Murali, Member (Judicial), will have to decide whether CoC can take up the revised plan.
"We have received revised proposal from the company at 7 pm on last Tuesday. It came at the last moment on the last day. There was no time for voting. However, we sent it to the bankers immediately. However, CoC will have to meet again to take a call on the revised plan. But the meeting can take place only if the courts directs so," Mamta Binani, Insolvency Resolution Professional (IRP) for DCHL, told The Hans India on Monday.
She however maintained that the resolution applicant (Vision India Fund) did not revise the monetary amount it quoted earlier. "They changed a clause in the plan, but no change in the monetary part of the plan," she said. The rejected plan reportedly comprised upfront cash payment of around Rs 350 crore and some assets. The total deal value was said to be more than Rs 800 crore.
Asked whether she received any feedback on the new plan from CoC members, Binani said two bankers sent her emails saying the revised looked better. "But I can't disclose names of the banks as the information is confidential," she said.
With the 357-day deadline for completing the resolution proceedings under IBC ending on July 10, there are two possibilities now. The court may extend the deadline by a few more days so that revised plan by Vision India Fund will get CoC nod and the process will be completed.
The other option for the court is to send DCHL into liquidation under which assets of the company will be put up for auction individually. If the court rules in in favour of liquidation, DCHL will land in a big trouble though chances for last minute suitors will still be alive.
However, IRP is hopeful that court may rule in favour of a resolution plan. "As a plan is in sight, Honourable Judge may like to put it up for consideration," Binani said.
As per the cause list of Court-I for July 17 (Tuesday), three interim applications (IAs) related to DCHL insolvency case will come up in the court. One will come up for hearing while another IA for admission. In the case of third IA, the court will issue orders. It is expected that progress report submitted by IRP on CoC voting will be taken up during this time and court may issue a direction on future course of action.
Interested in blogging for thehansindia.com? We will be happy to have you on board as a blogger.