My best role yet, Rakul on Nannaku…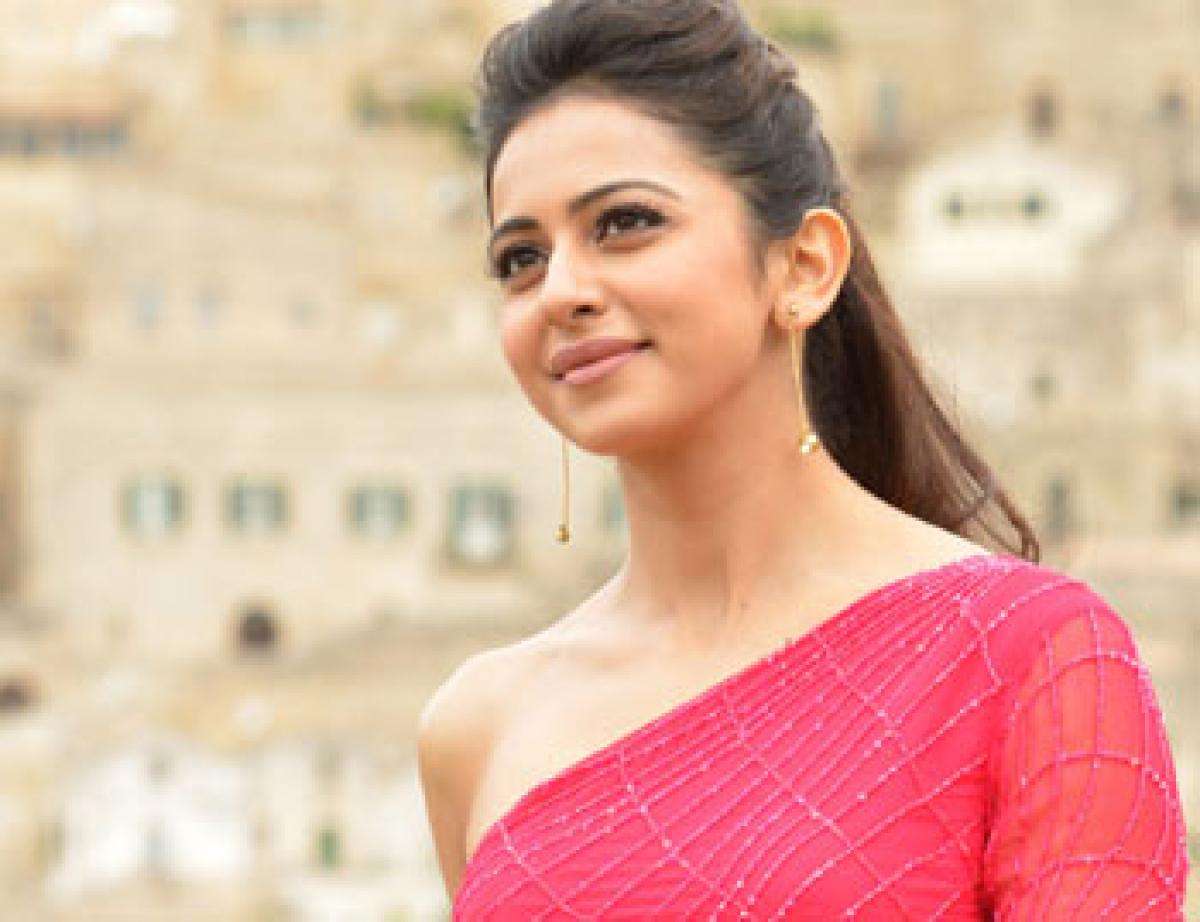 Highlights
This is by far my most satisfying role. Also, the film unravels a beautiful relationship between a father and daughter," she explains.
Rakul Preet talks about her forthcoming 'Nannaku Prematho', working with stars and her Tollywood journey
From a student, IT professional and girl-next-door to an NRI, the career of Rakul Preet Singh seems to be coming a full circle. Yes, she will play a super-rich UK-raised NRI in 'Nannaku Prematho', which is being directed by Sukumar, who, in her words, is a 'perfectionist'.
"I play Divyanka, daughter of a billionaire (Jagapathi Babu). Despite the riches, I'm a practical girl, although impulsive with a streak of attitude. It's an elegant role where my styling has been upped considerably. This is by far my most satisfying role. Also, the film unravels a beautiful relationship between a father and daughter," she explains.
"Sukumar is simply brilliant. He made me be just as I am. He's someone who allows the actors to be natural and perform in their own style. We (including Sukumar and NTR) used to brainstorm before every scene and I remember Sukumar explained the scene while adding that realistic portrayal could come if I behaved and reacted to such situations like I would in real life," exults the Miss India finalist.
Rakul has gone from strength to strength and worked with top stars like Ram Charan, Allu Arjun, Ravi Teja and now NTR. "Working with NTR was a pleasure. He has the ability to capture everyone's attention on the sets. He's very quick and doesn't even rehearse for any scene. He just walks into the sets and follows the instructions of the director.
The emotional scenes have come out brilliantly", she shares, adding, "He's one of the best when it comes to grooving and he even taught me a few moves. Like I said he's very quick and by the time I try to figure out my hand and leg moment, he'll be done with the step. So I again had to go for another take. But he helped me polish my dance skills."
For someone who was replaced after having shot for a few days in big ticket films early in her career to being the most sought after actress, Rakul understands the rough and tumble of movies. Today, she seldom gets carried away by changes in tide. Reflecting on her five-year journey, she states, "I was amateurish in my early days and not game for a career in showbiz.
I took a break and continued with pageant and modelling stints, which have helped me handle industry pressure. So I can work confidently if given the same team now," adding, "It is a constant effort and hard work over the years that made me what I am today. Sometimes decisions work in your favour and some don't. The show has to go on and will do depending on one's self-confidence. As for me, it was passion for work that kept me going, the hiccups, notwithstanding."
The upward swing of her career is now being complimented by her dubbing skills in Telugu. For the first time, the Delhi-based model is dubbing for her lines in the emotional thriller. "I have an interest in learning new languages and I believe that if the industry is giving you work; you should give back a little respect. So, I decided to learn Telugu and gradually started speaking broken Telugu (laughs)."
She recalls being hesitant initially when she was asked to dub for her lines. "It was Sukumar's idea actually. Since the girl speaks more of English and less of Telugu, he felt I might be the right one to dub. I was initially doubtful to go ahead. However, I firmly believe that I can render justice to the role only if I dub. Since the role was close to my heart, I wished that people remember me for the role."
Her next film with Allu Arjun, directed by Boyapati, is also creating a lot of buzz. "Yes, it's going to be another breezy entertainer. I can't talk about the role as yet but I loved the script, when I first read it. I was hooked from the start. Bunny (Allu Arjun) is hard-working and gets into the details of things. He is one of those actors who want to bring a change with whatever film one does," she points out.