Balayya's Dictator full Review and Rating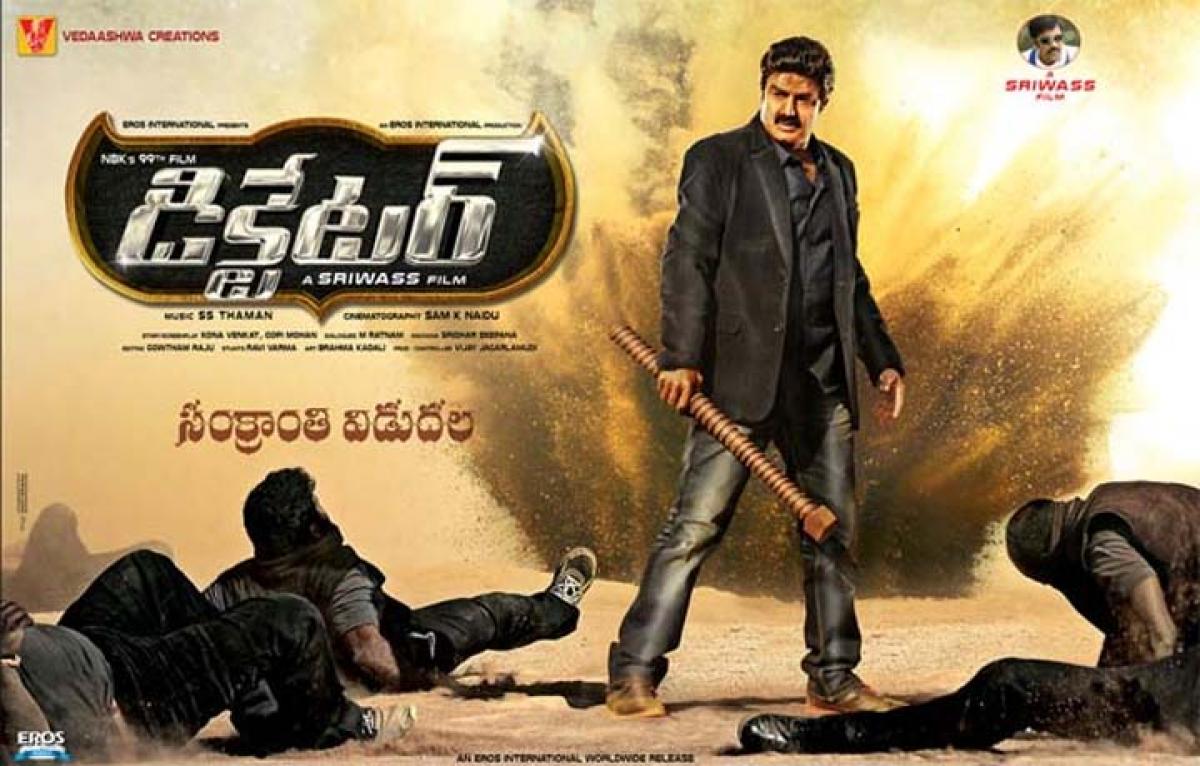 Highlights
Bala Krishna\'s Dictator hit theaters world wide on Thursday. This is the 99th film for the Nandamuri senior actor and his fans have lapped up the film.
Bala Krishna's Dictator hit theaters world wide on Thursday. This is the 99th film for the Nandamuri senior actor and his fans have lapped up the film. Despite facing a major box office clash, the film has managed to get a good opening and was premiered in many locations overseas.
Will Balayya win the box-office cock fight? Will Dictator beat the records of other releases? Will the film rake in moolah at the box office?
Check out the review here
Story:
Chandrashekhar Dharma (Balakrishna) works at a super marker hiding his identity. He gets into a mess with local MLA Govardhana Rao (Chakravakam Madhu) for Indu (Sonal Chauhan). After a series of turns of events, his identity will be revealed.

Why did he work at the market and hide his identity? Who is Dictator? For the answers to these questions watch the film on big screen.
Performances:
None can match up to Balayya when it comes to showing intensity. His mannerisms and dialogue delivery are great to watch for Balayya fans.
He has also danced energetically in the movie but fails to hide his age. Sonal Chauhan oozes glamour this time too. But for the 'bikini' babe, there is nothing much she has got to do and restricted to the first half. Anjali comes in the second half and performed well.
Unlike his earlier films where a bunch of powerful male villains were seen, this time for a change Rati Agnihotri has played a vamp. Her expressions make her a force to reckon with in her negative role.
Here comes Prithvi who steals the show once again and he stands out as the only source of entertainment throughout any film.
Plus Points:
Bala Krishna
Interval bang
Flash back episode
Sonal Chauhan's glamour
Minus Points
Story
Predictable plot
Routine climax
Dragged scenes
The action episodes before pre-interval block and scenes elevating Bala Krishna are feast to watch for Balayya fans. The powerful Dictator role and the scenes between Balayya and Rati Agnihotri are main highlights of the film. The director seems to have got the pulse of the audience by not dragging second half and the film goes on fast track. Weak story, slow first half and routine climax are minus points for the film. Except the Dictator role, there are no twists and nothing much to talk about in the second half. Though they have made a good attempt by roping old warhorse Rati Agnihotri but there is intensity in the villain roles.
Thaman has given a best album for Balayya. The songs are peppy and their placements are also good.But the background music goes unnoticed in the film. The run time has become minus for the film and editing could have been better.
Rating: 2.75/5
Final Verdict: It's a feast for Balayya fans. Those who want to watch mass masala entertainer, Dictator can be a right choice others skip it.